Catered
Chalet Cret de la Neige

, Meribel 12
Chalet Cret de la Neige is a huge twelve bed chalet set over several floors in the heart of La Gittaz. Chalet Cret de la Neige finds the ideal balance between giving you the space you need, whilst featuring wonderfully inviting living areas for when you're spending time together.
La Gittaz is a picturesque residential area set just beneath Meribel Village. The Olympic bubble is just minutes away, taking you straight to La Chaudanne for shopping, skiing or the lively centre of Meribel. Alternately, head up through the trees to Meribel Village for some fresh air, treat yourself at the bakery and take in the incredible views out towards Mont Vallon. Great for those looking to escape from it all, and to reconnect with family and friends, Chalet Cret de la Neige will ensure you return home feeling rested and refreshed.
Almost all of our chalets can accommodate extra beds. We deal with these enquiries on an individual basis. Please contact us via email, or call us on 01225 731312 for more details.
Ideal for: a large group of friends or two families
Price range for this fully catered chalet is £2,388 - £10,188 for the whole chalet.
At a glance
Sleeps 12
Fully catered
1 double with en-suite shower
1 twin with en-suite bath
4 twins with en-suite shower
Free Wi-Fi
UK Freesat television
CD and DVD player
Log fire
South-facing balcony
Ski & boot room
Towels and bed linen provided
Staff live out
How to book

To make your reservation, please choose from the availability below
We operate a reservation system which allows you to hold a booking for 48 hours with no financial obligation
Chalet Prices & Availability (2017/18)
For the current season, we now have limited availability.
Please go to our Prices & Availability page for an at-a-glance view of chalets and dates available.
What's included in the price of your holiday
As standard, the price for this chalet includes:
Seven nights' accommodation
Bed linen and bath towels provided
Continental breakfast
Homemade afternoon tea with coffee/tea, hot chocolate and vin chaud
Three course evening meal (on six nights)
Complimentary quality house wine
Children's dinner at 6pm (if required)
Help with booking your ski lessons, ski passes and ski hire
Kids' holiday fun pack
Ski Basics' goodies
Mini bus service to and from the slopes
Dedicated and helpful service from all the Ski Basics team in resort
For your personal use, this chalet also comes with:
Free Wi-Fi
UK Freesat television
CD and DVD player
Log fire
Ski & boot room
Chalet Floorplan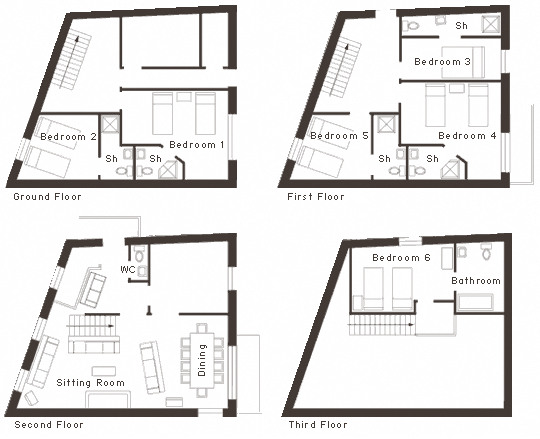 Feedback from guests who have stayed at this chalet
Lovely chalet, we were worried about the location but because of the mini bus service it was no problem and so easy to get back and forward from the slopes.

Laura Griffiths – February 7, 2016
Super layout for a large party.....wonderful homely feeling and super facilities.

Sarah Bennet – January, 2016
Great holiday as always! Can't fault a thing. Will always return to Basics! Thanks guys!

Jack Cheasley - January 10, 2015
This was the most convenient ski holiday our family has ever been to. The transfer to and from the slopes was very good and it was nice not to be dependent of a car.

Anna Wiklander - February 7, 2015
Really couldn't fault the service and advice at any point. Cheryl at Head Office was incredibly efficient; the extra work for lift passes and transfers was handled without a hiccup. Staff in Meribel made our stay even more pleasurable, food excellent and as a group our only complaint of the week is that you've chosen to specialise and stay in Meribel. What you do and how you do it shows the years of experience and congratulations on running such a slick business. Thank you for a great holiday and please let us know if you start to expand into different resort. If we do decide to come back to Meribel, you will definitely be our first port of call.

Simon Muir - March 8, 2014
It was one of the best Ski holidays I have been on. It was a fantastic surprise to be treated so well by the staff, considering that it had been booked on cost alone. I wouldn't hesitate to recommend Ski Basics to anyone who asks.

Tom Upton - March 1, 2014
Very happy. Smooth booking and excellent communication before trip. All staff helpful, punctual and professional. Many thanks!

Andrew Cross - March 1, 2014
As a group we were all very impressed at the level of service we received from Ski Basics and felt that we were all very well looked after. We definitely received value for money and were so impressed at the way the staff were able to cater to our every need and keep a smile on their faces as they did it. They were absolutely incredible. The drivers were always there on time, offering us assistance with gear. Our chef was so good and we were particularly impressed that everything was cooked from scratch! Our waiter was very friendly and always there to offer a joke and a smile (as well as wine, tea and coffee!). Our chalet manager was very organised and able to arrange anything we needed at the drop of a hat. All in all, we had a fantastic holiday and it was all down to the staff at Ski Basics, so thanks guys!!

Rosemary Lemin - March 1, 2014
Excellent holiday - chalet was lovely, but what really made it was your staff, at all levels. Truly the best we have had from any company. Will book with you again for this reason.

Suresh Ellawala - February 8, 2014