Self-catered
Chalet Jacques

, Meribel 10
Chalet Jacques is an exceptionally well located ten bed chalet based at the foot of the Golf run in Meribel Village. Whether sunbathing on the terrace, or savouring a glass of something you fancy, live the life you deserve and this is certainly the spot to do it. With on-slope access and Alpine style, Chalet Jacques will keep you coming back year after year.
A chalet that appeals to everyone, Chalet Jacques enviable location means you can be on the slopes within minutes. First lifts are a given, and with the Golf run leading right to your door, why not enjoy a last vin chaud up the mountain before making your way home down the empty pistes. If staying in and relaxing is more your cup of tea, make the most of the cosy upstairs tv area, or pop over to the Village Bakery and pick out a pastry to pass the time. Heated boot warmers ensure toasty toes come morning, and private, off-road parking adds further value to an already outstanding chalet.
At Ski Basics, we offer self catering with a difference. You will be welcomed to the chalet by your chalet manager who will pre-order and deliver your lift passes and even arrange for your skis to be delivered to your door. You will receive a welcome hamper with lots of handy essentials to get you started and our team is on hand throughout the week to help with any requests you may have . Also included is free Wi-Fi, Freesat TV and an iPod docking station.
For those looking for flexible catering you can book breakfast, dinner and even drinks delivered straight to your door through our partners at Chalet Kitchen
Almost all of our chalets can accommodate extra beds. We deal with these enquiries on an individual basis. Please contact us via email, or call us on 01225 731312 for more details.
Ideal for: a medium sized group or two families
Price range for this chalet is £2,500 - £4,000 for the whole chalet.
At a glance
Sleeps 10
Self-catered
4 twin, en-suite bath
1 twin, en-suite shower
1 separate WC
Free Wi-Fi
Freevsat television
CD and DVD player
iPod docking station
Log fire
South facing balcony
Ski and boot room with heated boot rack
Off-road parking
Towels and bed linen provided (beds made on arrival)
End of stay clean
Local taxes included
How to book

To make your reservation, please choose from the availability below
We operate a reservation system which allows you to hold a booking for 48 hours with no financial obligation
Chalet Prices & Availability (2017/18)
For the current season, we now have limited availability.
Please go to our Prices & Availability page for an at-a-glance view of chalets and dates available.
What's included in the price of your holiday
As standard, the price for this chalet includes:
Seven nights' accommodation
Bed linen and bath towels provided
End-of-stay cleaning
All resort taxes
Dedicated and helpful service from all the Ski Basics team in resort
For your personal use, this chalet also comes with:
Free Wi-Fi
Log fire
Parking
Chalet Floorplan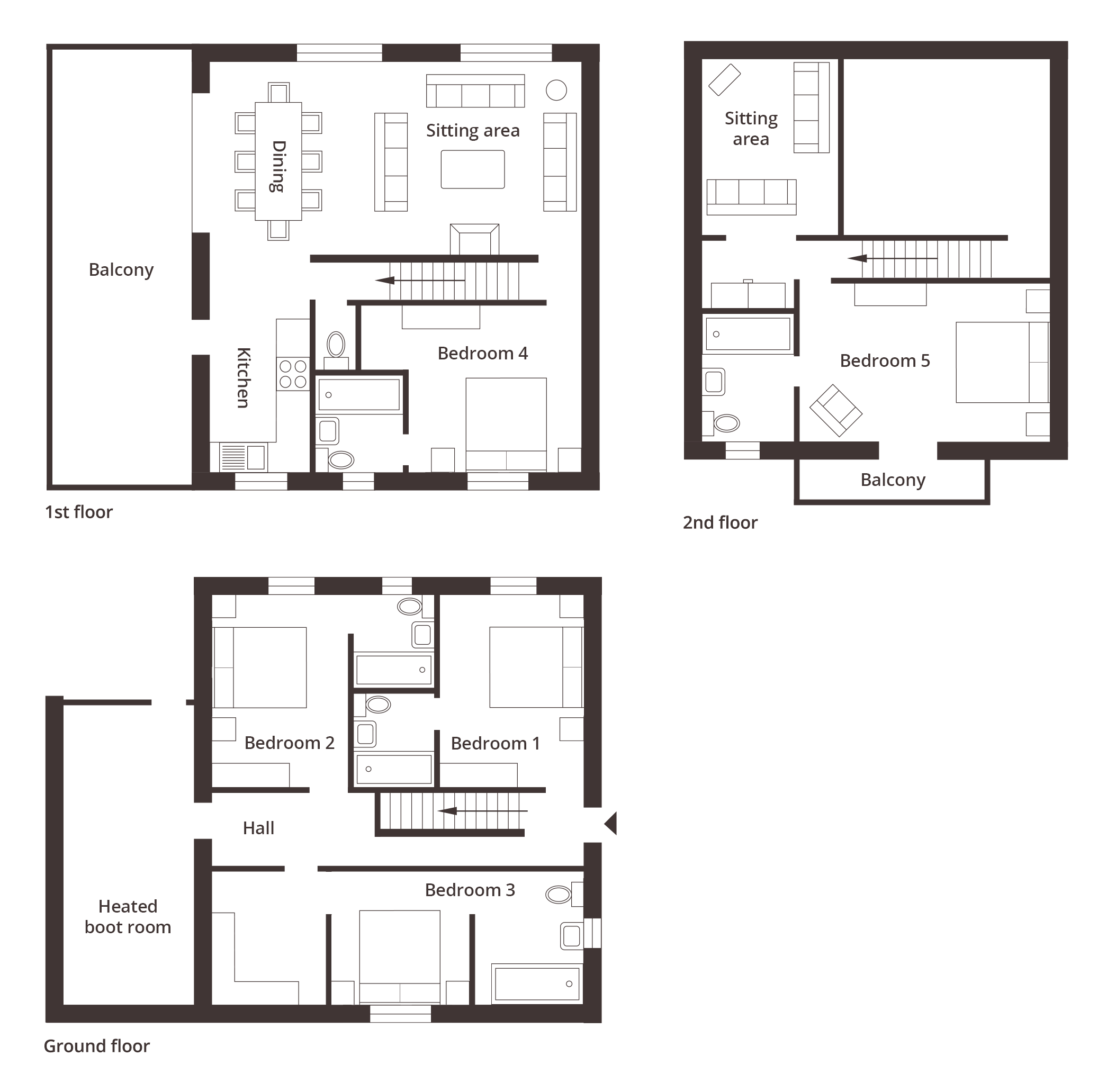 Feedback from guests who have stayed at this chalet
Rebooking before we left says it all really. If we ever get bored of the 3Vs, that will probably be the only reason we don't rebook! Keep up the standards and we'll be back at chalet Jacques for many years to come.

Graeme Black - February 28, 2015
Once again a fantastic time was had by all. Ski basics keep outdoing themselves year upon year. The food and service was of a very high standard and great value for money. Zara and Joe were brilliant in accommodating our varied needs; they were particularly good with the children and made us feel very comfortable and welcome. The staff particularly Jenny and Zara went the extra mile with our early transfer and late departure ensuring we were comfortable and well looked after at all times . This made our holiday experience so enjoyable. We will definitely be returning, our children have grown up with Ski Basics and treat it as a home from home. Your staff are a real credit to you and really care about their guests.

Lisa Otterburn - December 28, 2013
We had a great holiday. The chalet was lovely, good location and the food and service was amazing. We will definitely book with Ski Basics again.

Ann Adair - January 11, 2014
Sam and Anna were the best chalet hosts I've had in more than 15 years of using chalets, both in terms of the standard of what they did (food/service) and also friendliness/accommodating and/or reading our needs. Whether it's through selection or training they're a credit to you.

Charles Barwick - March 2, 2013
We are already planning next year's trip - 3 in a row now - says it all really!

Giles Simons - February 8, 2014
Just wish to add a huge thank you to Anna, Sam, Sophie and Jen who made it a great holiday for us all. They were genuinely lovely people who have a gift at entertaining. Even though Terry was ill, they ensured he was ok when we all went skiing, which took a lot of pressure off me. Nothing was too much to ask for any of them, they were very professional and excellent Chalet hosts and managers. We will definitely come back to Ski Basics...You are the Best!!! Thanks, Wendy.

Wendy Meadows - February 9, 2013
Excellent! It was great having the children fed at 6pm so that we could relax when we had ours at a later time.

Linda Hosking - March 30, 2013
Sam and Anna were excellent, Anna's cooking was top class - they made a huge and very positive difference to our stay. Sophie was great too - nothing seemed to be too much trouble for any of them.

Jiles Simons - March 2, 2013