Self-catered
Chalet Jean Claude

, Meribel 6
New to Ski Basics and offering the flexibility of self-catering - Chalet Jean Claude is a lovely 6 person chalet in the centre of Meribel, the perfect base for a family or small group of friends looking for a great value traditional chalet.
The top floor of the chalet has three twin bedrooms and a large family bathroom with WC. Downstairs the chalet is open plan with a newly fitted kitchen, large dining area and comfy sofas around the wood burning stove. There is a separate WC in the entrance hallway.There is a large south facing terrace to soak up the sun and ample parking for up to three cars at the exterior of the chalet.
Almost all of our chalets can accommodate extra beds. We deal with these enquiries on an individual basis. Please contact us via email, or call us on 01225 731312 for more details.
Ideal for: a family or small group of friends
Price range for this chalet is £1,290 - £2,394 for the whole chalet.
At a glance
Sleeps 6
Self-catered
3 twins rooms
Large family bathroom with WC
Separate WC
Towels and Bed linen provided
End-of-stay clean
Resort taxes included
Free Wi-Fi
How to book

To make your reservation, please choose from the availability below
We operate a reservation system which allows you to hold a booking for 48 hours with no financial obligation
Chalet Prices & Availability (2017/18)
What's included in the price of your holiday
As standard, the price for this chalet includes:
Seven nights' accommodation
Bed linen and bath towels provided
End-of-stay cleaning
All resort taxes
Dedicated and helpful service from all the Ski Basics team in resort
For your personal use, this chalet also comes with:
Free Wi-Fi
Log fire
Parking
Chalet Floorplan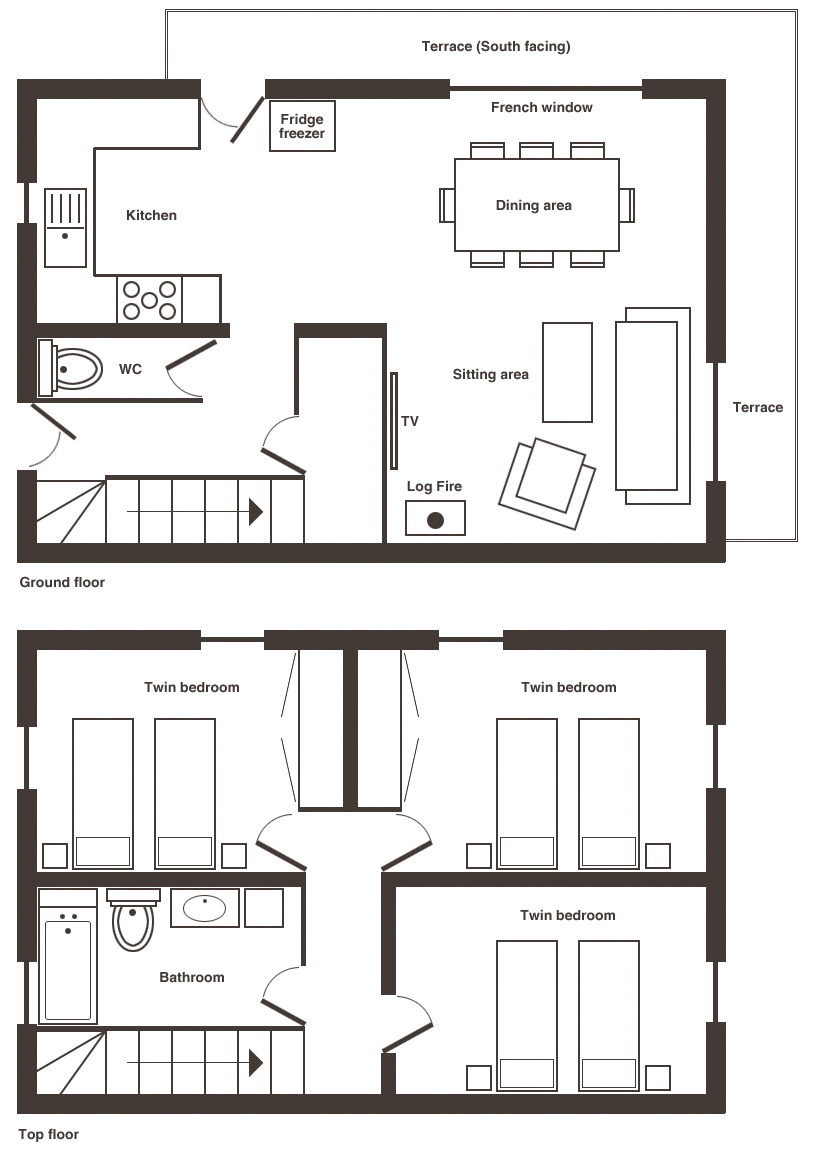 Feedback from our guests
I cannot fault the service of Ski Basic and I cannot believe that for the second year running we have had the most amazing Chalet hosts. The food was amazing; they were really friendly and couldn't help us enough with all aspects of our ski holiday even offering to help us on their days off. Gold star to you as a company for finding such wonderful people and please praise Sam & Phoebe for making our holiday so great. I will recommend your company to anyone I know that is looking for a ski holiday.

Julie Foreman - February 14, 2014
Thoroughly enjoyable- beautiful chalet, friendly staff across the board and loved how we felt at home whilst being treated like very important guests! Will be recommending to others in a heartbeat! Thank you!

Tamsin Vincent - March 22, 2014
Our chalet was beautiful. It was comfortable, warm and clean. The chalet hosts were lovely people who went over and above their call of duty. Any query was answered efficiently. Their attention to detail was superb. We had two young children with us and Phoebe and Sam were so good with them and helped ensure they had everything they need and that they liked their menu. We really enjoyed our chalet experience. Thank you Sam and Phoebe.

Laura Moore - March 8, 2014
Phoebe and Sam were the perfect hosts, a pleasure to be around! The food was delicious, the chalet immaculate, very impressed.

Cathy Fenning - March 8, 2014
Brilliant holiday and very keen to come back next year with Ski Basics. A really positive, professional service with a great chalet, hosts and management. Top notch.

Mark Govan - February 1, 2014
Phoebe, Sam and Emily were incredible. We had unbelievable meals, great guidance on the areas for skiing, nightlife, and entertainment. They were always courteous, thoughtful and focused on our satisfaction with the trip. I would highly recommend them and Ski Basics to all friends / colleagues looking for a winter holiday location. They were all-stars in every sense of the word. As an example, one of the guys in our group had a birthday while we were there - the team got candles for the afternoon cake along with balloons!! What a thoughtful thing to do.

Scott Howser - February 1, 2014