Catered
Chalet Marini

, Meribel 20
Chalet Marini is a sprawling twenty bed chalet excellently situated at the entrance to Meribel Village. With its homely communal areas and huge balcony overlooking the Meribel valley, Chalet Marini is absolutely perfect for large groups, extended families and reunions.
A wonderfully located, stand-alone chalet, Chalet Marini is yours to take over for the week. For work do's, or for those with something to celebrate, Chalet Marini offers a hotel-like experience with a personal touch. Each room benefits from private facilities, twin beds, and the space to get away from it all when you need some peace and quiet. Wander into Meribel Village for skiing, catch the Navette into Meribel Centre for nights out, or spend the evening on the terrace with a glass of wine in great company. A big chalet with a big heart, make Chalet Marini your base this winter.
Almost all of our chalets can accommodate extra beds. We deal with these enquiries on an individual basis. Please contact us via email, or call us on 01225 731312 for more details.
Ideal for: a large group of friends or two families
Price range for this fully catered chalet is £5,980 - £16,980 for the whole chalet.
At a glance
Sleeps 20
Fully catered
10 twin rooms with private facilities (bath or shower)
Free Wi-Fi
UK Freesat television
CD and DVD player
Log fire
Ski and boot room with heated boot rack
Private parking
Towels and bed linen provided
Staff live in (adjoining accommodation)
How to book

To make your reservation, please choose from the availability below
We operate a reservation system which allows you to hold a booking for 48 hours with no financial obligation
Chalet Prices & Availability (2017/18)
For the current season, we now have limited availability.
Please go to our Prices & Availability page for an at-a-glance view of chalets and dates available.
What's included in the price of your holiday
As standard, the price for this chalet includes:
Seven nights' accommodation
Bed linen and bath towels provided
Continental breakfast
Homemade afternoon tea with coffee/tea, hot chocolate and vin chaud
Three course evening meal (on six nights)
Complimentary quality house wine
Children's dinner at 6pm (if required)
Help with booking your ski lessons, ski passes and ski hire
Kids' holiday fun pack
Ski Basics' goodies
Mini bus service to and from the slopes
Dedicated and helpful service from all the Ski Basics team in resort
For your personal use, this chalet also comes with:
Free Wi-Fi
UK Freesat television
CD and DVD player
Log fire
Ski and boot room with heated boot rack
Private parking
Chalet Floorplan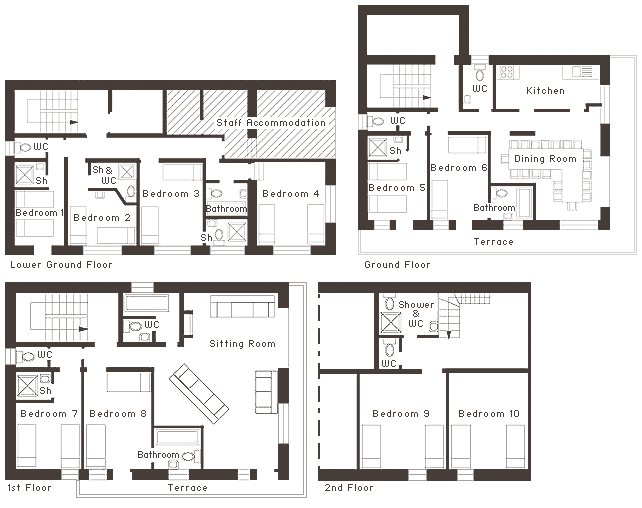 Feedback from guests who have stayed at this chalet
The location of Marini is a real plus as it meant members of our party could come and go to the slopes as they pleased without worrying about transport and the nearby bus stop made it easy to get into Meribel centre.

Andrew Farmer – February, 2016
Great chalet, really good sitting room with open fire.

Beany Everitt – January, 2016
It was nice to be close to the local shops, restaurants and bars - where there was often very good music and entertainment. Even though the Golf ski lift was close - we didn't even have to walk there in our ski boots - our driver was always on hand to give us a lift. We will definitely be returning and thoroughly recommend the Ski Basics team. Many thanks!

Wendy Hughes - March 14, 2015
The entire team at the chalet went above and beyond to accommodate our diverse group of friends during our stay. They were simply amazing and I can't say enough positives about them. They were friendly, competent, hardworking, and flexible. They helped make this one of the most memorable ski holidays for all of us staying at Chalet Marini.

Adrian Wall - January 25, 2014
We had one of the best vacations of our life. We hope to come back in 2015!

Jeff Patterson - March 8, 2014
They bent over backwards to make sure we had a good time and put up with all of our antics. I can 100% say that the chalet staff added to our experience and I couldn't be more complementary. Our group had SUCH a good time. Honestly, the staff were unbelievable, the chalet was great - great location and accommodation, and I feel so lucky to have had that experience. Thank you, thank you, thank you for such an amazing week!

Kristen Mueller - February 23, 2013
Had a fab time and would strongly recommend Ski Basics to friends. Would definitely return. Thanks to all your staff for a brilliant holiday.

Lynda Jeyes - December 21, 2013
Fabulous holiday chalet staff were amazing, would happily recommend to anyone.

George Lear - February 23, 2013
They (Sophie, Rob, Tim and Craig) were all fantastic. They were welcoming and friendly without being overbearing. They were really kind to the children who appreciated the extra little things like helping to write messages in the butter, napkin folding and chalk pictures (thanks Sophie). Food was great and varied – thanks Tim. Rob was thoughtful and interested in our day again without being intrusive. Lifts in the morning didn't seem a problem (thanks Craig). Best hosts we have ever had!

Alison Stradling - February 9, 2013