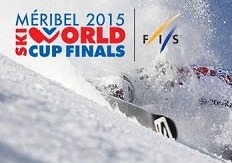 The biggest news this year is that Meribel will be hosting the FIS Alpine skiing World Cup Finals 2015. A massive first for France, Meribel is gearing up to crown some of this season's best men and women skiers from each discipline, bringing some much deserved media attention to our very own Heart of the Three Valleys. 
With a potential viewing base of over 85 million, and 10 live TV broadcasters, the Meribel 2015 Skiing World Cup Finals look set to make huge headlines, with over 400 media accreditations listed. With around 70,000 spectators expected throughout the week, Meribel has the opportunity to really sell itself to the skiing community, and will undoubtedly win a place in the hearts of both the audience and competitors alike.
There are 9 world cups up for grabs, with finals in the Descent, Super-G, Slalom, Giant Slalom and the Team Event taking place over the course of the week in March 2015. The site is thought to be the Grand Duc and Stade pistes, currently undergoing major restructuring work, including spectator areas that promise a great view for all tastes here in Meribel at the 2015 Skiing World Cup Finals. This World Cup is sure to be one of the best yet, with 25 men and women at the peak of their ability rocking up to Meribel with their game faces on and their eyes on the prize. So far the week in March is organised as follows
Wednesday 18th : Descent Ladies & Men
Thursday 19th : Super-G Ladies & Men  Friday 20th : Team event
Saturday 21st : Slalom Ladies / Giant Slalom Men
Sunday 22nd : Slalom Men / Giant Slalom Ladies
Having successfully hosted the 1992 Winter Olympics, and stages of both the Freestyle and Telemark World Cup, Meribel is making a name for itself as one of the larger contenders for this type of event. With its picturesque setting, fantastic atmosphere and vast variety of terrain, Meribel is well on the way to ensuring its place on the international skiing stage for many years to come.