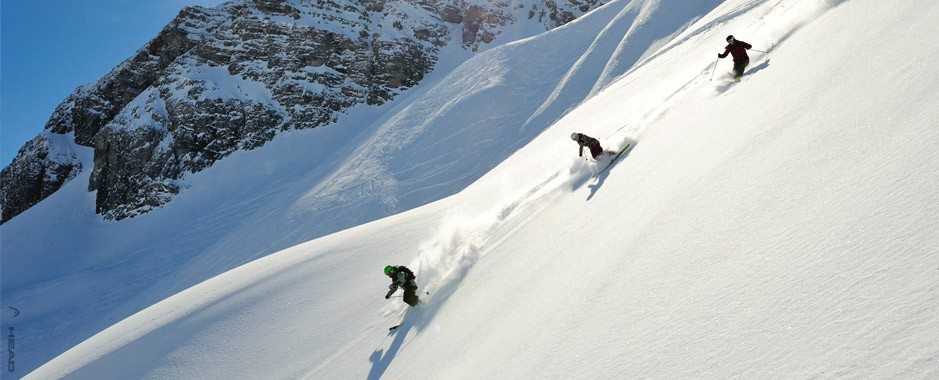 Ski hire is a massive part of getting it right when it comes to going on a Meribel skiing holiday. I'm talking about getting good quality kit, at the right price, which will give you the confidence to get the most out of your time on the slopes. This is easier said than done, as most of your shopping around will be done beforehand. So how do you know where to choose for your Meribel ski hire? 
From experience, shops offering too-good-to-be-true deals are often just that, so I would steer clear of anyone offering two for one ski packs at a "bargain" price. Skiing in Meribel isn't necessarily the cheapest of activities, but if you've spent all that money on getting out there, it's worth spending a little more to get kit that's a little bit newer, a little bit better maintained, and which will greatly improve what you get up to on the pistes. Having said that, rental kit is rental kit, and it will likely be used and maybe even a little bruised. As long as your settings are correct, and you're as comfy as you can be (in solid, plastic boots) then you'll be good to go.
I've been fortunate enough to work closely with a couple of Meribel ski hire specialists, and therefore highly recommend The North Face, and Freeride; both of which are located in the centre of Meribel. The North Face is positioned at the top of the centre, just up from La Taverne; a great stop off for drinks on a night out, and purveyors of good burgers, too. Freeride is down near the outdoor pool, home of the famous "beach party" come Spring. The rest of the season it is wisely covered.The North Face Meribel has 200 square metres of retail space and stocks a huge selection of technical clothes and accessories. Their hire kit is of extremely high quality, their staff knowledgeable and friendly, and all of whom speak perfect English; even the Scots! This really helps you in finding the best fit in those all-comfortable ski-boots and saves you going back to the shop mid-week when your big toe is threatening to fall off. "Accurate and Effective" fittings is what they aim for, and with a huge selection of different styles and models at various levels, you're guaranteed to hobble away happy.
Contact to pre-book:
Email: contact@meribel-ski-rental.com
Tel. +33 4 79 08 53 79
www.meribel-ski-rental.com
Freeride too, offer great customer service, and claim to offer the best "professional and helpful advice" on all ski hire kit. Their staff also speak both English and French (for those of you that want to get in a little practise) and are offering some great ski packages (including boots, skis and poles). Their fantastic location right next to La Chaudanne means that if you have the teensiest worry about any of your kit, you can pop by to get it sorted before the family can say "trois chocolats chauds s'il vous plaît". They offer online booking, and a free shuttle service, meaning that you can relax in your delightful Meribel accommodation, and let them come to you and fit your kit whilst sunbathing on your sunny balcony. For those of you that might be tempted to walk away from Meribel with something a little more permanent than your goggle tan, why not make the most of Freeride's test centre? Not only will they help you choose the best pair of skis for you, you can try them out first, and normally, they'll knock the price of your "test" off the skis. Just don't tell them I told you!
Contact to pre-book:
Email: reservation@danisports.fr
Tel. +33 4 79 00 42 41
www.freeride.fr