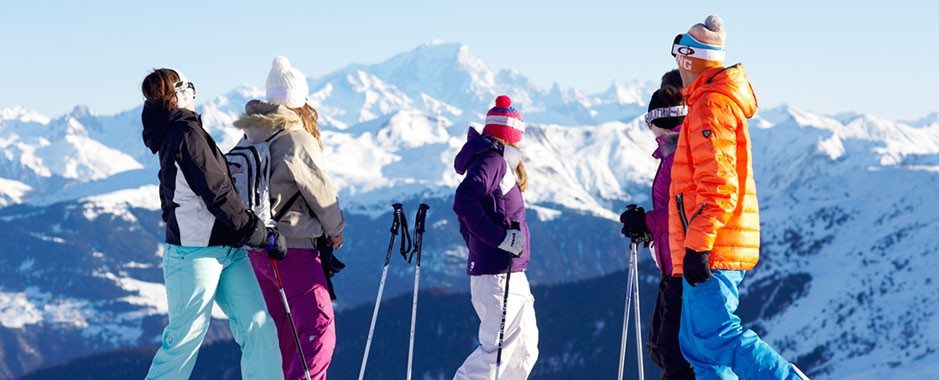 I'm asked this question a lot, so thought it high time I wrote a response to; "Should I do a Ski season?"
Now, if you love skiing, can wolf down a fondue before your morning snowplough, or are just plain outdoorsy – chances are you'd fit in perfectly with the thousands of staff migrating to Meribel each winter; to hit the slopes, throw themselves into Apres-ski and develop a long-term crush on a ski instructor.
But where do you start? Years ago I asked myself the same question – so I, like you, turned to the internet and got stuck into some research. I was immediately struck by just how much terrain the Three Valleys covers, and Meribel seemed perfect – nestled right in the middle of several other fantastic skiing resorts. Fancy skiing in Meribel in the morning, popping over to Courchevel for a spot of lunch and then getting in some cruisy blues before making your way home? Well, so did I. Where to find work though? Further delving revealed that chalets in Meribel were plentiful, and who better to whip up a chocolate mousse, or burn some scrambled eggs than I?!
Accommodation in Meribel doesn't come cheap, but if you are able to find yourself work with a chalet company, everything is provided for you; from your ski pass to insurance, and plenty in between. (Obviously this varies depending on which company you work for!) I can't recommend this type of work enough. Working in a chalet allows you to get in a huge amount of slope-time, has the opportunity for great tips, and even looks good on your CV.That and the friends you'll make for life? What more could you ask for?!
I had been on a skiing holiday in Meribel years before but nothing could have prepared me for what would be the best time of my life. Sure, there were early mornings, too many late nights, and waaay too much cake left over from afternoon tea that I just "needed" to sample, but I have to be honest. There was not one day I didn't look out of the window at the snowy peaks and remind myself how lucky I was to be there. Not one time I didn't pick up my chalet phone, vowing to sleep off my hangover, and be convinced that today was THE day I should do that parapente I'd been putting off..
My advice? In the words of Dr Pepper  – "Try it, you'll love it."