Health benefits of skiing
Skiing is not only great fun for people of all ages and fitness abilities, but it also carries huge benefits for both your physical and mental wellbeing. So just in case you needed another excuse to hit the slopes on your next holiday, we will explore some of the many health benefits skiing can bring!
How many calories do you burn whilst skiing?
Exactly how much energy your body burns whilst skiing is a much-discussed topic and we're happy to say, it's good news! According to Harvard Medical School, on average someone weighing 11 stone will burn 223 calories in 30 minutes of downhill skiing or if you weigh 13 stone, you will be burning 266 calories within 30 minutes, which is pretty impressive! There are a number of different styles of skiing, all of which have brilliant benefits to your health. Which style of skiing you opt for will depend on your personal preference, experience and ability.
Some forms of skiing will have increased health benefits due to their more strenuous nature, such as Cross Country and Off-Piste skiing. For example, Cross Country skiing is an excellent aerobic workout. Rather than using a ski lift, you will make your own way up the mountain. Meaning you sustain an increased heart rate for a long period of time. According to Harvard Medical School, someone weighing 11 stone will burn 298 calories within 30 minutes of Cross Country skiing. In addition, no single muscle group is overworked making it a great full-body workout underlining how skiing is such a superb way to both reach and maintain a healthy weight.
This is particularly outstanding when you consider that you will be spending up to several hours a day on the slopes across the span of a normal skiing holiday week. Similarly, Off-Piste skiing is a great cardiovascular and full-body workout, as it requires you to make your way through un-groomed terrain, raising your heart rate and strengthening your muscles. This type of skiing is not for the faint-hearted but can be one of the best calorie burners in sport.
Ski Nutrition
With that in mind, it is important that your body is given the fuel to recover from a long day on the slopes. This is why we work carefully to ensure our chalet food is not only mouth-wateringly delicious but also provides you with the nutrition and energy required to recover and tackle the mountain head-on day after day.

Health benefits of downhill skiing
As with more strenuous forms of skiing, there is also an abundance of health benefits to be sought from downhill skiing. We look at the benefits to your cardiovascular health, bones and joints becoming stronger, improved muscle tone, and mental health.
Increases cardiovascular health
As already discussed, skiing is a fantastic cardiovascular workout. As with all muscles in the body, the more we exercise our heart the stronger it will get. Therefore, as we raise our heart rate whilst darting around the mountain, we are strengthening our heart. Which in turn benefits entire cardiovascular system and increases our stamina for time spent on the mountain. To maximise this, try really getting your body moving into your turns. Or, have a go at walking up the piste rather than catching a lift as done in cross country skiing. You'll certainly feel the benefit (and the burn in your thighs).
Strengthens joints and bones
Whilst skiing provides a full body workout, it provides particular benefit to your legs. When you are skiing, your knees and ankles are required to endure the tension and weight of your body moving across them as you carve your way down the mountain. This impact and movement of weight across your lower body not only strengthens your joints, but bones too!  From your femur right down that big toe tucked away in your boot. Keeping you strong and nimble, right into the more 'senior' years.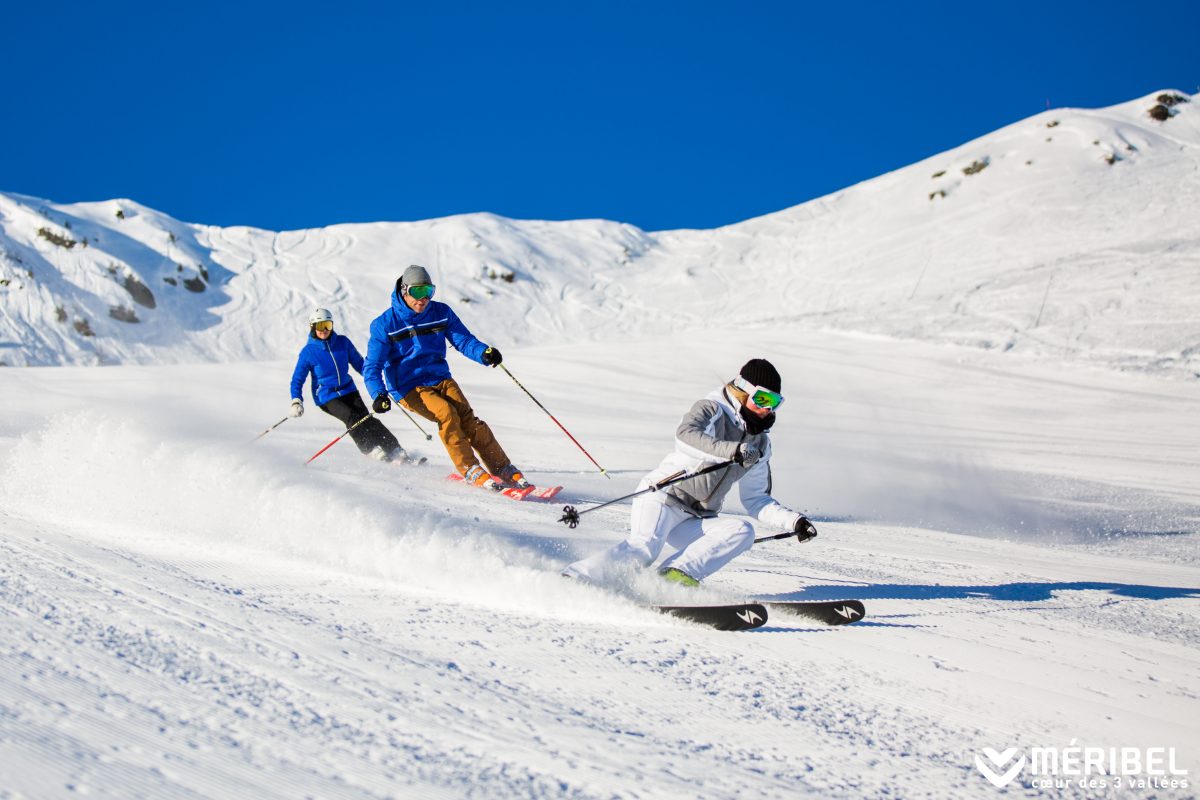 Tones muscles
We're all familiar with that burning thigh sensation after giving it your all down a run. Well, that feeling is your muscles really working! Skiing works all of your major muscle groups as well as the smaller ones in your feet and ankles. Giving you a prolonged full body work out when you're out on the mountain for several hours.
Mental health
It's no secret that some fresh air and time spent enjoying nature can do the world of good for our mental wellbeing. So, it's hardly a surprise that there are proven psychological benefits to being out on the slopes. We only have to look at this picture of the stunning views across Meribel Centre to feel instantly relaxed and in awe of our beautiful world! Fresh air and beautiful scenery aside, skiing will also get your endorphins pumping and boost your adrenaline production too. Giving you a daily surge of 'feel good' neurochemicals for the body and mind. Not to mention an increased dose of vitamin D, vital in combating depression and seasonal mood disorders. We explore the mental health benefits more in this post.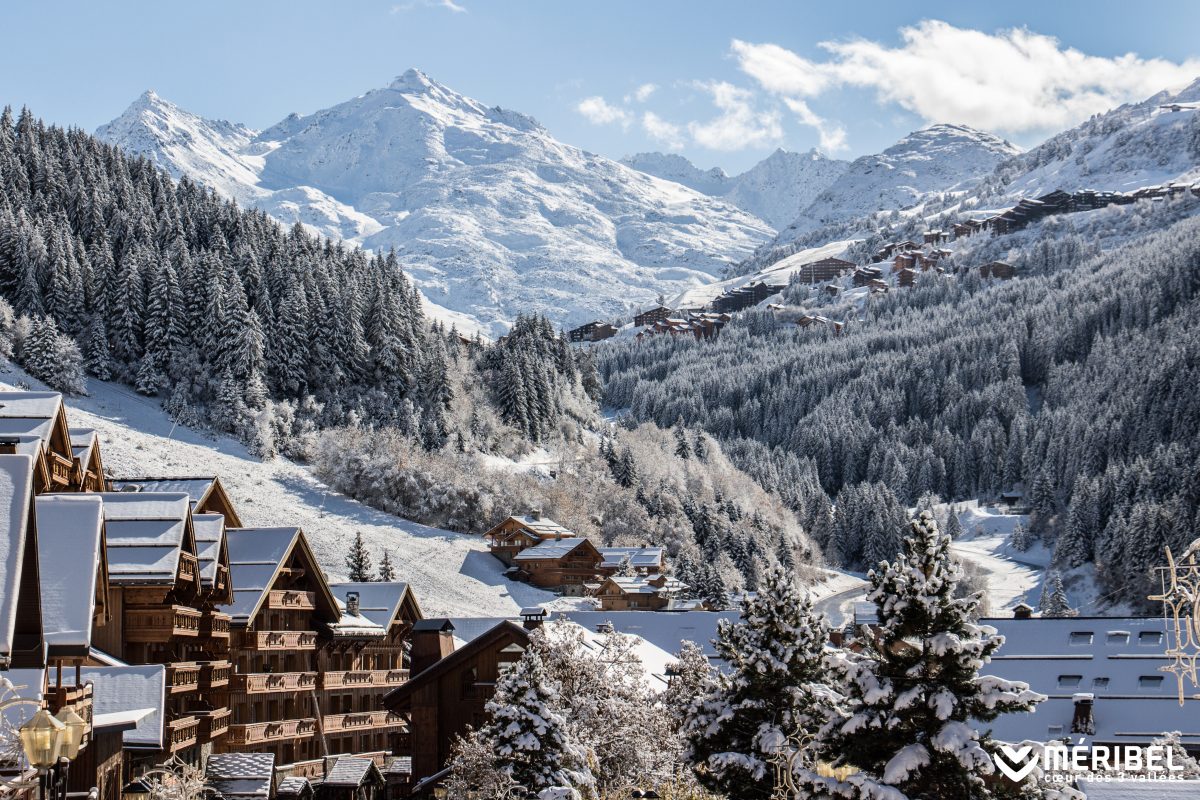 Health benefits of snowboarding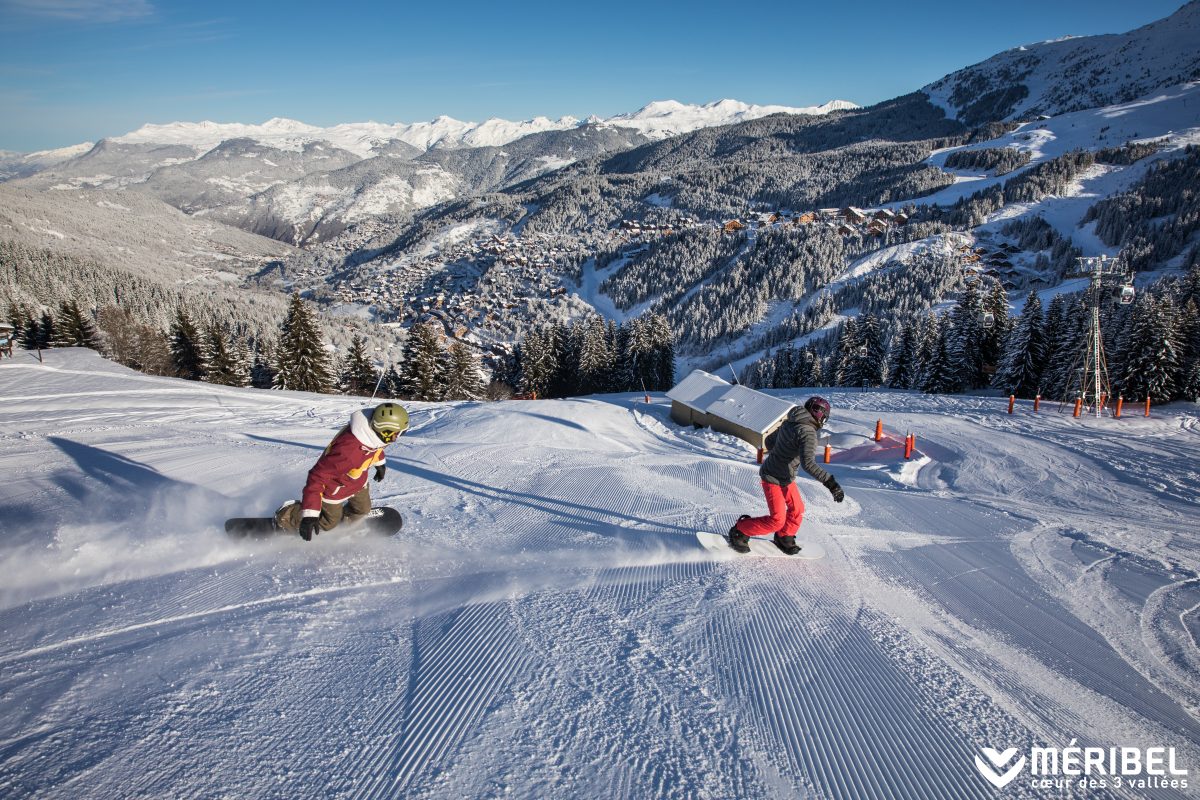 Snowboarding boast the same brilliant health benefits as skiing with the added emphasis on brilliant benefits such as…
Increased flexibility
Snowboarding requires your body to move dynamically and change direction quickly. These movements not only strengthen your muscles but encourages your body to move into positions you may not normally. Therefore, increasing your ability to move into them flexibly.
Improved balance
Snowboarding is one of the best activities for improving your balance. Anyone who has tried skate boarding or surfing can appreciate the difficulty of remaining standing. Not to mention, with ice and snow brought into the equation. Meaning that becoming a proficient boarder and improving your balance go hand in hand. Which in turn, also aids your core strength.
Muscular strength – particularly core
Snowboarding can be highly physically demanding, using muscles from all across your body. At the centre of all the major muscle groups used when snowboarding, is your core. Not only is this great in terms of protecting your vital organs but it will help you on your way to a great summer body too!
So just when you thought skiing couldn't get any better, it has proved its vital role in supplying multiple health benefits for a long and healthy life. Meribel is located at the heart of the world famous Three Valleys and has a vast range of slopes for every ability. From idyllic tree lined slopes, ideal for beginners to infamous snow parks and breath-taking views from 3000m at the summit of Mont Vallon. Making it the ultimate ski destination that  you will return to for years to come.
To join us in Meribel and make the most of these health benefits first hand, take a look at our chalets and their availability here. Or simply get in contact and a member of our team will be happy to help.