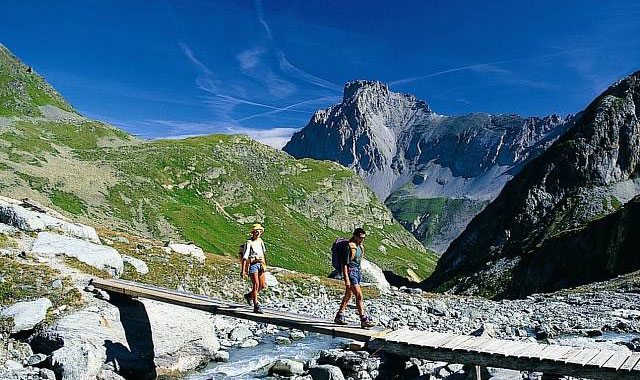 Summer in Meribel offers a wealth of opportunities; your holiday can be filled with thrill-seeking adrenalin rushes, sun-kissed pampered skin or a walk through the breathtakingly beautiful Alpine countryside (with or without golf clubs!). There's even plenty to keep the kids occupied with crazy golf and a rope course not to mention swimming, bowling, ice-skating, etc.
Discover and explore Meribel in summer
For those among you who have only ever considered the Alps as a winter destination: we urge you to think again! Mountain biking in the Alps is a 'must do' for any serious bike enthusiast.
For those of you who know a thing or two about mountain biking in the Alps, it is obvious that any place that's good for skiing will be great for mountain biking. And, let's face it, Meribel is excellent for skiing! Most of the ski hire shops reinvent themselves over the summer and the resort becomes a haunt for mountain bikers, from the novice to the expert: they come in droves to visit the site of the VTT world cup and to take part themselves in some of the events that Meribel hosts throughout the summer.
Mountain biking holidays in the Alps
Meribel is gathering a well-earned reputation for summer sports, the most notable of which is, of course, mountain biking.
Some quick facts to get you started…
Single-track trails, downhill courses and lift assisted cross country
Over 150km of marked trails
3970m of marked descent trails
French Cycling Federation labelled Mountain Bike Venue (since 1998)
Lifts open throughout July and August
Highest lift 2700m – Valley Floor at 500m
Although Meribel may not be the first place to pop into your mind when deciding on a mountain bike holiday, it is universally acknowledged that mountains that are great for skiing are great for mountain biking. And where better than the Three Valleys for skiing? The Alps are quite simply a paradise for the discerning mountain bike enthusiast.
Please check out what Mountain Bike Rider magazine say about Meribel and The Three Valleys. Click here (PDF file).
There's a definite trend towards lift-assisted cross country (xc) and single-track trails, though you can also find the usual freeride and downhill courses. Gondolas and many of the chairlifts are fitted with special bike racks and are open during July and August for those who prefer downhill, though you can avoid the heat and the crowds by going in June or September and even often well into October (this is dependent, of course, on snow conditions as some passes may become unsafe).
Take on the challenging 30km run from the highest lift right down to Moutiers on the valley floor, a drop in altitude of over 2000m, tackle the twisting, snaking 'Funny Track' from the top of Saulire into Meribel or simply cruise through the open meadows and trails of the Vallée de Belleville.
The 'Must-Do' event of the summer is the 2/3 July : Meribel hosts a VTT weekend with a 20km Freebike descent from the top of Saulire to Brides-les-Bains on the Saturday and an 80km Rando Tour on the Sunday incorporating 1100m of ascent and 3400m of descent over a marked circular trail. The cost of taking part is €27 for one event or €45 for both (the Freebike must be booked in advance) and a refundable €10 deposit. Click here for more information.
You can download an entry form (PDF) here.
Don't miss the French MTB championships either, on the 15th – 17th July, an excellent chance to see some of the experts strut their stuff.
Bike hire in Meribel
There are plenty of places to hire bikes in Meribel if you don't have your own, including children's bikes, though if you do have one it is normally worth bringing it for your own safety and comfort. Rental prices vary from €16-80 per day depending on whether you select a basic bike without suspension, or a full on free ride descent bike. Spare parts tend to be unnecessary as the shops are well equipped with all the main brands unless you require specialist component parts.
Tel. +33 04 79 08 59 90
alex@fastridingpeople.com
Guides
Although most of the trails are well marked, it can be worth hiring a guide to show you all the hidden secrets of the Three Valleys. Of course we can point you in the right direction but having a guide with you means you won't waste time worrying about where to go or which turn to take.
Guides cost from only €50 per day, shared between a group this is not a huge price to pay to unearth some of Meribel's best riding.
Alex Bastien – Guide
alex@fastridingpeople.com
Summer lift passes in Meribel
There are two options when purchasing a lift pass. An adult lift pass is €42 for 7 days (mountain bikes are no extra charge) or €102 for a family pass. However you can also buy a seven day Meripass for €50 (€160 for a family) which gives you access to the swimming pool and ice rink as well as the lifts. This pass also gives you 10% discount from golf, bike hire (at participating shops), Activ'été Deval karting and off-road scooters and 5% from AN rafting and day or half-day outings with the Bureau des Guides.
More extensive information on lift pass prices and the Meripass are available from Merinet and skipass-meribel. Links below:
Merinet lift-pass info
Skipass-Meribel
Other activities
Beside mountain biking, there's a whole host of other activities available during the summer months in Meribel. Here's a guide to what's popular.
Walking/Hiking
Walking is an excellent way to see the natural beauty and abundant wildlife of the Three Valleys. There are two national parks at your disposal, the Vanoise National Park (140,000 acres) and the Tueda Nature Reserve (2,700 acres) reaching to the Gebrolaz Glacier, which offer the opportunity to see some of the Alps' most stunning scenery. Watch out for marmots, deer, buzzards and the occasional golden eagle.
Meribel Valley alone has 100s of kilometres of easily accessible marked trails; you can do anything from a casual stroll to a longer hike, even staying at one of the valley's 50 refuges overnight (Refuge Grand Plan or Refuge de la Traie are two excellent examples). The mountainous terrain doesn't offer many flat trails, with the walk from Mottaret to Lac Tueda being the only obvious exception, so be prepared for some steep uphill climbs, the highest trail reaches 3855m! However, many of the trails do link up with the lift system – you can find out which from the free booklet provided by the Tourist Office or hire a guide from the Mountain Guides Office, who also run a kids' club for 6 – 12 year olds.
Map of Hiking Trails
Click here (PDF)
Bureau des Guides
http://www.guides-courchevel-meribel.com
Tel. +33 4 79 00 30 38
bdgmeribel@yahoo.fr
Raquett'Evasion
http://www.raquettevasion.com
Tel. +33 6 09 40 20 28
info@raquettevasion.com
Refuge Grand Plan
Tel. +33 6 17 85 01 71
refugedugrandplan@orange.fr
Tel. +33 6 11 95 08 90
refuge.latraie@free.fr
Golf and Tennis
Golf
Meribel's golf course is open to non-members and is one of the Valley's main attractions. The 18 hole course features lakes, water cascades and rolling fairways and has recently been re-categorised as a par 71 course due to the remodelling of the back 9 holes. As well as providing incredible views, the height of the course (1565m to 1850m) handily makes your ball fly further. However, both the altitude and the mountainous setting mean a certain level of fitness is required to complete this technically challenging course.
www.golf-meribel.com
Tennis
Meribel has 10 courts located at Le Bois d'Arpin above the Truite piste, where you can join group lessons or hire out a court privately. They also hold a weekly tournament every Saturday throughout the summer. Be aware that if you bring your own kit you will need non-pressurised balls to cope with the altitude.
White Water Sports
Swim, slide, climb, paddle or jump your way through the invigorating rapids and beautiful mountain streams. You can choose from a variety of white water sports, including rafting, canyoning and hydrospeed, all of which provide an energetic and entertaining activity for all the family.
www.franceraft.com
Paragliding
Not for the faint hearted, but open to almost anyone, paragliding is a wonderful way of seeing the Alps from a whole new perspective as well as appreciating the peace and tranquillity of the skies. Flights are usually in tandem with a qualified instructor and cost around €60.
Shooting and Fishing
Most days you can receive lessons in Archery from a qualified instructor at La Chaudanne. A Clay Pigeon shooting range is located between Meribel Village and La Tania, open on both Wednesday and Saturday afternoons, and fishing is available on Lac Tueda (permit required).
Via Ferrata
If you want the sensation of having scaled the highest heights without the danger element of rock climbing then this is the way to do it. Anyone can follow the marked trails aided by ropes, ladders and steps – there is an easier circuit for children and an advanced circuit at the summit of Dent de Burgin. Guides are available and you can hire all the necessary equipment at the local Mountain Guides' Office.
Visit Annecy
Take a day out to visit Annecy, the mountains provide a spectacular backdrop to this beautiful lakeside town. Almost every morning you'll find a market encamped in the cobbled streets and there are plenty of shops and restaurants to while away a day in the sunshine.
Children
If you have a young family then don't worry – there is plenty to keep the children occupied! They will love the Accrobranche ropes course which consists of a series of rope bridges and zip wires, to suit all ages and abilities (from 3yrs). The activities are fully supervised and cost between €10 and €30. The centre is open 7 days a week during the summer months.
Both Meribel and Mottaret host crazy golf courses (10am – 7pm) and the swimming pool (11am – 7pm), ice rink and bowling (4pm – 1am) are also open all year round. There are plenty of opportunities to horse ride and most weeks during July and August are themed with specially designed activities available.
Download our events calendar (PDF) from here.
You can also enter the children into Kids' Clubs similar to those that run over the winter, most of which will speak English – try Les Saturnins (18 months – 3 years), Les Piou Piou (3 – 8 years), Mericlub, Les Castors Juniors or Sport Kids.
For more information and prices of the different options available please have a look at: http://family-summer-holidays.meribel.net
Accrobranche
http://parcaventure.pagesperso-orange.fr
Tel. +33 4 79 08 55 33
meribel.aventure@wanadoo.fr
Useful links
Merinet provide extensive information on Summer activities in Meribel. Please click here.
For a high-resolution pdf map of Meribel and The Three Valleys please click here.