Rumours abound regarding snow conditions in any resort. Whatever it is that you are worried about we'd like to reassure you that Meribel has an excellent reputation for great snow conditions from early December right up until the end of the season.
Statistics
Think of the April showers that we are so accustomed to; in the Alps these fall as snow, often resulting in bumper snowfalls in late March and April. In fact, some of our lucky guests have had one of the best powder days they've ever experienced during April.
But don't take our word for it...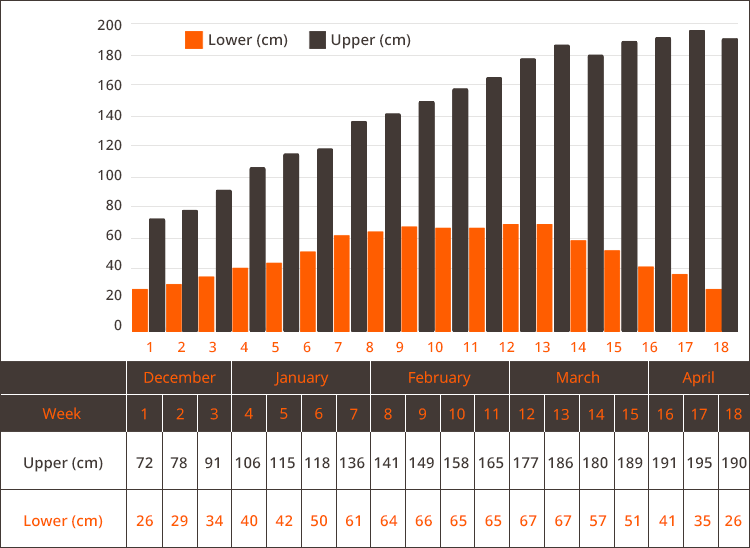 Data provided by the Ski Club of Great Britain.
The graph above shows the average snowfall during the season, taken over the last 10 years. A Ski Basics season runs from Week 1 until Week 18. A solid base of approx. 75cm is created by Meribel's prolific covering of snow cannons in November/December as the season starts. Then, as you can see, snow simply accumulates during the season eventually resulting in nearly 2m of snowfall on the upper slopes in the last week of March/ first week of April.
It is also worth taking into account the aspect of the Three Valleys. Each valley has a North facing slope and a South facing slope, which can result in varying snow conditions in the same valley. We recommend skiing on the sunny South facing slopes in the morning and moving over to the North facing slopes in the afternoon. This is especially true towards the end of the season. With a bit of forward planning you can make the most of some spectacular spring snow conditions.
The best times to ski in Meribel
Pre-Christmas – Premier Neige
Make the first fresh tacks of the season...Take advantage of cheap lift passes and empty slopes before the Christmas rush.
Christmas / New Year
Have an extra-special holiday with family or friends in a magical winter wonderland.
January
Enjoy quiet slopes and perfect snow conditions as well as great value chalets and free ski pass deals.
February
Deepest average snow levels coinciding with half-term makes February hugely popular.
March
Longer days makes for later lift opening times, enjoy powder snow in the sunshine and join in Meribel's famous Altitude and Little World festivals.
April
Experience the spring snow and enjoy lunch or après-ski on one of the Three Valleys' many sun terraces.
The snow facts
85% of runs are above 1800m
2000 snow cannons cover nearly half of the 330 runs
25 accessible summits (10 of which are over 2500m)
Lowest run height 1300m
Highest Meribel lift at 2950m (Mont Vallon)
Highest Three Valleys lift 3230m (Glacier du Bouchet)
Average of 200cm snowfall on upper slopes between January and March
Average of 75cm snowfall on lower slopes in late March/April
Great chalet, hosts and service in general. The name Ski Basics doesn't do you justice; you are very far above basics! We will be back.

Malcom Little - March 4, 2018