About Meribel - The Most Picturesque Ski Resort in the Three Valleys
With its picture-postcard landscape, Meribel is widely considered the prettiest ski resort in the Three Valleys. Its traditional beauty together with superb snow conditions, entertaining nightlife and fantastic shopping establish Meribel Village as one of the must-visit mountain sports locations in the world.
Where is Meribel?
Where in France is Meribel?
Meribel is located in the Tarentaise Valley in the picturesque French Alps, not too far from Moûtiers.
Which department is Meribel in?
Meribel is in the Les Allues commune of the Savoie département of France. Meribel itself is made up of 3 villages: Méribel Centre, Méribel Village and Méribel-Mottaret.
Where in the Three Valleys is Meribel?
Meribel is perfectly situated right at the heart of the world's largest ski area the Three Valleys. Meribel is at the base of the slopes and each village is linked into the ski lift system, providing easy access to the whole of the Three Valleys.
Meribel Altitude
Resort altitude: 1400-1750m
Highest peak: 3153m
Meribel Village sits at around 1450m at the bottom of the valley, with Méribel-Mottaret at an altitude of 1750m and Meribel Centre at 1500m. From Meribel, it's easy to access to Three Valleys' 600km of pistes that range right up to 2952m on Mont Du Vallon.
The highest peak in Meribel is actually at the top of Mont du Borgne at 3153m high and the areas other peaks include Aiguille de Fruit (3051m), Dent de Burgin (2739m), Roc de Tougne (2537m) and Rocher de la Loze (2526m). For more information, check out our piste maps.
Meribel Weather
Being in the Alps and at high altitude, the weather in Meribel can be changeable, but ideal for skiing. In summer, it's generally warm and sunny in the village and cool up on the slopes. While in winter, the village can often get covered in fog, making it feel colder than the sunny slopes.
Here are the average temperatures for Meribel: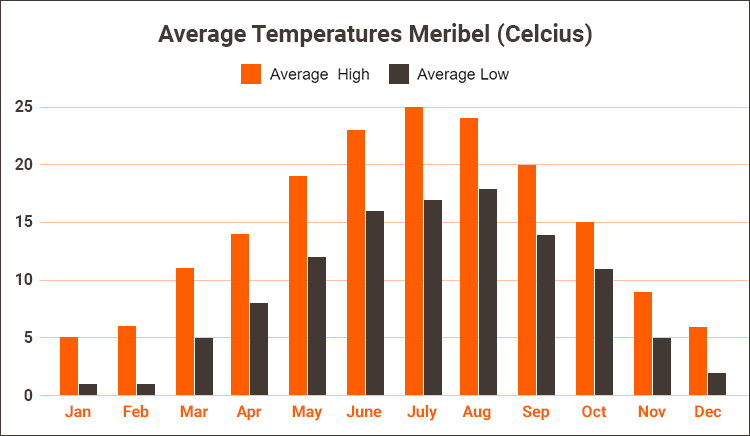 Source:
www.holiday-weather.com/meribel/averages
When's the best time to ski in Meribel?
Meribel gets great snow from early December right up to the end of the ski season.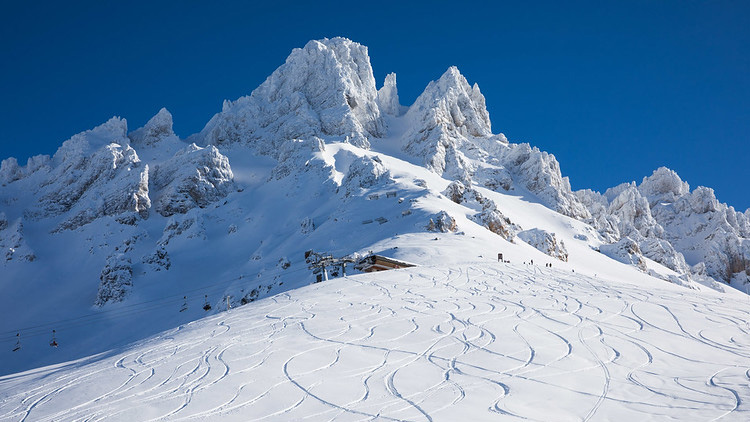 Is Meribel snow sure?
The altitude of Meribel and its alpine climate make it a snow sure ski destination. In Meribel, 85% of the runs are above 1800m, with even the lowest run sitting at 1300m. The average snowfall on the upper slopes is approximately 200cm between January and March, and 75cm on the lower slopes from March to April. Even when mother nature isn't delivering the powdery stuff, Meribel has 2000 snow cannons which cover almost 50% of the runs.
For more information on snow conditions and when it's best to visit, check out our snowfall in Meribel page.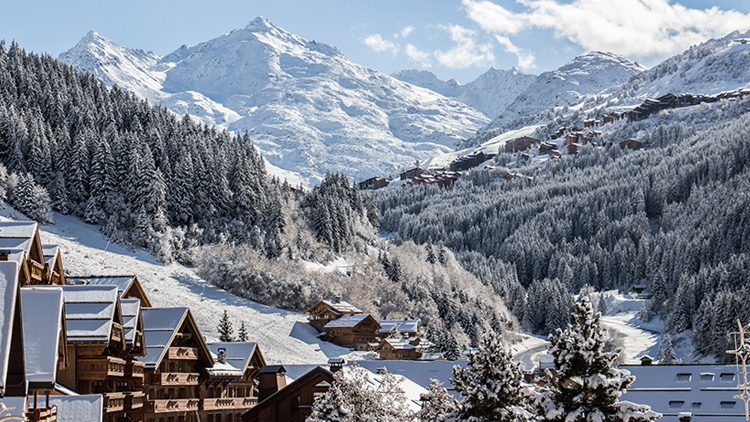 Meribel's Picture-Perfect Landscape
Meribel is arguably one of the most beautiful ski resorts in Europe. The pretty French resort is known worldwide for its natural beauty, stunning scenery and alpine architecture. Its traditional, wooden style chalets are set amongst breathtaking snow-capped mountains, making every moment picture perfect and Instagramable.
And when you're not enjoying the slopes, there are endless picturesque walks to enjoy around the spectacular Meribel resort.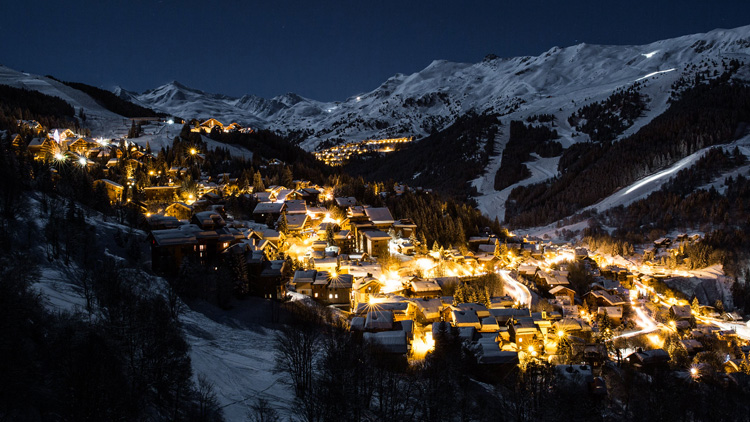 In and around Meribel: Towns, villages and shops
Meribel Centre is the main town of the area with lots of bustling nightlife, facilities and shops. The town also has easy access to the slopes via the La Chaudanne ski lift.
Meribel Village, just outside Meribel town, is a tranquil collection of chalet-style accommodation, quaint alpine shops, delicious patisseries, mini supermarket, as well as laid back bars and restaurants.
Méribel-Mottaret is slightly higher up the mountain and has a more commercial vibe with apartments and hotels. Mottaret also boasts a wide range of shops, supermarkets, restaurants, bars and even a cinema.
If you don't mind travelling a little further, lakeside Annecy is well worth a visit. Known as "the Venice of the Alps", Annecy is a stunning patchwork of canals, cobbled streets, alleyways, quirky shops and eateries. The town's lake is the second largest in Europe and is considered the cleanest, so it's a great place for a summer's dip.
In terms of getting around, there is a free Meribus service that runs three routes around Meribel Centre, Meribel Village, Les Allues and Mottaret. And taxis are easy to find and not too expensive.
Check out our blog for more on restaurants in Meribel, as well as our top 5 things to do.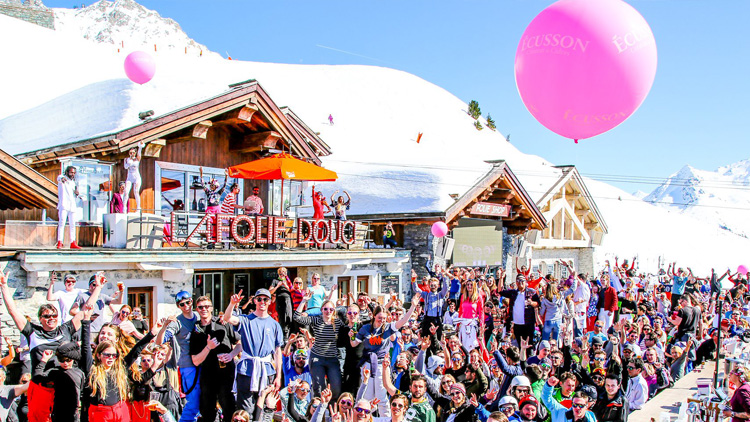 Nightlife and Apres-Ski in Meribel
Meribel is famous for its apres-ski bars and lively nightlife. La Folie Douce is a popular spot that's an alpine restaurant by day and Ibiza-style night club by night. Expect live DJs, dancers and performers. Le Rond Point is also known for its epic apres-ski parties. 'The Ronnie' has a huge, suntrap terrace with panoramic views, and live music and DJs daily. Jack's is a firm favourite for afternoon drinks apres-ski because it's near the main lift. They host live music acts, comedy nights and wide-screen TV sporting events.
And if apres-ski craziness isn't your scene, Meribel also has a great range of chilled wine bars and laidback live music venues.
If travelling with families, there are still lots to do after the slopes in Meribel. Lodge Du Village hosts family-friendly apres-ski live music every afternoon and L'Igloo is the perfect dinner spot for adults and kiddies alike. In terms of activities, Meribel offers some great alternatives for families like sledging Piste de L'Himalaya under the stars.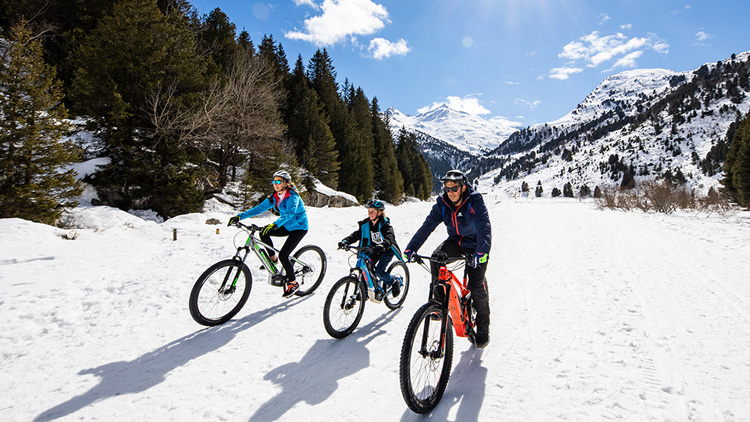 Things to do in Meribel (...besides skiing)
Whether you're a non-skier or you just want a break from the slopes, there are heaps of alternative things to do in Meribel.
If the great outdoors is your happy place, there are lots of spots for scenic walks, bimbles around town and lakeside wanders. You can even explore the beautiful landscape by aeroplane, snowmobile or paraglider.
If you prefer culinary delights, you can sample some delicious French wines, crepes and patisseries.
And for sports enthusiasts, there's mountain biking, archery, climbing, swimming, ice-skating, bowling and more.
There really are endless things to do while on a ski holiday in Meribel. Check out our top 5 here.
History of Meribel
Meribel was founded by Brit, Peter Lindsay, in the 1930s. Lindsay was looking to establish a ski resort in France as many British people were moving away from the traditional ski resorts in Austria, given the county's relationship with Germany. Linsday teamed up with French skier Emile Allais and set about building a resort at the perfect location near the village of Les Allues in the stunning French Alps. The resort was only partially built when the war broke out. The Germans then occupied the region and Meribel was a base for the Resistance.
After the war, skiing enjoyed a boom and the resort expanded year on year, the number of pistes grew and the lifts reached higher, eventually forming the renowned Three Valleys ski area.
In 1992, Meribel hosted part of the Olympic Games which brought about lots of development in the area, including the sports centre le Parc Olympic and the Olympe gondola.
History of Ski Basics in Meribel
Ski Basics have been gracing the slopes of Meribel for over 20 years, during which time we've built a hand-picked portfolio of alpine chic catered chalets.
For more information about our experienced and dedicated team, visit our team page.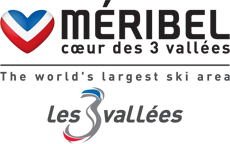 Meribel Resort Highlights
Fantastic skiing
Vast ski area (600km)
Family friendly
Great Wellness facilities
Amazing apres ski
Vast choice of Alpine restaurants
Great non-ski activities
Convenient location and easy transfers
Had the most lovely time here. Not only being in the mountains but the company from our chalet hosts made it incredible and so joyful. Credit to Una and Ugne and the entire team. I will 100% be returning for Ski Basics in the future. Thank you for the unforgettable memories. Wade :)

Wade Loftus - December, 2022