Catered
Chalet Hermine

, Meribel 10
Fantastically located in the heart of Meribel Village and only steps away from the Golf chairlift, Chalet Hermine ticks all the boxes.
Sleeping ten, each of the five bedrooms feature clean lines and fabulous en-suites, while the inviting breakaway living area will ensure you can relax and unwind after a hard day on the slopes. The open plan kitchen and dining room is blessed with an incredible wraparound terrace, with a view looking out over the Meribel valley, meaning that you can spot those bluebird days coming before you can say "snow report".
Guests at Chalet Hermine will benefit from our Ski Basics Self Catered service.
Almost all of our chalets can accommodate extra beds. We deal with these enquiries on an individual basis. Please contact us via email, or call us on 01225 614668 for more details.
Ideal for: a medium sized group or two families
Price range for this self-catered chalet is £2,990 - £12,990 for the whole chalet.
FAQs
How long will it take to get to Meribel Centre? You will reach Meribel Centre in around 5 minutes in the car. Or, simply catch the bus which is approximately 100 metres away. Meribel Centre can also be easily accessed on skis via the Golf chairlift which will take you to straight up to the Altiport Area, perfect for beginners and from here you can access the rest of the vast Meribel ski area.
How often will the chalet be cleaned during our stay? If you're staying in Chalet Hermine you can opt in for a week mid clean before you arrive in resort, to ensure your stay is as relaxed and comfortable as possible.
We have a larger group, is there another Ski Basics chalet nearby? There are three catered chalets located in Meribel Village, Chalet Victoire is a popular 8 bed plus+ chalet, which is also located next door to 6 bed  Chalet Etoile. Chalet Hermine is also just a stone's throw from  Chalet Boulangerie, another stylish 8 bed chalet. If you're a large group split across multiple Ski Basics, please don't hesitate to contact us for more details on how we can adapt the service to best suit you.
Is this it possible to stay in this chalet with either plus+  or classic Service? It's not possible to change Chalet Hermine's service to  plus+  or  classic. However, there are lots of great restaurants and takeaway options in Meribel; there are also companies that provide prepared meals and Ski Basics will give you the choice to opt in for a Raclette delivery, closer to your holiday your chalet manager will provide for more information on all these options.
At a glance
Sleeps 10
Self Catered
5 separate bedrooms
5 twins, all en-suite
1 separate WC
Free Wi-Fi
UK Freesat TV and Netflix
CD and DVD player
iPod docking station
Log fire
Hamman steam room
Ski and boot room with heated boot rack
Off-road parking
South facing balcony
Towels and bed linen provided
Staff live out
Check in time: 16.00
Check out time: 10.00
Ideal for
A medium-sized group or two families
About Meribel
Resort height
1,450 - 1,700m
Highest point in ski area
Mont Vallon 3,000m
Total ski area
150km in Meribel and 600km including Three Valleys linked ski area
Slopes
2 complete beginner areas, 8 greens, 25 blues, 28 reds, 8 blacks and 2 snow parks. In The Three Valleys combined, 44 green, 129 blue, 107 red and 30 black.
Additional resort features
World famous après-ski
Ice Rink
25m Indoor Pool
Health Spa
Bowling
Skidoo
Walking trails
Gym
Parapenting
Snowshoeing
Great for families & groups
Free resort bus service
Supermarkets & shopping
Tourist Office
Chalet Hermine, Prices & Availability (2022/23)
Please go to our Prices & Availability page for an at-a-glance view of all our chalets and their current availability.
How to book

To make your reservation, please choose from the availability below
We operate a reservation system which allows you to hold a booking for 48 hours with no financial obligation
View Our COVID-19 Promise
This is a Self Catered chalet
As standard, the price for this chalet includes all the following:
Seven nights' accommodation
Linen and bath towels
Bathroom products
Boot Warmers
End of stay cleaning
Ski Basics chalet manager
Free Meribel Valley Ski pass

*
* We offer a free six day Meribel Valley ski pass to every member of your group during weeks commencing 8th and 15th January 2023 only.
For your personal use, this chalet also comes with:
Free Wi-Fi
iPod docking station
UK Freesat TV and Netflix
CD and DVD player
Log fire
Hamman steam room
Ski and boot room with heated boot rack
Off-road parking
Chalet Floorplan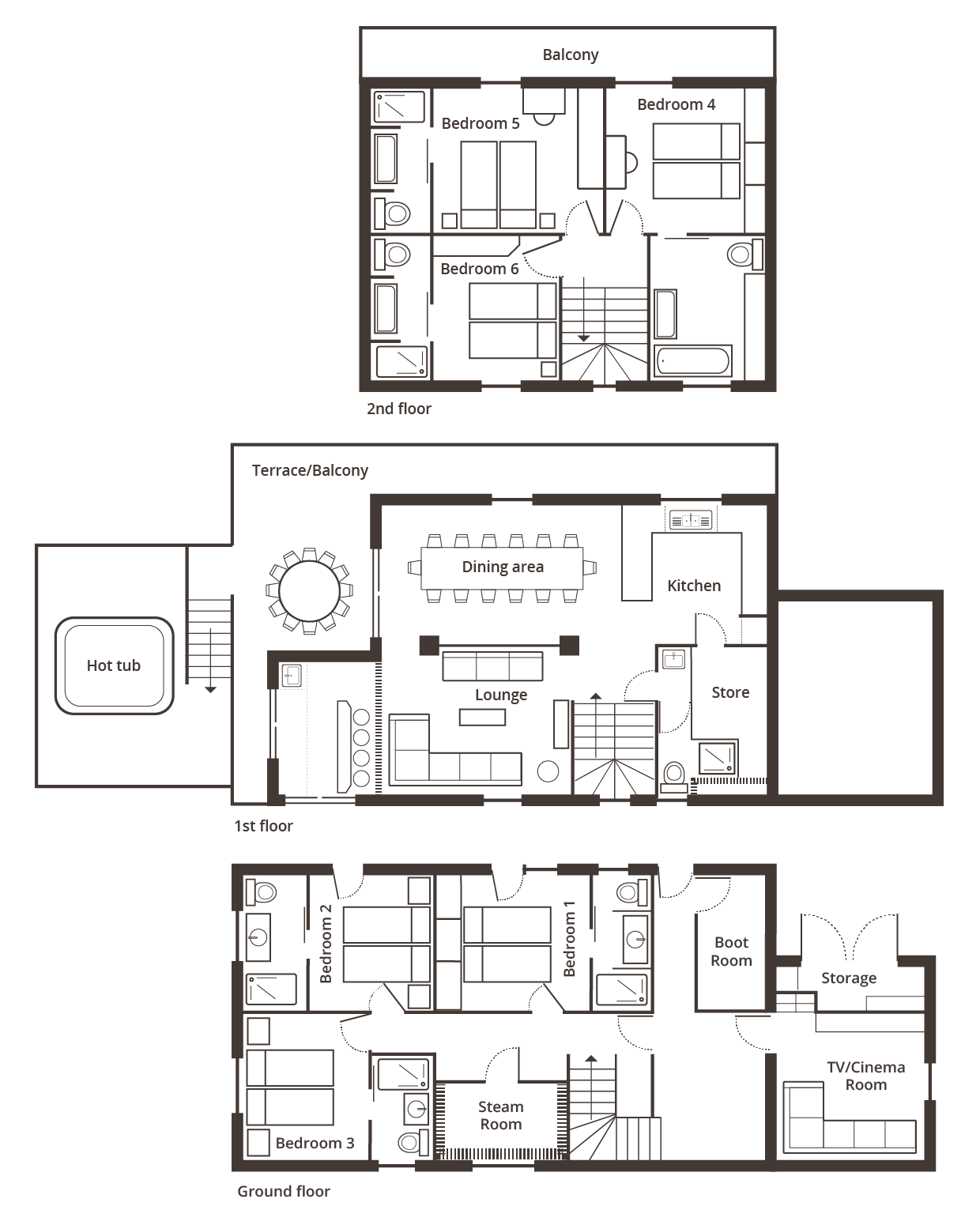 Chalet location map
Chemin du Plaigny, 73550 Meribel, Savoie, Rhône-Alpes
Latitude: 45° 24' 54.583"; N, Longtitude: 6° 33' 52.095"; E, Elevation: 1418m
Feedback from guests who have stayed at this chalet
Tilly was excellent. So helpful and always contactable. Would love to come back!

Ben Rymer - January, 2022
Fabulous holiday, accommodation fantastic, staff friendly and helpful. Would highly recommend.

Penelope Mceachran - February, 2019
Attention to detail and friendliness of all staff made our holiday. Alex Ellie and Libby. We've never been looked after better. We're very proud of you and sad to say goodbye. Best wishes for the future.

Gary Ralph - February, 2019
Wonderful Emma and Max went the extra mile to make our stay easy and enjoyable. Max's cakes were sensational, Emma was always there to top up my glass and make subtle changes to the dinner meal to suit my diet. They were informative about the places to go in Meribel after skiing.

Mimi Henderson - March 18, 2018
Our hosts could not have done more for us - they worked their socks off and were always very welcoming and friendly. Best team we have had without a doubt.

Tony Greig - March 18, 2018
Excellent, imaginative meals, good presentation, flexible to client requests, altogether the giving the very best host/cook service that you would wish for.

Allen Toms - March 18, 2017
Spacious and comfortable with boot/clothes dryer section a real plus.

Ying Ying Chen - February 12, 2016
Location, Location, Location!

Brad Hughs - February 7, 2016
One of the best chalet holidays we have ever been on. Superb value for money, excellent service, excellent staff, excellent accommodation. We would love to see Ski Basics utilizing a larger chalet with the plus+ service (so that we can bring even more friends!) and maybe even expanding into the other 3 Valley resorts.... Thank you for looking after us. The food was excellent and very well presented. The menu was varied and flexible. The crumble was delicious!

Stuart Curran - April, 2014
Hard to think of anything that could be improved this year. Many thanks! Back in 2020.

Nick Holmes - January, 2019
We were so impressed with Ski Basics, we loved the small touches (lip salves, snoods, snacks). The hosts were brilliant and the chalet was in the best location we've ever stayed. Would definitely book with you again.

Amy Niland - April, 2019
Max and Emma were great hosts. Friendly and nothing was a problem. Made us feel very relaxed and at home for the week.

Kelly Bain - March 25, 2018
Max and Emma were exceptional hosts, and we couldn't have wanted for better service. Their commitment and considerable cooking/hosting skills were very evident and helped make a memorable holiday for us all.

Stephen Savave - March 4, 2018
Undoubtedly THE best located chalet – we will certainly return if it's not booked up already!

Nigel Thomas - April 14, 2017
Beautifully appointed chalet in a great location.

Christine Greig - March 14, 2015
I have now been with ski basics 4 times and the quality improves every year. All of the staff were faultless, very friendly and made us feel 100% at home and is if they would happily go out of their way to help us at any point. I will never stay with another chalet company in Meribel.

Chris Brown
Wonderful! Best chalet food we've had. We loved the plus+ service and would definitely go for that again. The 'Beko Bar' (the drink fridge!) was a highlight of our holiday - the champagne was especially appreciated by the ladies in the group. One of the reasons we'd use Ski Basics again!

Helen Forrest