Catered
Chalet Hermine

, Meribel 10
Chalet Hermine is a brand new ten bed chalet, fantastically located in the heart of Meribel Village. Only steps away from the Golf chairlift, and featuring clean lines, fabulous en-suites and an enticing steam room, Chalet Hermine guarantees to be a knock-out success this season.
Chalet Hermine has undergone a complete renovation and the finish is outstanding. The open plan kitchen and dining room is blessed with an incredible wraparound terrace with a view over the Meribel valley, and the breakaway living area will enable you to relax and unwind after a hard day on the slopes.
Imagine cake and cookies, savoured with friends over a fresh pot of tea, or relaxing in a deckchair on the terrace whilst the sun sets, a glass of champagne in hand and canapés served hot from the oven by your ever-friendly hosts. A four course meal will then follow, using a range of locally sourced ingredients and fresh produce, meaning that your evening meal is nutritious yet substantial, and more than delicious.
Those staying at Chalet Hermine will benefit from our Ski Basics plus+ service, including unlimited beer and a selection of carefully chosen wines. Also included is UK Freesat TV, Netflix, free Wi-Fi, and an iPod docking station. Our Ski Basics plus service incorporates every added extra we deem necessary for you to have a fabulous skiing holiday.
Almost all of our chalets can accommodate extra beds. We deal with these enquiries on an individual basis. Please contact us via email, or call us on 01225 614668 for more details.
Ideal for: a medium sized group or two families
Price range for this fully catered chalet is £5,990 - £12,490 for the whole chalet.
At a glance
Sleeps 10
plus+ fully catered
5 twins, all en-suite
1 separate WC
Free Wi-Fi
UK Freesat TV and Netflix
CD and DVD player
iPod docking station
Log fire
Hamman steam room
Ski and boot room with heated boot rack
Off-road parking
South facing balcony
Towels and bed linen provided
Staff live out
Chalet Hermine, Prices & Availability (2019/20)
Please go to our Prices & Availability page for an at-a-glance view of all our chalets and their current availability.
How to book

To make your reservation, please choose from the availability below
We operate a reservation system which allows you to hold a booking for 48 hours with no financial obligation
This is a plus+ catered chalet
As standard, the price for this plus+ chalet includes all the following:
Seven nights' accommodation
Daily housekeeping
Linen and bath towels
Bathroom products
Continental and cooked breakfast
Boot Warmers
Ski Snacks
Ski Basics goodies
Afternoon tea with homemade cakes
Unlimited wine, beer and soft drinks
Early evening drinks and canapes
Four Course evening meal (on 5 nights)

†

Pre-prepared meal for you to enjoy at your leisure (on 1 night)
Children's dinner at 6.30pm (if required)
Warm drink and bedtime books for children
Free Meribel Valley Ski pass for weeks 4 and 5

*
† Evening meal will be provided on 5 nights starting December 2019.
* We offer a free six day Meribel Valley ski pass to every member of your group during weeks 4 and 5.
For your personal use, this chalet also comes with:
Free Wi-Fi
iPod docking station
UK Freesat TV and Netflix
CD and DVD player
Log fire
Hamman steam room
Ski and boot room with heated boot rack
Off-road parking
Chalet Floorplan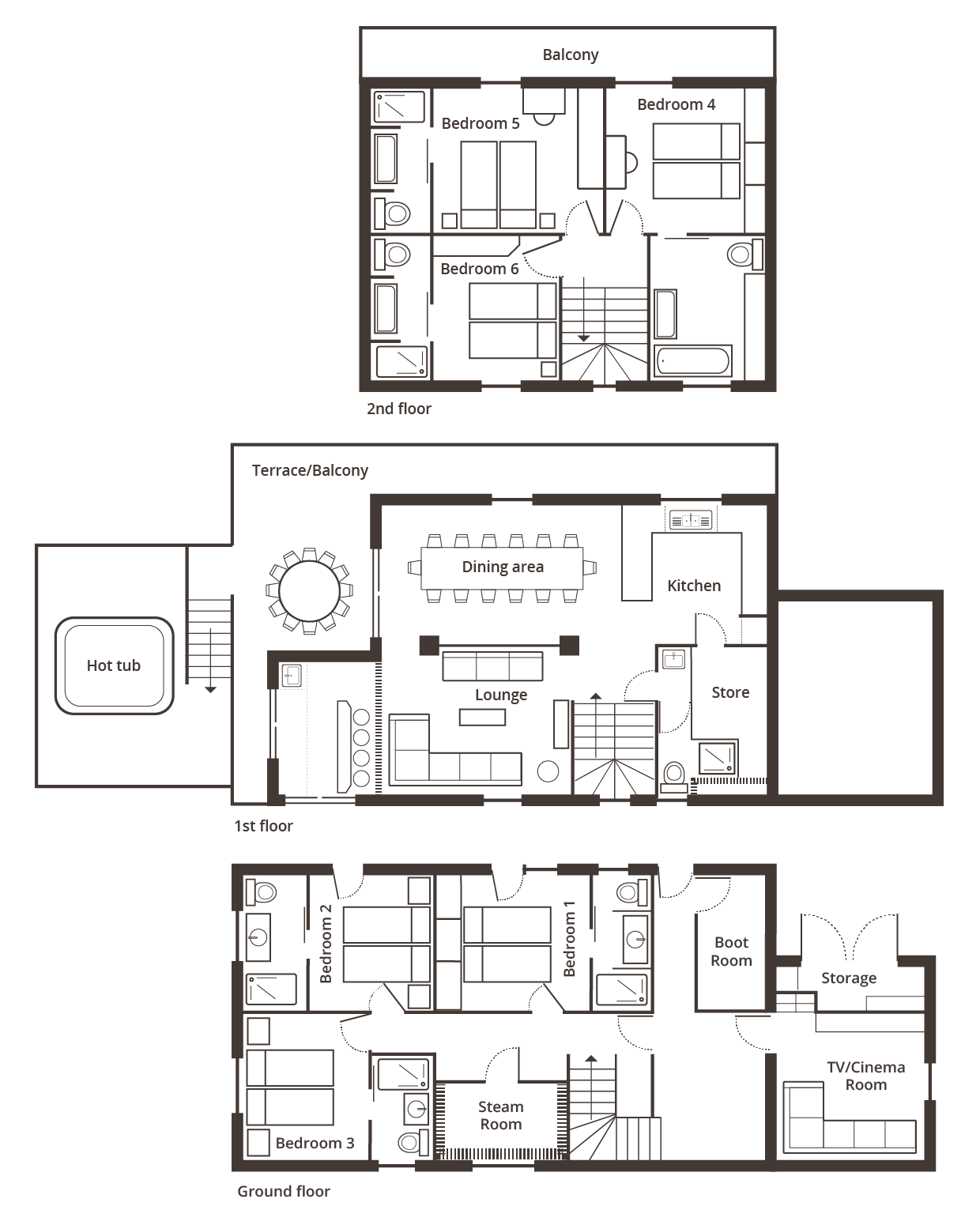 Chalet location map
Feedback from guests who have stayed at this chalet
Fabulous holiday, accommodation fantastic, staff friendly and helpful. Would highly recommend.

Penelope Mceachran - February, 2019
Attention to detail and friendliness of all staff made our holiday. Alex Ellie and Libby. We've never been looked after better. We're very proud of you and sad to say goodbye. Best wishes for the future.

Gary Ralph - February, 2019
Wonderful Emma and Max went the extra mile to make our stay easy and enjoyable. Max's cakes were sensational, Emma was always there to top up my glass and make subtle changes to the dinner meal to suit my diet. They were informative about the places to go in Meribel after skiing.

Mimi Henderson - March 18, 2018
Our hosts could not have done more for us - they worked their socks off and were always very welcoming and friendly. Best team we have had without a doubt.

Tony Greig - March 18, 2018
Excellent, imaginative meals, good presentation, flexible to client requests, altogether the giving the very best host/cook service that you would wish for.

Allen Toms - March 18, 2017
Spacious and comfortable with boot/clothes dryer section a real plus.

Ying Ying Chen - February 12, 2016
Location, Location, Location!

Brad Hughs - February 7, 2016
One of the best chalet holidays we have ever been on. Superb value for money, excellent service, excellent staff, excellent accommodation. We would love to see Ski Basics utilizing a larger chalet with the plus+ service (so that we can bring even more friends!) and maybe even expanding into the other 3 Valley resorts.... Thank you for looking after us. The food was excellent and very well presented. The menu was varied and flexible. The crumble was delicious!

Stuart Curran - April, 2014
Hard to think of anything that could be improved this year. Many thanks! Back in 2020.

Nick Holmes - January, 2019
We were so impressed with Ski Basics, we loved the small touches (lip salves, snoods, snacks). The hosts were brilliant and the chalet was in the best location we've ever stayed. Would definitely book with you again.

Amy Niland - April, 2019
Max and Emma were great hosts. Friendly and nothing was a problem. Made us feel very relaxed and at home for the week.

Kelly Bain - March 25, 2018
Max and Emma were exceptional hosts, and we couldn't have wanted for better service. Their commitment and considerable cooking/hosting skills were very evident and helped make a memorable holiday for us all.

Stephen Savave - March 4, 2018
Undoubtedly THE best located chalet – we will certainly return if it's not booked up already!

Nigel Thomas - April 14, 2017
Beautifully appointed chalet in a great location.

Christine Greig - March 14, 2015
I have now been with ski basics 4 times and the quality improves every year. All of the staff were faultless, very friendly and made us feel 100% at home and is if they would happily go out of their way to help us at any point. I will never stay with another chalet company in Meribel.

Chris Brown
Wonderful! Best chalet food we've had. We loved the plus+ service and would definitely go for that again. The 'Beko Bar' (the drink fridge!) was a highlight of our holiday - the champagne was especially appreciated by the ladies in the group. One of the reasons we'd use Ski Basics again!

Helen Forrest