Catered
Chalet Le Bouquetin

, Meribel 12/14
Le Bouquetin is one of our newest chalets, designed with a host of thoughtful additions that make this chalet a sure-fire hit. With its separate dining and living area and fully equipped playroom, Le Bouquetin really is your home from home. Its huge amount of space lends itself perfectly to spending time with your loved ones, or hiding yourself away with a good book.
This chalet's brilliant design includes a large double garage, ideal for those driving out to the resort. With its contemporary feel, this chalet pays real attention to detail, truly offering something for everyone. Tucked away from the hustle and bustle of Meribel centre, Chalet Bouquetin is a great base for your holiday, offering you the freedom to choose how you spend your time. Whether heading home late from Le Pub, or staying in with a board game, Chalet Bouquetin is perfectly located for both our active or more relaxed guests.
Almost all of our chalets can accommodate extra beds. We deal with these enquiries on an individual basis. Please contact us via email, or call us on 01225 614668 for more details.
Ideal for: a large group of friends or two families
Price range for this fully catered chalet is £2,988 - £10,188 for the whole chalet.
At a glance
Sleeps 12/14
plus+ fully catered
2 doubles with en-suite bathroom
4 twins with en-suite shower room
1 spare room
1 separate toilet
Free Wi-Fi
Freesat TV and Netflix
CD and DVD player
Log fire
South facing balcony
Parking
Towels and bed linen provided
Staff live out
How to book

To make your reservation, please choose from the availability below
We operate a reservation system which allows you to hold a booking for 48 hours with no financial obligation
Chalet Prices & Availability (2018/19)
For the current season, we now have limited availability.
Please go to our Prices & Availability page for an at-a-glance view of chalets and dates available.
What's included in the price of your holiday
This is a plus+ catered chalet
As standard, the price for this plus+ chalet includes all the following:
Seven nights' accommodation
Daily housekeeping
Linen and bath towels
Orla Keily Bathroom products
Tea or coffee in bed
Continental and cooked breakfast
Boot Warmers
Ski Snacks
Ski Basics goodies
Warming flasks to take on the mountain
Dry Glove Service
Afternoon tea with homemade cakes
Unlimited wine, beer and soft drinks
Early evening drinks and canapes
Four Course evening meal (on 6 nights)
Children's dinner at 6.30pm (if required)
Warm drink and bedtime books for children
Free Meribel Valley Ski pass for weeks 4 and 5

*

Driver service to and from the slopes

**
* We offer a free six day Meribel Valley ski pass to every member of your group during weeks 4 and 5.
** Our driver service is available from 8.30am - 10.00am and 4.00pm - 6.30pm for this chalet.
For your personal use, this chalet also comes with:
Free Wi-Fi
iPod docking station
UK Freesat TV and Netflix
CD and DVD player
Log fire
Ski and boot room with heated boot rack
Off-road parking
Chalet Floorplan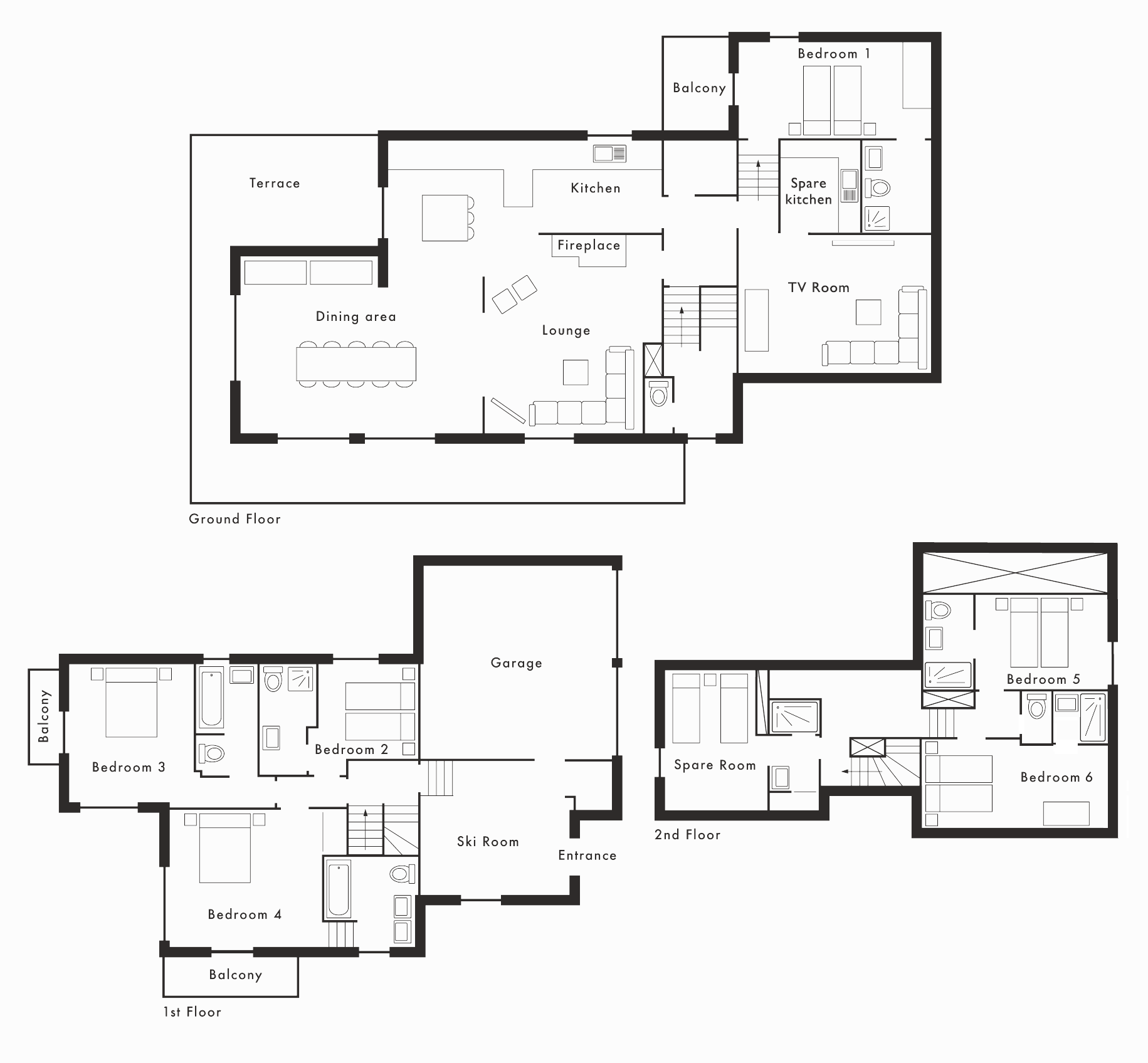 Feedback from guests who have stayed at this chalet
Lucy, Bea and Ryan were amazing! Nothing was too much trouble; entertained the kids; food was amazing and the chalet was immaculate.

Jaqueline Daley - February 25, 2018
Gorgeous chalet - especially since the renovations. Very spacious and beautifully done.

Jude Coleman - January 28, 2017
The renovation is outstanding. The chalet was great before but now it's exceptional having lots more social space and room for dining. The upgraded bathrooms, boot racks and entrance are superb.

Simone Clarke - December 30, 2016
The chalet was excellent, the communal space was great and overall it was a good chalet for our large group.

Amy Darracott - February, 2016
I found the chalet to be very comfortable. It was exceptionally clean and I particularly liked the layout. I found Tom & Abbey to be excellent hosts. They really looked after us all and nothing was too much trouble. The food was amazing and they were great company! I hope you can pass on my thanks. I thought they were great.

Claire Bennett - March 14, 2015
This was our 3rd Ski Basics holiday and once again it was fantastic. The booking process, transfers, chalet, chalet hosts and the drivers.... All fab. Special thanks to Hattie and Hugh for being such a great duo and looking after us so well. Final a massive thank you to Jenny for once again being such a star. Nothing is ever too much trouble.

Abby Kirby - March 14, 2014
The whole experience with Ski Basics was brilliant and nothing appeared too much trouble.

Keith Roebuck - December 28, 2013
We love spending our new year with Ski Basics. We know each and every time we are going to get great food & have lots of laughs in a fab chalet.

Simone Clarke - December 30, 2017
Fantastic chalet, outstanding furnishings, superb communal lounge/living space.

Paula Travis - January 21, 2017
Amazing chalet, we didn't want to leave! Our hosts looked after us sooooo well and were friendly and welcoming, amazing hosts who made our trip extra special. Can't thank them enough. All the ski basics staff were really nice and all worked so hard to make our stay just great.

Kate Elliott - December 16, 2016
Absolutely amazing!

Cameron Hogg - December, 2015
The service was anything but basic and in our opinion reflected brilliantly on your hiring policy and ongoing support of your staff in the field.

Piers Vacher - February 14, 2014
A truly fantastic holiday. Everything was really enjoyable and relaxing, as well as the skiing being fantastic! Every member of our party commented on how excellent the Ski Basics service had been. Thank you so much!

Chantal Simonis - February 8, 2014
As in the 2 previous years, I loved everything about the holidays. The transfers from and to the airport went smoothly, the chalet was great and our host Sophie was excellent. I've been going on ski trips for over 10 years and Ski Basics is by far the best service I've used. Keep up the good work!

Andre Riberio - February 9, 2013