Catered
Chalet Etoile

, Meribel 6
Chalet Etoile is a charming and cosy ski chalet. This delightful chalet sleeps 6 and is situated in the heart of Meribel Village, at the centre of The Three Valleys. Etoile is located in a quiet street behind Meribel Village bakery and in close proximity to the Golf chairlift, making it the perfect Meribel accommodation for both budget and location.
Meribel Village is a brilliant location for independent travellers. The excellent Lodge du Village offers pizzas and live music, the bakery is perfect for snacks and takeaways and the Golf run will bring you all the way home after a long day on the slopes. The high-speed Golf chairlift will take you straight to the Altiport; an absolute mecca for beginners, and also connects you to the outstanding Three Valleys lift network for those wishing to head further afield. The free navette will whisk you into town for those who fancy a spot of shopping, and the supermarket will ensure that your pockets remain stuffed with chocolate at all times.
Almost all of our chalets can accommodate extra beds. We deal with these enquiries on an individual basis. Please contact us via email, or call us on 01225 614668 for more details.
FAQs
How many hosts will we have in Chalet Etoile? Chalet Etoile is hosted by one member of staff. You will also have access to a Ski Basics driver to take you to and from the slopes in the morning and afternoon.
How close is Chalet Etoile to the nearest ski lift? It's approximately a 250 metre walk to the high-speed Golf chairlift.
We have a larger group, is there another Ski Basics chalet nearby? Chalet Etoile is located next door to one of our most popular 8 bed chalets, Chalet Victoire. It's also just a stone's throw from another firm favourite, Chalet Boulangerie which also sleeps 8. Splitting a larger party across a group of nearby chalets is a great way to remain in close proximity whilst not comprising on the standard or location of your chalet. We understand you may still want to spend evening meals together, so please don't hesitate to get in contact for more details on how we can arrange this to best suit you and your group.
Will we be disturbed by the nearby pub? Chalet Etoile is nestled on a quiet street just set back from all the action of the nearby shops and restaurants, meaning you're able to shut the chalet door and relax in total serenity.
How long will it take to get to Meribel Centre? Via the road, it's a short 5-minute drive to Meribel Centre, over a distance of just under 3km. Meribel Centre can also be easily accessed on skis via the Golf chairlift which will take you to straight up to the Altiport Area, perfect for beginners and from here you can access the rest of the vast Meribel ski area.
How often will the chalet be cleaned during our stay? If you're staying in Chalet Etoile with our Classic Service, the chalet will be cleaned 5 times during your stay. If you opt for our pure Service, there will be a mid-week clean of the communal areas.
At a glance
Sleeps 6
3 separate bedrooms
1 double with en-suite shower
2 twins with separate bathroom
2 separate WCs
Free Wi-Fi
UK Freesat TV and Netflix
DVD player
Ski and boot room
Towels and bed linen provided
Staff live out
Check in time: 16.00
Check out time: 10.00
Ideal for
A family or small group of friends
Distance to
Town Centre
150m
Ski School
Private lessons leaving from Meribel Village: 250m
Ski School from La Chaundanne (Meribel Centre): 5-minute drive with one of our designated Ski Basic's drivers
Ski Lift
250m
Piste
250m
Bus stop
200m
About Meribel
Resort height
1,450 - 1,700m
Highest point in ski area
Mont Vallon 3,000m
Total ski area
150km in Meribel and 600km including Three Valleys linked ski area
Slopes
2 complete beginner areas, 8 greens, 25 blues, 28 reds, 8 blacks and 2 snow parks. In The Three Valleys combined, 44 green, 129 blue, 107 red and 30 black.
Additional resort features
World famous après-ski
Ice Rink
25m Indoor Pool
Health Spa
Bowling
Skidoo
Walking trails
Gym
Parapenting
Snowshoeing
Great for families & groups
Free resort bus service
Supermarkets & shopping
Tourist Office
Chalet Etoile, Prices & Availability (2021/22)
Please go to our Prices & Availability page for an at-a-glance view of all our chalets and their current availability.
How to book

To make your reservation, please choose from the availability below
We operate a reservation system which allows you to hold a booking for 48 hours with no financial obligation
View Our COVID-19 Promise
This is a classic catered chalet
As standard, the price for this chalet includes:
Seven nights' accommodation
Daily housekeeping
Linen and bath towels
Bathroom products
Continental breakfast (prepared by your host on 5 mornings)
Ski Basics goodies
Afternoon tea with homemade cakes
Unlimited house wine
Three Course evening meal (on 4 nights)

†

Pre-prepared meal for you to enjoy at your leisure (on 1 night)
Children's dinner at 6.30pm (if required)
Warm drink and bedtime books for children
Free Meribel Valley Ski pass for weeks 4 and 5

*
† Evening meal will be provided on 4 nights starting December 2021.
* We offer a free six day Meribel Valley ski pass to every member of your group during weeks 4 and 5.
For your personal use, this chalet also comes with:
Free Wi-Fi
iPod docking station
UK Freesat televison and Netflix
DVD player
Ski and boot room
Ski Basics pure Service option
This chalet is also available to book with our pure Service.
This flexible service comes with a discount of £150pp which will be applied at the time of booking.
Find out more here
Chalet Floorplan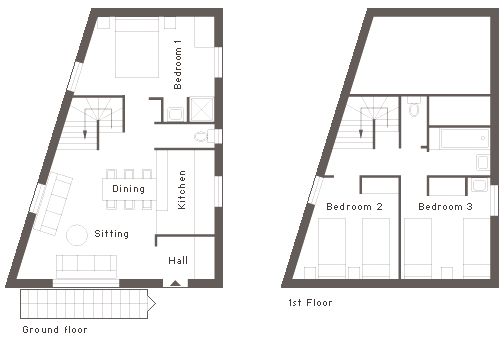 Chalet location map
Feedback from guests who have stayed at this chalet
The chalet is superbly located in the centre of Meribel Village, with easy ski-in and out option as well as super helpful Ski basics drivers at peak times. The free bus is also a tiny walk away. Our hostess Jenny was super-efficient and friendly, great with kids and adults alike, and cooked us amazing cakes that awaited us every day after skiing. They were so yummy that I copied the recipes as my daughters will no doubt ask for them again. Dinners were excellent and varied, and very well presented, although I must say we were not always very hungry for pudding. Jenny was helpful with skiing tips too and Kate was always at the other end of a call to assist. Thanks all for a wonderful week.

Perrine Faye – February, 2020
Shannon and Alex looked after us well. We thoroughly enjoyed our visit to Meribel Village.

Leuan Jenkins – February, 2019
Nicole was absolutely brilliant. She entered into the spirit of our family holiday right from the off and helped towards making it a great time.

Jacky Balchin – February 11, 2018
We had an excellent holiday, helped by the well picked staff. Who go out of their way to ensure we had all we needed.

Clifford Aitken – January 7, 2018
Wonderful chalet. Nothing was too much trouble.

Simon Murray – March 18, 2017
Perfect chalet for our family – being able to walk to the lift is ideal.

Bev Sandwich – April 14, 2017
Super comfortable, perfect size for family, quiet location and very clean comfortable bedrooms, good supply of extra bed linen if needed.

Victoria Orford - March 28, 2015
For a company called Ski Basics, the service, accommodation and food was nothing like basic and the value for money was amazing. Without doubt we would use Ski Basics again for our next trip to Meribel and would certainly recommend to friends. Many thanks.

Craig Hookham - February 23, 2013
Awesome as always. Faultless staff and service.

Dale Cheasley – January, 2019
Comfortable chalet in an ideal location, excellent cuisine, outstanding staff. A fabulous week all round and I would definitely look to return to Meribel Village next year.

Neil Hatton – January, 2019
We have had a wonderful holiday, thank you. Shannon has been an excellent host and cook and has gone the extra mile to help us get the kids ready to leave in the morning and adapting the food choices to suit our son's food preferences. The chalet has always been clean and beautifully presented and we loved the Christmas tree.

Muriel Hoffner – December, 2018
Our 5th consecutive year in Chalet Etoile, it feels like our home from home. So convenient and perfect for our family.

Jane Peterson – January 14, 2018
We were returning for the forth time and it is still lovely.

Clifford Aitken – February 16, 2016
Beautiful location and chalet. Nice and cosy with friendly staff.

Laura Plant – December 25, 2015
Lucy was excellent and tried her best to cater for our children who can be very fussy eaters. Chalet was always clean. She was very organised. She was knowledgeable about the resort. Driver service was absolutely top notch. Couldn't have been better!

David Morrison - March 1, 2014
As in the 2 previous years, I loved everything about the holidays. The transfers from and to the airport went smoothly, the chalet was great and our host Sophie was excellent. I've been going on ski trips for over 10 years and Ski Basics is by far the best service I've used. Keep up the good work!

Andre Riberio - February 9, 2013