Catered
Chalet Etoile

, Meribel 6
Chalet Etoile is a charming six bed chalet, situated in the heart of Meribel Village. Located in a quiet street behind Meribel Village bakery and in close proximity to the Golf chairlift, Chalet Etoile is perfect for both budget and location, making it a firm favourite amongst family and friends.
Meribel Village is a brilliant location for independent travellers. The excellent Lodge du Village offers pizzas and live music, the bakery is perfect for snacks and takeaways and the Golf run will bring you all the way home after a long day on the slopes. The high-speed Golf chairlift will take you straight to the Altiport; an absolute mecca for beginners, and also connects you to the outstanding Three Valleys lift network for those wishing to head further afield. The free navette will whisk you into town for those who fancy a spot of shopping, and the supermarket will ensure that your pockets remain stuffed with chocolate at all times.
Almost all of our chalets can accommodate extra beds. We deal with these enquiries on an individual basis. Please contact us via email, or call us on 01225 614668 for more details.
Ideal for: a small group or a family
Price range for this fully catered chalet is £1,494 - £5,094 for the whole chalet.
At a glance
Sleeps 6
flexi~ catered
1 double with en-suite shower
2 twins with separate bathroom
2 separate WCs
Free Wi-Fi
UK Freesat TV and Netflix
DVD player
Ski and boot room
Towels and bed linen provided
Staff live out
Chalet Etoile, Prices & Availability (2019/20)
Please go to our Prices & Availability page for an at-a-glance view of all our chalets and their current availability.
How to book

To make your reservation, please choose from the availability below
We operate a reservation system which allows you to hold a booking for 48 hours with no financial obligation
This is a flexi~ catered chalet
Please note: for the 2019/20 season this chalet is offered on our classic catered board basis.
As standard, the price for this chalet includes:
Seven nights' accommodation
Daily housekeeping
Linen and bath towels
Continental breakfast
Ski Basics goodies
Afternoon tea with homemade cakes
3 mixed cases of house wine
Free Meribel Valley Ski pass for weeks 4 and 5

*
* We offer a free six day Meribel Valley ski pass to every member of your group during weeks 4 and 5.
Optional Extras:
Dinner delivery service from "Cook"
A la carte wine, spirits and beer delivery
For your personal use, this chalet also comes with:
Free Wi-Fi
iPod docking station
UK Freesat televison and Netflix
DVD player
Ski and boot room
Chalet Floorplan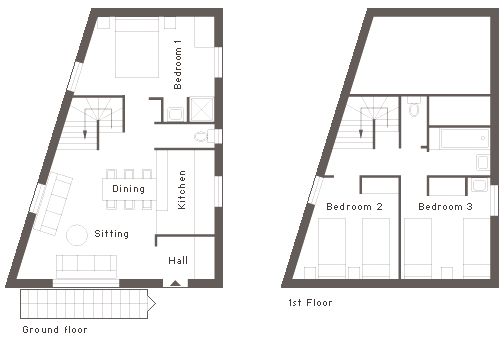 Chalet location map
Feedback from guests who have stayed at this chalet
Nicole was absolutely brilliant. She entered into the spirit of our family holiday right from the off and helped towards making it a great time.

Jacky Balchin – February 11, 2018
We had an excellent holiday, helped by the well picked staff. Who go out of their way to ensure we had all we needed.

Clifford Aitken – January 7, 2018
Wonderful chalet. Nothing was too much trouble.

Simon Murray – March 18, 2017
Perfect chalet for our family – being able to walk to the lift is ideal.

Bev Sandwich – April 14, 2017
Super comfortable, perfect size for family, quiet location and very clean comfortable bedrooms, good supply of extra bed linen if needed.

Victoria Orford - March 28, 2015
For a company called Ski Basics, the service, accommodation and food was nothing like basic and the value for money was amazing. Without doubt we would use Ski Basics again for our next trip to Meribel and would certainly recommend to friends. Many thanks.

Craig Hookham - February 23, 2013
Our 5th consecutive year in Chalet Etoile, it feels like our home from home. So convenient and perfect for our family.

Jane Peterson – January 14, 2018
We were returning for the forth time and it is still lovely.

Clifford Aitken – February 16, 2016
Beautiful location and chalet. Nice and cosy with friendly staff.

Laura Plant – December 25, 2015
Lucy was excellent and tried her best to cater for our children who can be very fussy eaters. Chalet was always clean. She was very organised. She was knowledgeable about the resort. Driver service was absolutely top notch. Couldn't have been better!

David Morrison - March 1, 2014
As in the 2 previous years, I loved everything about the holidays. The transfers from and to the airport went smoothly, the chalet was great and our host Sophie was excellent. I've been going on ski trips for over 10 years and Ski Basics is by far the best service I've used. Keep up the good work!

Andre Riberio - February 9, 2013