Catered Chalet Lapin

, Meribel 6
Enchantingly perched on the south facing side of Meribel valley, this little gem of a chalet offers breath-taking views in an idyllic location.
Nestled in the entrance to Meribel, this charming 6-bed chalet is an ideal base for a family or a small group of friends who are looking for a hassle-free holiday within walking distance to Meribel's central attractions.The chalet combines rustic, Savoyard charm and contemporary design to create the perfect mountain home away from home. The open-plan living dining area provides ample space for your family and friends. Snuggle on the sofa in front of a roaring log fire with a hot chocolate after a hard days skiing or you can enjoy a warming Vin Chaud on the sun-soaked terrace while watching the sun set behind the snowy mountains. Either way you won't need to lift a finger.
Almost all of our chalets can accommodate extra beds. We deal with these enquiries on an individual basis. Please contact us via email, or call us on 01225 731312 for more details.
Ideal for: a family or small group of friends
Price range for this fully catered chalet is £2,094 - £5,094 for the whole chalet.
At a glance
Sleeps 6
1 twin with en-suite bath
2 twins with en-suite shower
1 separate WC
UK Freesat television in every room
DVD Player
Heated boot rack
Parking
Towels and Bed Linen provided
Free Wi-Fi
Staff live out
How to book

To make your reservation, please choose from the availability below
We operate a reservation system which allows you to hold a booking for 48 hours with no financial obligation
Chalet Prices & Availability (2017/18)
For the current season, we now have limited availability.
Please go to our Prices & Availability page for an at-a-glance view of chalets and dates available.
What's included in the price of your holiday
As standard, the price for this chalet includes:
Seven nights' accommodation
Bed linen and bath towels provided
Continental breakfast
Homemade afternoon tea with coffee/tea, hot chocolate and vin chaud
Three course evening meal (on six nights)
Complimentary quality house wine
Children's dinner at 6pm (if required)
Help with booking your ski lessons, ski passes and ski hire
Kids' holiday fun pack
Ski Basics' goodies
Dedicated and helpful service from all the Ski Basics team in resort
For your personal use, this chalet also comes with:
Free Wi-Fi
UK Freesat television in every room
DVD Player
Heated boot rack
Log fire
Parking
Chalet Floorplan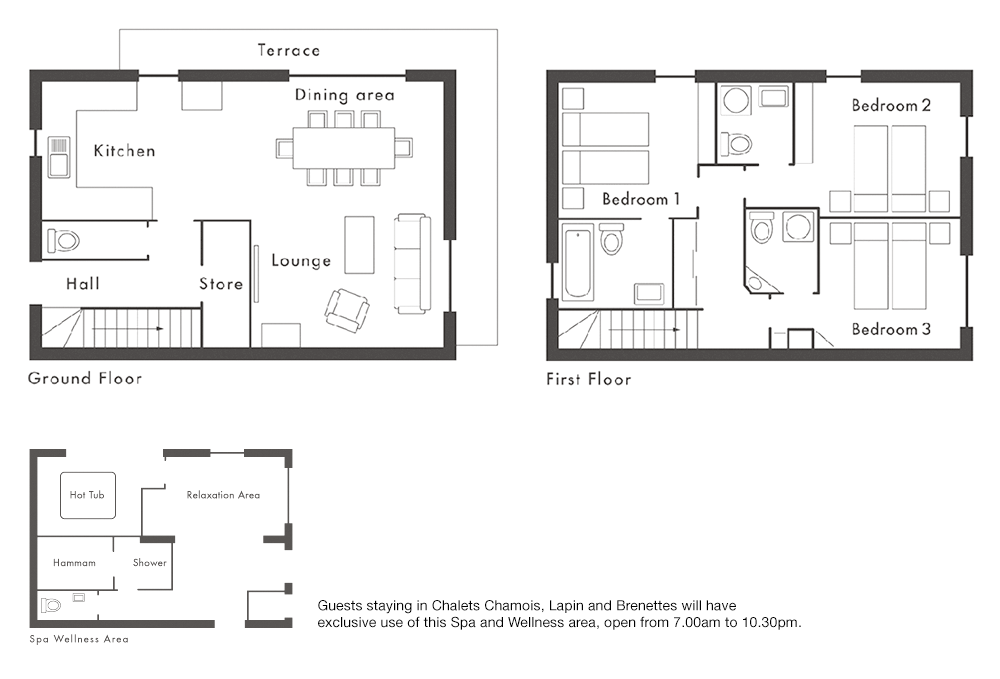 Feedback from our guests
Chalet Lapin was a lovely chalet. It had all the modern amenities and was really well finished. The log burner was a really nice touch. All the bathrooms and bedrooms seemed better than most hotels I have stayed in.

Jonathan Potts - January 7, 2017
Absolutely loved it and would definitely return to Meribel and stay with Ski Basics. Many thanks for a superb holiday!

Hannah Innes - January, 2016
I cannot fault the service of Ski Basic and I cannot believe that for the second year running we have had the most amazing Chalet hosts. The food was amazing; they were really friendly and couldn't help us enough with all aspects of our ski holiday even offering to help us on their days off. Gold star to you as a company for finding such wonderful people and please praise Sam & Phoebe for making our holiday so great. I will recommend your company to anyone I know that is looking for a ski holiday.

Julie Foreman - February 14, 2014
Thoroughly enjoyable - beautiful chalet, friendly staff across the board and loved how we felt at home whilst being treated like very important guests! Will be recommending to others in a heartbeat! Thank you!

Tamsin Vincent - March 22, 2014
Our chalet was beautiful. It was comfortable, warm and clean. The chalet hosts were lovely people who went over and above their call of duty. Any query was answered efficiently. Their attention to detail was superb. We had two young children with us and Phoebe and Sam were so good with them and helped ensure they had everything they need and that they liked their menu. We really enjoyed our chalet experience. Thank you Sam and Phoebe.

Laura Moore - March 8, 2014
Our host was wonderful!! Couldn't have asked for anyone better. Food was amazing and she was so friendly! Everything was always ready for us for whenever we came in / breakfast time. I had a birthday there and she made it lovely! We were very lucky to have her there!

Becs Smallman - January 7, 2017
The team were an extension of the family and took the greatest care and time with everything we needed! Thank you all so very much!

Nicola Lundqvist - December, 2015
Phoebe and Sam were the perfect hosts, a pleasure to be around! The food was delicious, the chalet immaculate, very impressed.

Cathy Fenning - March 8, 2014
Brilliant holiday and very keen to come back next year with Ski Basics. A really positive, professional service with a great chalet, hosts and management. Top notch.

Mark Govan - February 1, 2014
Phoebe, Sam and Emily were incredible. We had unbelievable meals, great guidance on the areas for skiing, nightlife, and entertainment. They were always courteous, thoughtful and focused on our satisfaction with the trip. I would highly recommend them and Ski Basics to all friends / colleagues looking for a winter holiday location. They were all-stars in every sense of the word. As an example, one of the guys in our group had a birthday while we were there - the team got candles for the afternoon cake along with balloons!! What a thoughtful thing to do.

Scott Howser - February 1, 2014