Catered
Chalet Blanche

, Meribel 8
Chalet Blanche is a beautiful eight to ten bed Alpine chalet based in the heart of Meribel centre. Designed specifically for catered chalet holidays, Chalet Blanche is classic and stylish, delivering style, comfort and class on so many levels. With our exclusive plus+ Service, Chalet Blanche ticks every box.
Tucked away just behind Meribel's main throughway, Chalet Blanche is spread over three floors, with en-suite facilities in every room, under floor heating, a sauna, and two separate lounges. A private garage suits self-driving guests perfectly, and heated boot warmers guarantee you'll start your day with a smile. Pick up supplies from the nearby Supermarket, trundle home through the town, or simply put your feet up and let yourself be waited on hand and foot by our wonderful hosts.
Those staying at Chalet Blanche will benefit from our Ski Basics plus+ service, including unlimited beer and a selection of carefully chosen wines. Also included is UK Freesat TV, Netflix, free Wi-Fi, and an iPod docking station. Our Ski Basics plus service incorporates every added extra we deem necessary for you to have a fabulous skiing holiday.
Almost all of our chalets can accommodate extra beds. We deal with these enquiries on an individual basis. Please contact us via email, or call us on 01225 614668 for more details.
FAQs
How many hosts will we have in Chalet Blanche? Chalet Blanche is hosted by one cook and a host. You will also have access to our Ski Basics drivers who will be on hand to take you to and from the slopes each morning and afternoon.
We have a larger group, is there another Ski Basics chalet nearby? Chalet Blanche is positioned within close proximity to a number of our other chalets. Chalet L'Arbalete an equally impressive 10 bed chalet, is situated just across the path. Not to mention, our trio of slightly smaller chalets which are just a short walk from Chalet Blanche, Chalet Chamois (8 bed), Chalet Brenettes (8 bed) and Chalet Lapin (6 bed). If you are a large group staying across two or more chalets, please don't hesitate to contact us for more information on how we can cater for this.
Is this it possible to stay in this chalet with classic Service? It's not possible to reduce the service from plus to classic. You can however opt for our pure Service which grants additional flexibility to you and your group at a reduced cost of £150pp. For more information, click here.
How long will it take to get to Meribel Centre? You will reach Meribel Centre in around 1 or 2 minutes in the car. Or, simply catch the bus which is approximately 25 metres away. Alternatively, a short 10 minute walk will take you to very centre of Meribel town and within 15 minutes on foot, you will arrive at the ski lifts in La Chaundanne.
How often will the chalet be cleaned during our stay? If you're staying in Chalet Blanche with our plus Service, the chalet will be cleaned 5 times during your stay. If you opt for our pure Service, there will be a mid-week clean of the communal areas.
At a glance
Sleeps 8
4 separate bedrooms
2 twins with en-suite bathroom
2/3 twins with en-suite shower
1 separate WC
Free Wi-Fi
UK Freesat TV and Netflix
CD and DVD player
iPod docking station
Log fire
Sauna
Boot room with heated rack
Covered parking
Towels and bed linen provided
Staff live out
Check in time: 16.00
Check out time: 10.00
Ideal for
A medium-sized group or two families
Distance to
Town Centre
800m
Ski School
1.5km
Ski Lift
1.5km
Piste
1.5km
Bus stop
25m
About Meribel
Resort height
1,450 - 1,700m
Highest point in ski area
Mont Vallon 3,000m
Total ski area
150km in Meribel and 600km including Three Valleys linked ski area
Slopes
2 complete beginner areas, 8 greens, 25 blues, 28 reds, 8 blacks and 2 snow parks. In The Three Valleys combined, 44 green, 129 blue, 107 red and 30 black.
Additional resort features
World famous après-ski
Ice Rink
25m Indoor Pool
Health Spa
Bowling
Skidoo
Walking trails
Gym
Parapenting
Snowshoeing
Great for families & groups
Free resort bus service
Supermarkets & shopping
Tourist Office
Chalet Blanche, Prices & Availability (2021/22)
Please go to our Prices & Availability page for an at-a-glance view of all our chalets and their current availability.
How to book

To make your reservation, please choose from the availability below
We operate a reservation system which allows you to hold a booking for 48 hours with no financial obligation
View Our COVID-19 Promise
This is a plus+ catered chalet
As standard, the price for this plus+ chalet includes all the following:
Seven nights' accommodation
Daily housekeeping
Linen and bath towels
Bathroom products
Continental and cooked breakfast (prepared by your host on 5 mornings)
Boot Warmers
Ski Snacks
Ski Basics goodies
Afternoon tea with homemade cakes
Unlimited wine, beer and soft drinks
Early evening drinks and canapes
Four Course evening meal (on 4 nights)

†

Pre-prepared meal for you to enjoy at your leisure (on 1 night)
Children's dinner at 6.30pm (if required)
Warm drink and bedtime books for children
Free Meribel Valley Ski pass for weeks 4 and 5

*

Driver service to and from the slopes

**
† Evening meal will be provided on 4 nights starting December 2021.
* We offer a free six day Meribel Valley ski pass to every member of your group during weeks 4 and 5.
** Our driver service is available from 8.30am - 10.00am and 4.00pm - 6.30pm for this chalet.
For your personal use, this chalet also comes with:
Free Wi-Fi
iPod docking station
UK Freesat TV and Netflix
CD and DVD player
Log fire
Sauna
Boot room with heated rack
Covered parking
Ski Basics pure Service option
This chalet is also available to book with our pure Service.
This flexible service comes with a discount of £150pp which will be applied at the time of booking.
Find out more here
Chalet Floorplan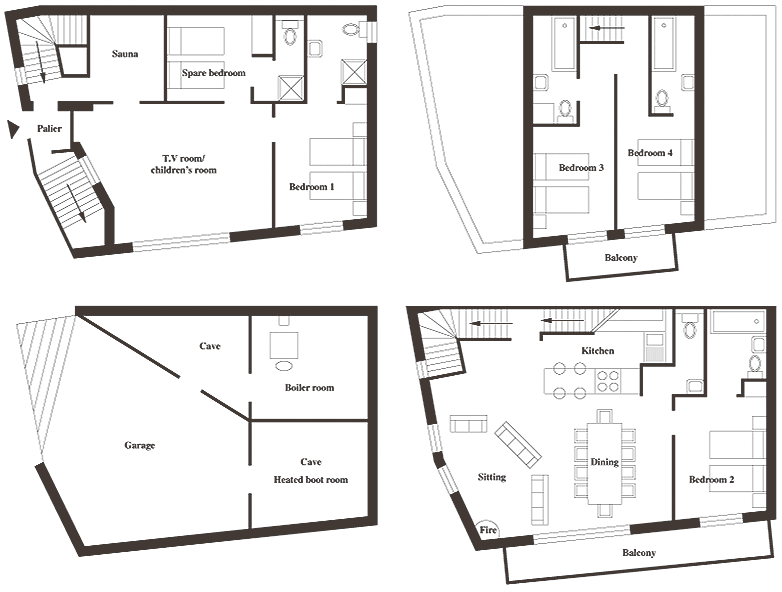 Chalet location map
Feedback from guests who have stayed at this chalet
I had a fantastic holiday, I loved the resort and the skiing, great slopes for a novice skier. Our chalet hosts Richard and George were absolutely wonderful, they were kind, friendly, courteous and hard workers. The quality of the meals were first class and were actually of top restaurant standard. It really was a super week. Thank you very much xxx

Emma Radoux - March, 2020
Fab hosts - both George and Richard were brilliant and would definitely like to have them as hosts again! Great chalet, very clean and Richard was a fantastic cook! The booking process, website and help through Cheryl in the UK was also fantastic. Thanks all!

Peter Tolson - January, 2020
Georgie and Millie made our stay very special and were flexible with meal times and cooking to dietary requirements. They were so friendly and kind to us!

Charlotte Bateman - January, 2019
Bee and Phoebe were excellent hosts and they looked after us extremely well.

Michael Forsdyke - March 4, 2018
Our hosts were faultless. In fact, they were better than faultless. They were so helpful, so incredibly good with our young children and they just had the perfect balance.

Stefanie Knight - February 18, 2018
Had so much fun with our hosts they are awesome and made our stay even more awesome! Not to mention Sarah's cooking was absolutely amazing!

Sahar Khan - March 11, 2017
I couldn't believe our luck when we first saw the chalet, it's absolutely beautiful and was amazing to have the whole place to ourselves.

Clara Wee - February 24, 2016
The weather was ace and the chalet far above our expectations, a special thank you to Tim and Joe, having vegans amongst us can't have made it easy but it appeared as though they dealt with this type of situation every week, I know that Barry and Ben (the vegans) really appreciated it. The food was amazing and nothing was too much trouble.

David Longbottom - February 28, 2015
It was our first Ski holiday as a family and the first in 25-30 years for us parents. We had an amazing time and over a week on; we are still reminiscing about our holiday and missing the mountains. We very much hope to return and would have no hesitation in recommending Ski Basics, Parallel lines or North Face. Thanks again to Jules and Vicky who made our ski experience such a pleasure.

Susan Pearce - April 5, 2014
Fantastic holiday. We have all skied previously and been with various companies but Ski Basics won hands down. I was apprehensive about the "put it together yourself" element but really it was no hassle and you did it all for us or provided the necessary info - all we had to do was book flights. The staff were all brilliant (special mention to Vicky and Jules, best host I have ever had), attentive, good fun, conscientious and made what was a brilliant week for us. Blanche is a great chalet and I wouldn't hesitate to recommend Ski Basics to anyone. Thank you.

Becky Rayner - March 28, 2014
We are a family of 7 adults and we had the most amazing holiday. from the very first moment we enquired about the chalet Blanche we received excellent help and advice from Cheryl, ensuring the booking of the chalet and everything we required was catered for. chalet Blanche was really comfortable and had everything we needed. Richard and Georgina were such wonderful hosts and helped to make our holiday so memorable. the 'driver' service to and from the slopes that Ski Basics offer is fantastic. we had a brilliant time skiing with great slope conditions and beautiful blue skies every day. we had a wonderful holiday and we're looking forward to returning again - just booked!

Petrina Torr - New Year's, 2020
Thanks Millie and Georgie for a great stay! You have been fantastic hosts, nothing was too much trouble for you both. Thanks for the delicious food throughout, we will all be going home heavier than when we arrived :) all the best for the future.

Emily Jackson - January, 2019
Chalet host and cook were faultless. The whole week was perfect due to the quality which they held themselves to.

Kieran Docherty - January 7, 2018
Wonderfully spacious chalet – our teenagers loved the table football and having "their own" lounge.

Sarah Kennedy - March 25, 2017
Very nice chalet, immaculately presented. This is the best chalet I have ever stayed in. It's nice to have such space, which helps with the children and ski kit.

Andrew Smith - January 17, 2016
Overall an excellent holiday, the chalet hosts were amazing and very accommodating. Every member of staff was friendly and welcoming. Without doubt would be keen to return to the resort and book with you again.

Matthew Rayner - March 28, 2014
I have now been with Ski Basics 4 times and the quality improves every year. All of the staff were faultless, very friendly and made us feel 100% at home and is if they would happily go out of their way to help us at any point. I will never stay with another chalet company in Meribel.

Chris Brown - March 22, 2014
Beautiful chalet that was maintained to an incredibly high standard.

Emma Mitchel - January 18, 2014
We are already planning next year's trip - 3 in a row now - says it all really!

Giles Simons - February 8, 2014
I have been skiing for over thirty years and found Ski Basics to be very good indeed if not one of the best. I think that this certainly was due to the excellent staff we encountered at the chalet. The two hosts Jules and Vicky had just the right amount of laid back easy going attitude whilst making everything move along nicely (and very professionally). All the other members of your team including the drivers also impressed us all (and we can be hard to please). Well done to all the team. I would certainly have no problems in recommending Ski Basics to other potential customers.

David Cavell - January 11, 2014