How to get to Meribel by Plane, Car and Train
The flexibility of organising your own travel arrangements means that you can choose the option which best suits you and your party. To this end we have supplied you the following information to help you find the perfect combination of great value and stress-free travel.
Please do not hesitate to contact us for any help and advice on travel options.
Please click here for the latest important information regarding the current COVID-19 restrictions and requirements for entering France.
Contents
Here you can find:
Flying to Meribel

Pros & Cons of flying to Meribel
Nearby airports
The nearest airport to you at home
Which airlines fly to Meribel?
Where can you fly from to get to Meribel? (UK & beyond)

Meribel Transfers

Private and shared transfers
Public transport
Approximate transfer times and frequency, from all nearby airports

Getting the train to Meribel

Closest station to Meribel
Eurostar to Meribel
Pros & Cons of getting the train to Meribel
Distances to Meribel from nearby stations
Top tips for booking train tickets to Meribel

Buses & Coaches to Meribel

Coaches from London to Meribel
Night Coaches
Pros & Cons of travelling to Meribel by coach

Driving to Meribel

Pros & Cons of driving to Meribel
Things to consider
Driving to Meribel from other areas in Europe

Car parking in Meribel

Free parking
Pay parking
Street Parking
Top tips for parking your car in Meribel

Helicopters to Meribel

Geneva to Meribel
Private landings

Getting around in Meribel

Local buses
Regional buses

Walking distances within Meribel

Approximate walking distances to key points around Meribel from Ski Basics chalets

Car Hire & Taxis

Taxi services and contact details
Nearest car hire to Meribel and our recommended comparison site
The top 5 ways of travelling to Meribel
1. Flying to Meribel
Benefits of flying to Meribel
Meribel's close proximity to a number of airports make flying an extremely fast and convenient way to travel. The fact that flying is also often the cheapest way to travel makes it the favoured option for many of our guests.
Some pros and cons of flying are summarised below:
| Pros | Cons |
| --- | --- |
| Quick way to travel | Potentially long airport queues and delays |
| Get deals available with with budget airlines | Limited baggage allowance and potential extra costs for sports equipment |
| Frequent flights | The least eco-friendly mode of transport |
Where do you fly into to get to Meribel?
There are a number of airports that you can fly into when travelling to Meribel. The table below outlines the distance and approximate transfer time from each of the nearby airports.
| Airport | Distance from Meribel | Approximate travel time to Meribel |
| --- | --- | --- |
| Geneva | 180km | 2hrs |
| Lyon | 178km | 2hrs |
| Grenoble | 175km | 1hr 30min |
| Chambery | 102km | 1hr 30min |
To help you find the airport closest to home in the UK, below is a list of airlines which fly to Geneva, Lyon, Chambery or Grenoble.
Whilst Meribel is with quick and easy reach from all nearby airports, each airport has its own pros and cons.
Chambery is the nearest airport to Meribel and is also the smallest of the four airports. Due to being just over 100km from Meribel, the short transfer time can often be appealing to travellers. However, Chambery tends to offer less frequent flights meaning that they can be more expensive.
Whilst all airports and transfer routes will be busier during peak travel periods, routes between Lyon and Grenoble are known to experience traffic delays during peak periods such as December and February. Geneva is generally the best prepared to deal with large volumes of travellers.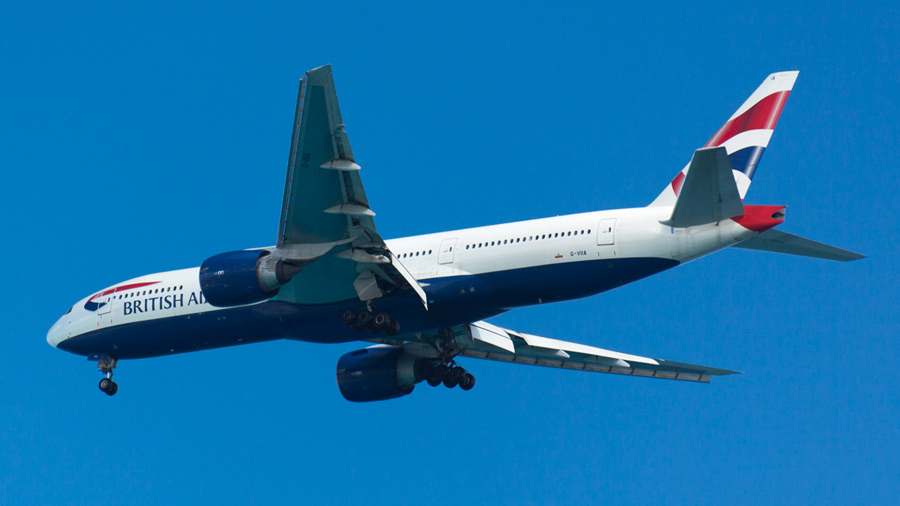 Geneva to Meribel
Geneva is often considered to be the convenient airport when getting to Meribel. Despite a slightly longer transfer time, flights are more regular in comparison to other nearby airports and therefore often cheaper. There's also two main routes from Geneva to Meribel which means traffic can be reduced during busy periods.
Another advantage of Geneva is the short flight time. Almost all flights to Geneva from within Europe are under two hours. From London you will reach Geneva in just 1 hour and 40 minutes and from Paris just 1 hour and 10 minutes.
Where can you fly from to get to Meribel? (UK and Beyond)
Travelling to Meribel from outside the UK is also easily done via Geneva. Flights from Geneva can be caught from a vast number of cities, both across the UK, Europe and beyond including, America, Africa, Asia and the Middle East.
The table below details the EU cities that offer direct flights to and from Geneva.
| Region | Direct flights to/from Geneva | Airlines |
| --- | --- | --- |
| UK & Ireland | Aberdeen, Belfast, Birmingham, Bournemouth, Bristol, Dublin, Edinburgh, Exeter, Glasgow, Isle of Man, Jersey, Leeds Bradford, Liverpool, London, Manchester, Newcastle, Nottingham & Southampton | Aer Lingus, British Airways, Easyjet, Jet2.com, Swiss |
| Northern & Central Europe | Austria (Vienna), Belgium (Brussels), Denmark (Copenhagen), Finland (Helsinki), France (Ajaccio, Bastia, Biarritz, Bordeaux, Calvi, Figari, La Rochelle, Lille, Nantes, Nice, Paris, Rennes & Toulouse), Germany (Berlin, Frankfurt, Hamburg & Munich), Latvia (Riga), Luxembourg, Netherlands (Amsterdam), Norway (Oslo), Sweden (Stockholm & Goteborg), Switzerland (Zurich) | AirBaltic, Air France, Austrian Airlines, Brussels Airlines, Easyjet, Eurowings, Finnair, KLM, Lufthansa, Luxair, Norwegian, SAS, Swiss, Transavia |
| Southern Europe | Greece (Athens, Heraklion & Kalamata), Italy (Brindisi, Cagliari, Catania, Milan, Naples, Olbia, Palermo, Rome & Venice), Portugal (Faro, Lisbon & Porto), Spain (Alicante, Barcelona, Bilbao, Fuerteventura, Gran Canaria, Ibiza, Madrid, Palma de Mallorca, Santiago de Compostela, Tenerife & Valencia) | Aegean, Alitalia, Easyjet, Iberia, Swiss, TAP, Vueling |
| Eastern Europe | Albania (Tirana), Belarus (Minsk), Bulgaria (Sofia), Czech Republic (Prague), Hungary (Budapest), Poland (Krakow & Warsaw), Romania (Bucharest), Russia (Moscow & St Petersburg), Serbia (Belgrade & Pristina), Ukraine (Kyiv) | Aeroflot, Belavia, Easyjet, LOT, Swiss, UIA, WizzAir |
It's useful to note that the frequency and cost of flights from these cities will change throughout the course of the year.
Meribel Transfers
Private Transfers
Private transfer is the most straightforward way to travel to Meribel from any airport. There are a number of companies who offer Meribel transfers and here at Ski Basics, we are on hand to help organise this for you. All you need to do is let us know your flight details; arrival/departure airport, times, date, number of people including children and infants.
If you would prefer to organise this yourself or simply take some time to consider the best option for you, visit our transfer page. Here you will find transfers FAQs, price guides and our recommendations for the most reliable service providers.
Shared Transfer
Another option is a shared Meribel transfer. Ben's Bus is a shared transfer service that offers low priced transport to Meribel, from a number of the nearby airports on Saturdays and Sundays. It's useful to note that Ben's bus does offer transfers from Geneva to Meribel on some weekdays too.
Their airport transfers to Meribel start from £79pp for a return ticket and you can visit their website to receive a personalised quote.
For more information on shared Meribel transfer providers, visit our transfer page.
Public Transport
Airport buses also provide transfer services to Meribel, often via the bus station in Moutiers. Moutiers is a small town located at the bottom of the mountain, just below Meribel. From here, you can then travel on the local bus service for around €12.
Approximate bus times and their frequency from the four airports nearby to Meribel are listed below.
| Airport | Journey time | Running frequency (Winter Only) |
| --- | --- | --- |
| Geneva Airport - Moutiers - Meribel | 2hrs 45 mins | Daily with 8 buses on Saturdays, 4 on Sundays and 3 on all other days. |
| Lyon Airport - Moutiers - Meribel | 3hrs 15 mins | 1 bus a day on Fridays, 4 on Saturdays and 1 on Sundays. |
| Grenoble Airport - Moutiers - Meribel | 2hrs | Buses run on Saturday and Sundays and are scheduled around flight times. |
| Chambery Airport - Moutiers - Meribel | 2hrs | 2 buses a day on Saturdays and 1 a day on Sundays. |
For more information on bus times and prices, visit altibus.com.
2. Trains to Meribel
Travelling to Meribel by train gives you the rare opportunity to sit back, relax and enjoy the journey. Travel during the day and you will be treated to the breathtaking views of Lake Annecy and other surrounding areas as you cruise towards the slopes.
Which is the closest train station to Meribel?
Meribel doesn't have its own train station but travelling here by train couldn't be easier. Moutiers train station (officially called the 'Gare de Moûtiers-Salins-Brides-les-Bains') is just a 25 minutes drive from Meribel and therefore acts as Meribel's train station. It offers regular services to London and throughout France, including Paris.
The short journey between Moutiers and Meribel couldn't be easier whether it be by car or the local bus service. The bus offers services between the two towns for around €12.
Eurostar to Meribel
The Eurostar runs from London St Pancras and Ashford International to the town of Moutiers, which is only 25 minutes drive from Meribel. Recent changes to the service mean that the Eurostar will transport you to France and from here, you will change to an SNCF train for the remainder of the journey.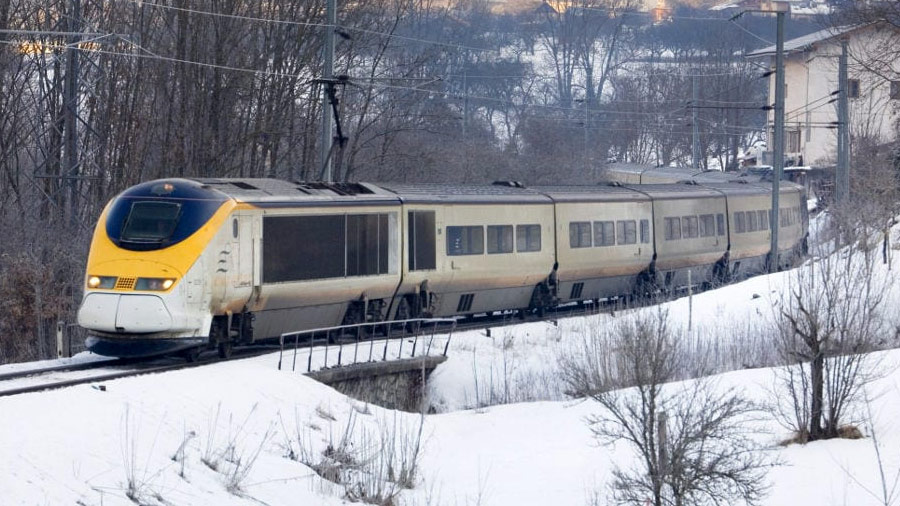 Take an early evening Eurostar from London St Pancras to Paris Gare du Nord on a Friday and then either catch a taxi (why not take in some sightseeing en-route) or the RER (the Réseau Express Régional is a highspeed commuter train service) to Gare du Lyon. The RER journey between the two stations will take less than 10 minutes but bear in mind that you will be carrying all your ski luggage and negotating Parisian commuters at the same time.
From Gare du Lyon you can catch a sleeper train operated by the national French train operator, the SNCF. This will arrive in Moutiers early on Sunday morning, where you will be met by a Ski Basics driver who will take you to a café in Meribel for your breakfast. Your chalet manager will greet you there and arrange ski passes and ski hire while you enjoy some hot tea, coffee and breakfast.
The Ski train is a great option for those that want to make the most of an extra day on the slopes on Sunday. However, if there are members in your party that aren't so keen to head straight out on the mountain there are plenty of nice cafes, restaurants, shopping and even a spa for you to enjoy during the day. Ski Basics Chalets will be ready for you to move into in the afternoon and your driver will take your luggage off your hands so that you are free to enjoy Meribel for the day.
The return from the Alps works in much the same way as the Eurostar direct train service. Catch the SNCF sleeper train on Saturday night to Paris. Change stations from Gare du Lyon to Gare du Nord early on Sunday morning and then hook up with a highspeed Eurostar service getting into London St Pancras just over two hours later.
You can take a look at the Eurostar ski-train timetable and book online at www.eurostar.com or you can call Eurostar in the UK on Tel. 0870 160 6600
The pros and cons of getting a train to Meribel are explored below:
| Pros | Cons |
| --- | --- |
| The most eco-friendly mode of transport | Increased journey time |
| Relax and enjoy breath-taking views of places like Lake Annecy | Less frequent journeys mean demand can be high and the trains can book up very quickly |
| Generous baggage allowance means you can take ski equipment as well as, baggage at no extra cost | Can be expensive when compared to budget airlines |
| Eurostar is a member of Railteam, which means travellers can benefit from the 'Hop on the next available train' feature should they experience any delays or cancellations on their journey, providing peace of mind when connecting between trains | Multiple changes meaning increased chance of delays |
Travelling to Meribel by Train from the UK and France
Your overall journey time is likely to vary depending on your time of travel and the number of changes you are required to make. The table below provides approximate journey durations to Meribel from London, Ashford International, Paris and all nearby airports.
| Train journey | Approximate durations (including 25 minute transfer from Moutier to Meribel) |
| --- | --- |
| London St Pancras - Meribel | 9/10hrs |
| Ashford International - Meribel | 8/9hrs |
| Paris - Meribel | 5/6hrs |
| Lyon - Meribel | 3/4hrs |
| Chambrey - Meribel | 3/4hrs |
| Grenoble - Meribel | 2/3hrs |
| Geneva - Meribel | 6hrs |
Top tips for train ticket booking
Train ticket prices vary throughout the year and depend on a number of different factors. Things such as date of travel, your age, your destination, the size of your group and how far in advance you have booked.
Based on this, we recommend that you always purchase your tickets as far in advance as possible. Eurostar tickets usually go on sale from mid-july and this is when the prices will be at their lowest.
Advance booking will not only ensure you get the best price possible but also that you're able to travel on your desired day. Demand for the trains can be particularly high during the peak periods such as, Christmas, New Year, February half-term and Easter.
3. Buses & Coaches to Meribel
London to Meribel coach
An overnight sleeper coach service is available straight to Meribel, which leaves London Victoria at 4.30pm on Friday and arrives in Meribel on Saturday morning. Prices start at £109 per person return from Snow Coach.
Snow Express also offers regular London to Meribel coach services. The snow express coach also leaves from London Victoria and will drop you in Moutiers with prices starting from £65 per person. Once in Moutiers, you can simply hop onto one of the regular local buses from Moutiers up to Meribel for around €12. For the Snow Express timetable, visit their website where you can also find more information on their service.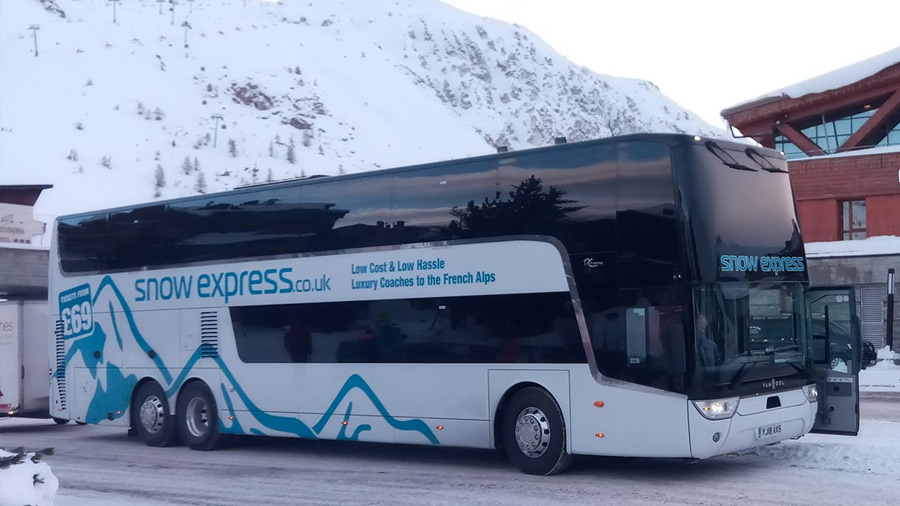 Buses to Meribel from the UK can be very reasonable. However, it's important to note that they must be bought from the 'Bureau de Transport' in Meribel Tourist Office at least 48 hours in advance (the bureau is closed on Sundays and Mondays).
Pros and cons of getting a coach to Meribel are explored below:
| Pros | Cons |
| --- | --- |
| Eco-friendly mode of transport | Travelling with a large group |
| Easy, direct and stress-free | Avoid airport queues and transfers |
| The cheapest way to travel | Increased journey time |
4. Driving to Meribel
Driving has always been a popular way to travel to the alps. The pros and cons of driving are explored below:
| Pros | Cons |
| --- | --- |
| Driving to Meribel grants you freedom to take the journey at your own pace | Solely responsible for your own journey |
| Cost effective for groups splitting the overall cost, such as groups of friends | May seem initially expensive when considering the cost of crossings, tolls and petrol |
| You will not be limited by baggage allowance | Increased journey time |
| You'll also have the added convenience of having your car with you, should you wish to use it around the resort | You may be required to drive during heavy snowfall |
Driving to Meribel from the UK: Things to consider
Time and distance
Your route and journey duration is dependent on whether you decide to cross the channel via ferry or the Euro Tunnel. It will also depend on where in the UK you're travelling from.
The quickest way to cross the channel is on the Euro Tunnel. The crossing takes just 35 minutes to travel from Folkestone to Calais. In comparison, the ferry takes approximately 90 minutes. The ferry leaves from Dover and also takes you to Calais.
Once you have arrived in Calais, the journey to Meribel is just over 900km and usually takes approximately 9 hours and 15 minutes.
Getting an early evening crossing and staying overnight in the hotel once in France, is a great option. This breaks up the journey and enables you to get a good night's sleep. If this sounds like the option for you, we recommend stopping off in either Reims or Dijon. Reims is around a 2.5-3 hours drive from Calais.
If you would prefer to keep driving once in France, driving on to Moutiers throughout the day on Saturday is another great option. Once you arrive in Moutiers, you're just a short drive up the mountain from Meribel. Meaning, you can get a good night's rest on Saturday night and head straight up to Meribel on Sunday morning. Well rested and ready to enjoy the quiet change-over day slopes. If you're staying with Ski Basics and would like to hit the slopes first thing, your chalet manager will be able to meet you with your ski passes and store your bags for you. Later in the afternoon, once you're finished on the slopes, your bags will be ready and waiting in your chalet. Along with your chalet hosts and freshly baked afternoon tea.
For help planning your route and an estimated cost of your journey, use the AA route planner.
Costs
Channel crossings
As will all convenience, the shorter crossing time on the Euro Tunnel is charged at a premium. The crossing costs around £85 each way, compared to approximately £35 each way on the ferry.
Bookings can be quickly and easily online for both crossings at www.eurotunnel.com or www.poferries.com.
Tolls
However, the amount you pay to drive on motorways (auto-routes) will depend on the type of vehicle you're driving and how far you've travelled within that toll zone. To keep things simple, the cost of driving within each zone is clearly marked as you approach the toll. You will receive a ticket when entering a toll zone and pay upon exit, either in cash or by card. An approximate guideline for the cost of tolls each way is €70-80.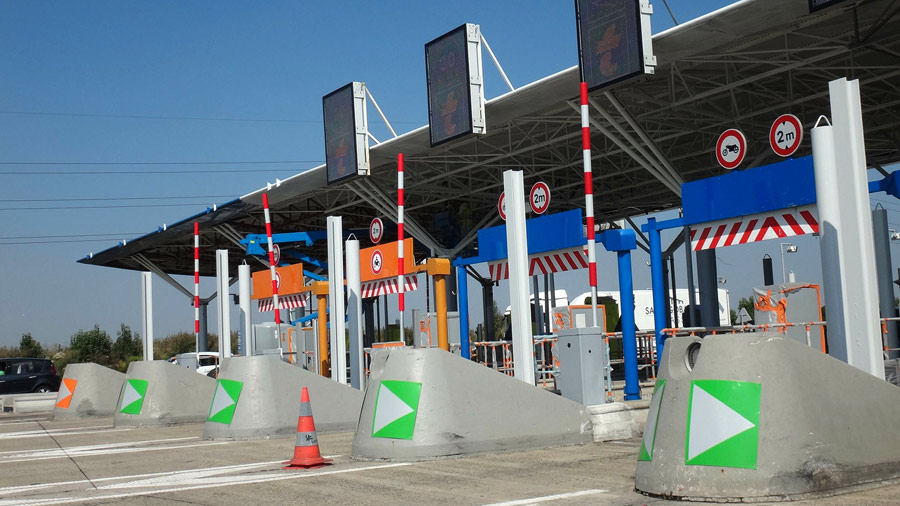 Alternatively, you can use an automatic system that allows you to pass quickly through tolls in the 'télépéage' lane. Télépéage lanes are clearly marked with a T. All costs for tolls are then automatically charged to your chosen card on a monthly basis.
In order to get your automatic toll badge, all you need to do is apply for a 'Liber-t' toll tag through SANEF and register your details, including a card on the site.
French road laws
It's important to note that there are a small number of additional requirements when driving in France, in comparison to the UK. You are required by French road law to have things such as a first aid kit, warning triangle, high-visibility jacket all within easy reach of the driver. You're also required to apply headlight converters to your headlights when driving through France. Whilst you may not always be asked to show proof of these items, you risk being fined should you travel without them.
Driving to Meribel is a popular and enjoyable experience but we do recommend familiarising yourself with what's required and ensuring you have everything before heading off. More information on what you'll need as well as, other useful information can be found on the Euro Tunnel website.
Snow chains
Road access to Meribel is extremely well established and maintained throughout the season. However, it's important not to underestimate the challenges that come with driving on the snow. Whilst snow clearance is frequent in and around Meribel, conditions can change quickly and driving up and down the mountain can be challenging even for those experienced driving snowy conditions. So, it's important to always have your snow chains easily accessible.
We would also recommend practicing putting on and taking off your snow chains before travelling.
Driving to Meribel from other areas in Europe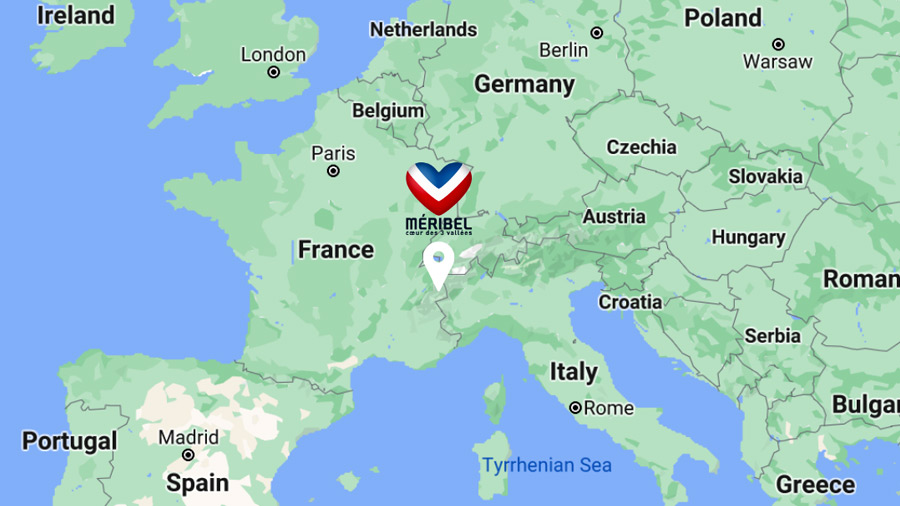 Due to its location close to the French border and great links to nearby motorways, driving to Meribel from other areas within France and Europe couldn't be easier.
Journey times from other nearby cities within France and Europe are detailed below:
| Driving from | Journey time | Distance and route |
| --- | --- | --- |
| London | 11hrs | 1,125km via A26 |
| Manchester | 15hrs | 1,474km via A26 |
| Paris | 6hrs | 663km via A6 |
| Rome | 9hrs | 918km via E35 and E70 |
| Berlin | 12hrs | 1,292km via A5 |
| Geneva | 2hrs | 180km via A41 |
| Lyon | 2hrs | 179km via A43 |
| Grenoble | 1hr 30mins | 175km via A41 |
| Chambrey | 1hr 30mins | 102km via A43 and N90 |
Car parking in Meribel
All of our Ski Basics chalets in Meribel have adequate parking for at least one car, with a number of them boasting room for more. Quick information on the parking facilities at the chalets, can be found under the 'At a glance' section for each of the chalets on our website. For more information on parking at your chosen chalet, please do not hesitate to get in contact.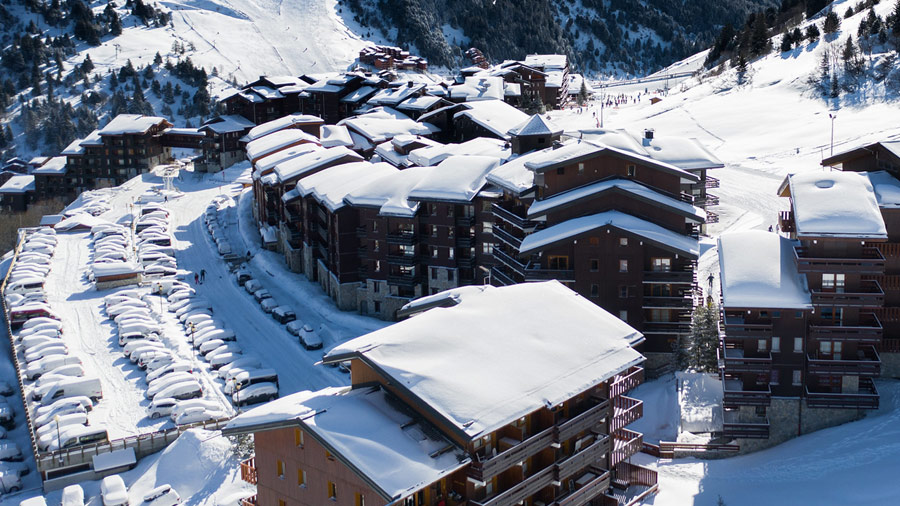 If you're planning to use your car around the resort, we have outlined some key details and tips for parking below.
Free parking
There are a number of free parking spots in the Meribel Valley and these can be found on the resort maps, marked by a white P. The centre of Meribel has 7 free outdoor car parks: Meribel Mottaret has 5; Meribel Village has 2 and Meribel les Allues has 3.
Pay to Park
There are also 4 indoor car parks that require payment in Meribel and 1 in Mottaret. These car parks tend to be sheltered and have CCTV, protecting your car from snowfall and ensuring maximum security.
Details for each of these car parks is outlined below:
La Chaudanne
Les Ravines
Spaces
Height limit
1 hour
2 hours
3 hours
1 day
7 days
Season

110
2.30m
Free
€4
€4 + €1.20 per hour
€18
€75
€250

156
1.90m
Free
€4
€4 + €1.20 per hour
€18
€75
€370 (30 spaces)

Les Rhodos
Le Rond Point des Pistes
Spaces
Height limit
1 hour
2 hours
3 hours
1 day
7 days
Season

214
2.15m
Free
€4
€4 + €1.20 per hour
€18
€75
N/A

200
2.15m
Free
€4
€4 + €1.20 per hour
€18
€75
€250 (45 spaces)

Le Hameau (Mottaret)
Spaces
Height limit
1 hour
2 hours
3 hours
1 day
7 days
Season

77
2.15m
Free
€4
€4 + €1.20 per hour
€18
€75
€350

It's important to note that in some parking you are limited to a maximum of 8 consecutive days. While a 7-day pass allows you to leave and re-enter the car park as often as you like while keeping your space.
Spaces cannot be reserved in advance and you can get tickets from machines situated in the car parks. We recommend always checking the information provided in your chosen car park as these details are subject to change.
Street Parking
There is also on-street parking in Meribel and we highly recommend always checking the cost and terms of this before leaving your car. Parking wardens regularly patrol the streets and issue parking fines to those parking outside of the outlined terms.
Top tips on parking your vehicle:
Leave your car in gear with the handbrake off as it can freeze, and you can break the cabling.
Lift the windscreen wipers away from the window in case of heavy snowfall. If there has been heavy snowfall, clear the snow from your windscreen by hand rather than with your wipers. The snow can be very heavy and damage the motor that drives the wipers.
Remember where you parked. This may seem obvious, but it can be surprisingly hard to identify your own car once it has been covered in snow.
5. Helicopters to Meribel
Travelling by Helicopter is undoubtedly the fastest way to travel from the airport to Meribel. There are a number of service providers that offer this safe, luxurious and high-speed service from nearby airports to and from Meribel. Meaning you'll arrive in the heart of the resort, within close proximity to the slopes.
Geneva to Meribel helicopter
With Azur Helicoptere, transfers from Geneva to Meribel can take just 40 minutes. Information on flight times and prices can be found here.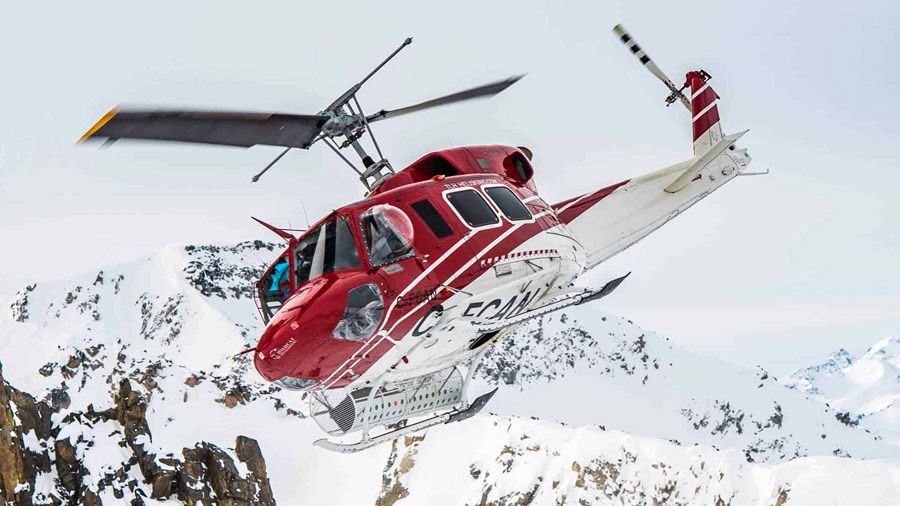 For private helicopters, landings into Meribel can be scheduled via Helipaddy.
Getting around the Three Valleys
Once you have arrived in Meribel, skiing and snowboarding are of course the most obvious modes of transport. However, Meribel is extremely well connected to the surrounding areas for non-skiers and when the lifts are closed too.
Meribel Bus Service
Meribel local buses
There is an excellent free bus service that operates throughout Meribel and provides transport to many of the nearby towns that make up the Meribel Valley. There are 4 lines which run throughout the winter season and these are detailed below:
Line A - The line A bus links Les Allues, Meribel Village to Meribel Centre and La Chaundanne. La Chaundanne is the main ski lift base for the Meribel Valleys.
The Line A bus also stops at: Le Cruet, Chandon, Nantgerel, La Raffort, La Gittaz, Meribel Village and Mussillon.
Line B - The Line B bus links the Rond Point and Belvedere.
Line C - The Line C bus runs all the way from La Chaudanne right up to the top of Meribel, the Altiport. The bus goes via Meribel Centre and will detour to the hamet of Belevedere upon request.
Line D - The Line D bus is used to link Meribel and Mottaret centre. It also travels to le Hameau which is located at the top of Mottaret.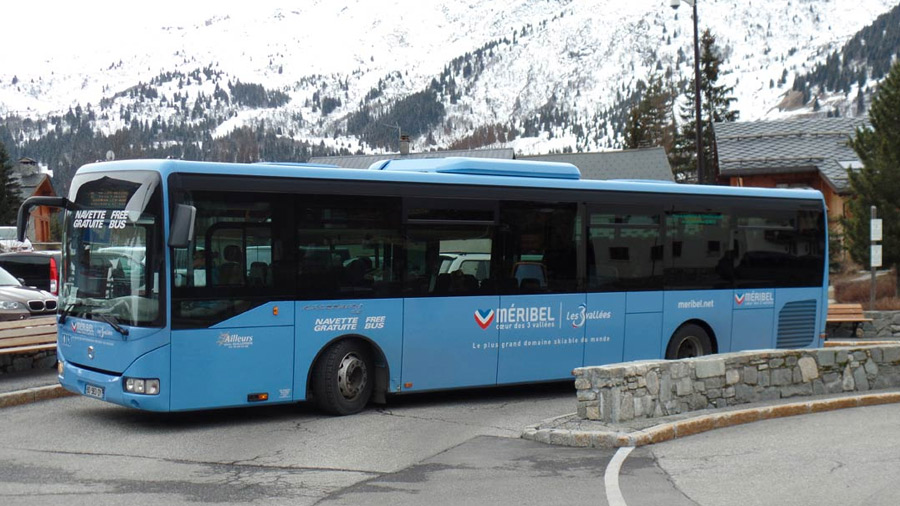 You can easily switch between lines, as all buses call at La Chaudanne and in Meribel Centre (close to the Tourist Office). The timetables for each line are displayed at all bus stops and paper versions are provided in all Ski Basics chalets. During the winter season, buses run frequently, around every 15-20 minutes. However, it's useful to note that the timetable is slightly reduced in the first and last few weeks of the season.
Up to date information on the Meribel bus service operating hours, can be found on the Meribel website.
Meribel Regional Buses
If you would like to travel further afield during your stay, you can do so on the regional bus service. On the regional bus service you can travel to Moutiers and from there, beyond to the surrounding areas within the Three Valleys. The regional bus lines are outlined below:
Line T4: Moutiers - Meribel - Mottaret
Line T4: Moutiers - Meribel Altiport
Line T5: Moutiers - Brides les Bains - Courchevel
Line T3: Moutiers - Les Menuires - Val Thorens
Meribel Night Bus to Brides les Bains (Tuesdays only)
Children travel free on the regional bus service and children aged 4-12, travel half price. View a route map from See Meribel here, for information on collection points and network services.
Walking distances within Meribel
The table below details walking distances to key locations and bus stops around Meribel from each of our Ski Basics chalets.
| Chalet | Meribel Centre | Meribel Village | Meribel Mussillon | La Chaudanne |
| --- | --- | --- | --- | --- |
| Chamois, Brenettes, Lapin | 15 minute walk or catch the Line A bus, 50 metres walk from the chalets | Catch Line A bus from just across the road | 5 minute walk | 20 minute walk or catch Line A bus, 50 metres walk from the chalets |
| Bouquetin | 10 minute walk or walk less than 5 minutes to Line A bus stop | Walk 2 minutes to Line A bus stop by Spar | Less than 5 minute walk | 15 minute walk or walk less than 5 minutes to Line A bus stop |
| L'Arbalete | 10/15 minute walk or take Line A bus from outside the chalet | Take Line A bus from bus stop 50 metres away (across from Chalet Chamois) | Less than 5 minute walk | 15/20 minute walk or take Line A bus from outside the chalet |
| Etoile, Boulangerie, Victoire, Hermine | Travel 10 minutes on the Line A bus from Village bus stop | 0 minute walk | Travel 5 minutes on the Line A bus from Village bus stop | Travel 10 minutes on the Line A bus from Village bus stop |
For details on the exact routes to these or any other locations with Meribel, simply ask your chalet host who will be able to direct you.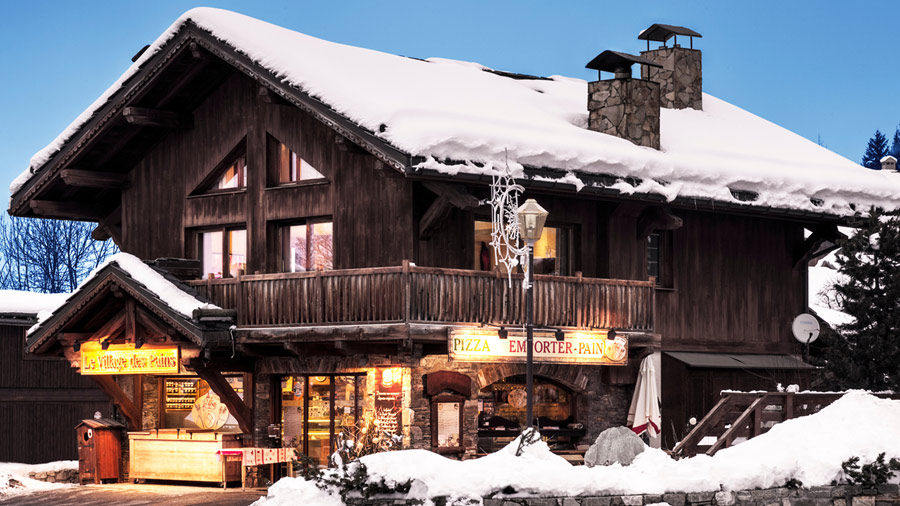 Meribel car hire & taxis
Taxis Meribel
Our Ski Basics drivers are on hand for drop offs and pick up from the slopes each morning and afternoon. So, it's unlikely that you would ever need to use a local taxi service to and from the slopes.
The free Meribel bus service also runs late into the evening throughout the season, should you want to catch it out or back home in the evening.
However, if you 'd prefer to get a private taxi, there are a number of local taxi services offering quick and reliable pickups with English speaking drivers.
We recommend using luxury taxi provider G-Taxi, who you can contact on +33 (0)6 09 52 78 52.
If you require assistance booking a taxi, simply ask your chalet manager or host who will be able to do this for you. It's also useful to note that we recommend pre-booking taxis on your chalet staff night off.
Meribel car hire
Whist you're unlikely to need a car once in Meribel, the nearest car hire is available in Moutiers. Just a short 25-minute drive down the mountain. You can compare the best prices for car hire in Moutiers on Expedia.
If you decide to hire a car and self-drive from the airport, car hire pick up and drop off is available at all nearby airports.
If you'd like to book your next holiday to Meribel, view our remaining availability here. If you require any further information or have questions at all, please don't hesitate to get in contact.
Our holiday was fantastic, we were very well looked after as a big group across two chalets by all the hosts and the manager. Food was delicious and always plenty to go round! Great advice on where to go both on and off the mountains and the driver service was also excellent to get us around the area.

Stephanie Pugh - March, 2022