Catered Chalet Brenettes, Meribel 8
Chalet Brenettes is a faultlessly designed 8 bed, catered chalet positioned in a secluded yet easily assessible spot at the entrance to Meribel. Spacious and open-plan, Chalet Brenettes offers two living areas, one of which is perfect as a separate TV room. A preferred chalet for many of our returning guests, Chalet Brenettes has space, comfort and Alpine style in abundance.
The huge south-facing terrace makes the most of the sunny weather and is an excellent place to watch the sun set behind Meribel's snowy peaks. Chalet Brenettes was designed specifically with chalet holidays in mind, and as such boasts equally sized rooms, each with en-suite and flat screen television. A warm and homely Meribel chalet, Chalet Brenettes is perfect for relaxing after a day on the slopes, spending time with family or friends around the log fire, with cups of tea and slabs of cake.
Spa and Wellness area
Spectacular mountain views, an indoor/outdoor hot tub, eucalyptus steam room and massage area make this, hands down the best place to switch off and take a little time out after a physical day on the slopes.
Guests staying in Chalets Chamois, Lapin and Brenettes will have exclusive use of this Spa and Wellness area, open from 7.00am to 10.30pm.
Almost all of our chalets can accommodate extra beds. We deal with these enquiries on an individual basis. Please contact us via email, or call us on 01225 614668 for more details.
FAQs
How many hosts will we have in Chalet Brenettes? Chalet Brenettes is hosted by one cook and one designated driver who will be on hand to assist with breakfast and dinner service, in addition to driving you to and from the slopes in the morning and afternoon.
We have a larger group, is there another Ski Basics chalet nearby? Chalet Brenettes is situation just behind Chalet Lapin (6-bed) and Chalet Chamois (8-bed). The beautiful chalets are firm favourites amongst our returning guests and form the perfect trio for a larger group who are looking to be within immediate proximity of each other.
When do we have access to the hot tub and wellness area? The hot tub and wellness area is open from 7am until 10:30pm. During this time, access is not limited amongst the three chalets and guests are able to use the facilities freely, as and when they please.
How long will it take to get to Meribel Centre? You will reach Meribel Centre in around 4 minutes in the car. Alternatively, a quick 15 walk or in under 10 minutes on the free bus service.
How often will the chalet be cleaned during our stay? If you're staying in Chalet Brenettes with our Classic Service, the chalet will be cleaned 5 times during your stay. If you opt for our pure Service, there will be a mid-week clean of the communal areas.
At a glance
Sleeps 8
4 separate bedrooms
4 twins with en-suite bathroom
1 separate WC
Free Wi-Fi
UK Freesat TV and Netflix
CD and DVD player
Log fire
South-facing balcony
Heated boot rack
Parking
Towels and bed linen provided
Spa and Wellness area
Staff live out
Check in time: 16.00
Check out time: 10.00
Ideal for
A medium-sized group or two families
Distance to
Town Centre
1km
Ski School
1.5km
Ski Lift
1.5km
Piste
1.5km
Bus stop
100m
About Meribel
Resort height
1,450 - 1,700m
Highest point in ski area
Mont Vallon 3,000m
Total ski area
150km in Meribel and 600km including Three Valleys linked ski area
Slopes
2 complete beginner areas, 8 greens, 25 blues, 28 reds, 8 blacks and 2 snow parks. In The Three Valleys combined, 44 green, 129 blue, 107 red and 30 black.
Additional resort features
World famous après-ski
Ice Rink
25m Indoor Pool
Health Spa
Bowling
Skidoo
Walking trails
Gym
Parapenting
Snowshoeing
Great for families & groups
Free resort bus service
Supermarkets & shopping
Tourist Office
Chalet Brenettes, Prices & Availability (2021/22)
Please go to our Prices & Availability page for an at-a-glance view of all our chalets and their current availability.
How to book

To make your reservation, please choose from the availability below
We operate a reservation system which allows you to hold a booking for 48 hours with no financial obligation
View Our COVID-19 Promise
This is a classic catered chalet
As standard, the price for this chalet includes:
Seven nights' accommodation
Daily housekeeping
Linen and bath towels
Bathroom products
Continental breakfast (prepared by your host on 5 mornings)
Ski Basics goodies
Afternoon tea with homemade cakes
Unlimited house wine
Three Course evening meal (on 4 nights)

†

Pre-prepared meal for you to enjoy at your leisure (on 1 night)
Children's dinner at 6.30pm (if required)
Warm drink and bedtime books for children
Free Meribel Valley Ski pass for weeks 4 and 5

*

Driver service to and from the slopes

**
† Evening meal will be provided on 4 nights starting December 2021.
* We offer a free six day Meribel Valley ski pass to every member of your group during weeks 4 and 5.
** Our driver service is available from 8.30am - 10.00am and 4.00pm - 6.30pm for this chalet.
For your personal use, this chalet also comes with:
Free Wi-Fi
iPod docking station
UK Freesat TV and Netflix
CD and DVD player
Log fire
Heated boot rack
Spa and Wellness area
Parking
Ski Basics pure Service option
This chalet is also available to book with our pure Service.
This flexible service comes with a discount of £150pp which will be applied at the time of booking.
Find out more here
Chalet Floorplan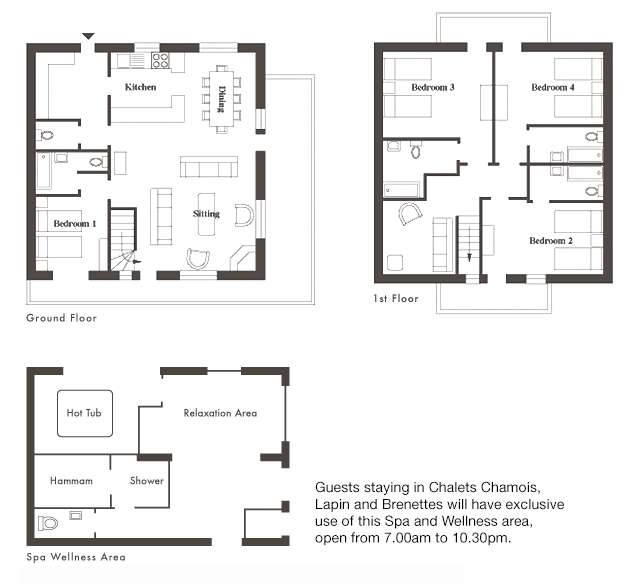 Chalet location map
Feedback from guests who have stayed at this chalet
Alex and Fergus were fantastic chalet hosts, they were so thoughtful, caring and their attention to detail was great. Alex was very flexible with my little toddler Ethan as he was always running into the kitchen and I needed things like to make food. Let them know they were the best chalet hosts we have ever had and made for a fantastic family Christmas! The food was delicious!!

Lizzie Alexander - Christmas, 2020
Alex and Fergus were amazing, couldn't have had better hosts! We had two birthdays during our stay which they made special as well as them being very helpful and all round lovely! Amazing stay, can't wait to come back!

Holly Falconer - March, 2020
Georgie and Millie were amazing and went above and beyond what we expected. We had a young child with our group and they were amazing with her. They are a credit to the company!

David Circuit - January, 2019
Sophie was a dream. Helpful, friendly, meticulous and a cracking cook. I wanted to bring her home with me! Please could you pass on my grateful thanks for making it a truly memorable holiday.

Amanda Faucherand - February 4, 2018
Our host was excellent throughout the week. Food was fantastic and well presented. She adapted the menu upon request. The chalet was kept clean and tidy and she made us feel really welcome. We couldn't have wished for a better host. She was brilliant!

Alan Smith - March 25, 2017
Chalet was amazing! From the cleanliness of the rooms to our hosts the whole feel of the chalet was 5*. As a tall person ski chalets can be a bit of an obstacle course, but the chalet itself was of great size and very well equipt for all of our needs. Due to the name of the company we were expecting a good service, but all expectations were surpassed. We were not expecting our rooms to be maintained whilst we were there, or daily cleaning of all facilities, but the fact this did happen was outstanding and really impressed the whole group by the quality of the Chalet and service.

Susan Bell - January 27, 2016
Thank you a wonderful holiday, it was a great experience staying at chalet Brenettes and thanks to Sophie and mike our chalet staff, we had a blast. Thank you again and maybe see you next year again!

Susie Toppler - March 7, 2015
I cannot fault the service of Ski Basic and I cannot believe that for the second year running we have had the most amazing Chalet hosts. The food was amazing; they were really friendly and couldn't help us enough with all aspects of our ski holiday even offering to help us on their days off. Gold star to you as a company for finding such wonderful people and please praise Sam & Phoebe for making our holiday so great. I will recommend your company to anyone I know that is looking for a ski holiday.

Julie Foreman - February 14, 2014
Thoroughly enjoyable- beautiful chalet, friendly staff across the board and loved how we felt at home whilst being treated like very important guests! Will be recommending to others in a heartbeat! Thank you!

Tamsin Vincent - March 22, 2014
Brilliant holiday and very keen to come back next year with Ski Basics. A really positive, professional service with a great chalet, hosts and management. Top notch.

Mark Govan - February 1, 2014
Alex and Fergus were unbelievable hosts and really made the holiday. They were friendly and really went out of their way to make sure we had everything we needed. Requests never felt like an issue which really makes a difference. Alex's cooking was some of the best food I've ever eaten and there was so much of it! The tartiflette was the stuff of dreams. Thank you for such an amazing holiday!

Georgina Colquhoun - February, 2020
What an awesome holiday we had in Meribel.

Ian Troup - February, 2019
Josh and Camila have been absolutely amazing in helping us with everything during our stay. I have high expectation after meeting George and Sophie last year and Josh and Camila have definitely met that expectation if not exceed it! They provided us with a lot of flexibility which is the key aspect I value the most during holiday. Everything else including food, services and hospitality are top notch too. Sophie has again done an excellent job, this year as Manager. Another year of happy skiing and relaxing with Ski Basics. Thank you very much!

John Yip - March, 2019
Sophie and George provided an excellent service throughout the week. Super efficient and friendly, all meals were on time and delicious, and great cakes!

Richard Heath - April 1, 2018
Every box is ticked in this chalet – this is our third year and we always notice the changes and upgrades which have been made between each winter.

Bex Hunter - December 16, 2016
The chalet was better than we expected. The photographs on the internet do not do it justice. Great sized bedrooms and en-suites. Fabulous living area with enough seating for eight people.

Debbie Aspinall - January 6, 2016
Phoebe and Sam were the perfect hosts, a pleasure to be around! The food was delicious, the chalet immaculate, very impressed.

Cathy Fenning - March 8, 2014
Phoebe, Sam and Emily were incredible. We had unbelievable meals, great guidance on the areas for skiing, nightlife, and entertainment. They were always courteous, thoughtful and focused on our satisfaction with the trip. I would highly recommend them and Ski Basics to all friends / colleagues looking for a winter holiday location. They were all-stars in every sense of the word. As an example, one of the guys in our group had a birthday while we were there - the team got candles for the afternoon cake along with balloons!! What a thoughtful thing to do.

Scott Howser - February 1, 2014
Beautiful chalet in wonderful surroundings. Chalet kept immaculate.

Sarah Wade - January 18, 2014
Our chalet was beautiful. It was comfortable, warm and clean. The chalet hosts were lovely people who went over and above their call of duty. Any query was answered efficiently. Their attention to detail was superb. We had two young children with us and Phoebe and Sam were so good with them and helped ensure they had everything they need and that they liked their menu. We really enjoyed our chalet experience. Thank you Sam and Phoebe.

Laura Moore - March 8, 2014