Catered
Chalet Victoire

, Meribel 8
Chalet Victoire is one of our most highly demanded 8 bed chalets, tucked away behind the bakery in Meribel Village at the heart of The Three Valleys. Decorated to the highest standard by its art dealer owner, Chalet Victoire blends its cosy ambience with contemporary style. Featuring a fabulous antique dining table, bespoke lighting and adorned with art work from around the world, Chalet Victoire promises you a holiday to remember.
Just minutes away from the high speed Golf chairlift, Chalet Victoire is excellently situated. A stand-alone chalet in a quiet location, you are guaranteed both privacy and peace, allowing the stresses of a working week to drift away. Make the most of the fantastic sauna with separate shower room, sit back and relax on the sumptuous sofas, and savour the divine aroma of a four course meal being prepared to really let that holiday feeling sink in.
In the village itself, you will find the excellent Lodge du Village which offers pizzas and live music, a traditional French bakery, perfect for snacks and takeaways and the Lapin run will bring you all the way home after a long day on the slopes. The high-speed Golf chairlift will take you straight to the Altiport; an absolute go-to for beginners and also connects you to the outstanding Three Valleys lift network for those wishing to head further afield. The free navette bus will whisk you into town for those who fancy a spot of shopping, and the supermarket will ensure that your pockets remain filled with essentials at all times.
Those staying at Chalet Victoire will benefit from our Ski Basics plus+ service, including unlimited beer and a selection of carefully chosen wines. Also included is UK Freesat TV, Netflix, free Wi-Fi, and an iPod docking station. Our Ski Basics plus service incorporates every added extra we deem necessary for you to have a fabulous skiing holiday.
Almost all of our chalets can accommodate extra beds. We deal with these enquiries on an individual basis. Please contact us via email, or call us on 01225 614668 for more details.
FAQs
How many hosts will we have in Chalet Victoire? Chalet Victoire is hosted by one cook and a driver who will be on hand to help with breakfast and dinner service in addition to driving you to and from the slopes in the morning and afternoon.
We have a larger group, is there another Ski Basics chalet nearby? Chalet Victoire is located next door to 6 bed Chalet Etoile. It's also just a stone's throw from Chalet Boulangerie, another stylish 8 bed chalet. If you're a large group split across multiple Ski Basics, please don't hesitate to get in contact for more details on how we can arrange collective meals in one of your chalets or any other ways we can adapt the service to best suit you.
Is this it possible to stay in this chalet with classic Service? It's not possible to reduce the service from plus to classic. You can however opt for our pure Service which grants additional flexibility to you and your group at a reduced cost of £150pp. For more information, click here.
How long will it take to get to Meribel Centre? You will reach Meribel Centre in around 5 minutes in the car. Or, simply catch the bus which is approximately 200 metres away. Meribel Centre can also be easily accessed on skis via the Golf chairlift which will take you to straight up to the Altiport Area, perfect for beginners and from here you can access the rest of the vast Meribel ski area.
How often will the chalet be cleaned during our stay? If you're staying in Chalet Victoire with our plus Service, the chalet will be cleaned 5 times during your stay. If you opt for our pure Service, there will be a mid-week clean of the communal areas.
At a glance
Sleeps 8
4 separate bedrooms
2 twins with en-suite bathroom
2 twins with en-suite shower
1 separate WC
Free Wi-Fi
Television in every room
UK Freesat TV and Netflix
CD and DVD player
iPod docking station
Log fire/wood burner
Sauna with shower room
Boot room with heated rack
Towels and bed linen provided
Staff live out
Check in time: 16.00
Check out time: 10.00
Ideal for
A medium-sized group or two families
Distance to
Town Centre
150m
Ski School
Private lessons leaving from Meribel Village: 250m
Ski School from La Chaundanne (Meribel Centre): 5-minute drive with one of our designated Ski Basics drivers
Ski Lift
250m
Piste
250m
Bus stop
200m
About Meribel
Resort height
1,450 - 1,700m
Highest point in ski area
Mont Vallon 3,000m
Total ski area
150km in Meribel and 600km including Three Valleys linked ski area
Slopes
2 complete beginner areas, 8 greens, 25 blues, 28 reds, 8 blacks and 2 snow parks. In The Three Valleys combined, 44 green, 129 blue, 107 red and 30 black.
Additional resort features
World famous après-ski
Ice Rink
25m Indoor Pool
Health Spa
Bowling
Skidoo
Walking trails
Gym
Parapenting
Snowshoeing
Great for families & groups
Free resort bus service
Supermarkets & shopping
Tourist Office
Chalet Victoire, Prices & Availability (2021/22)
Please go to our Prices & Availability page for an at-a-glance view of all our chalets and their current availability.
How to book

To make your reservation, please choose from the availability below
We operate a reservation system which allows you to hold a booking for 48 hours with no financial obligation
View Our COVID-19 Promise
This is a plus+ catered chalet
As standard, the price for this plus+ chalet includes all the following:
Seven nights' accommodation
Daily housekeeping
Linen and bath towels
Bathroom products
Continental and cooked breakfast (prepared by your host on 5 mornings)
Boot Warmers
Ski Snacks
Ski Basics goodies
Afternoon tea with homemade cakes
Unlimited wine, beer and soft drinks
Early evening drinks and canapes
Four Course evening meal (on 4 nights)

†

Pre-prepared meal for you to enjoy at your leisure (on 1 night)
Children's dinner at 6.30pm (if required)
Warm drink and bedtime books for children
Free Meribel Valley Ski pass for weeks 4 and 5

*
† Evening meal will be provided on 4 nights starting December 2021.
* We offer a free six day Meribel Valley ski pass to every member of your group during weeks 4 and 5.
For your personal use, this chalet also comes with:
Free Wi-Fi
iPod docking station
UK Freesat TV and Netflix
CD and DVD player
Log fire/wood burner
Sauna with shower room
Boot room with heated rack
Ski Basics pure Service option
This chalet is also available to book with our pure Service.
This flexible service comes with a discount of £150pp which will be applied at the time of booking.
Find out more here
Chalet Floorplan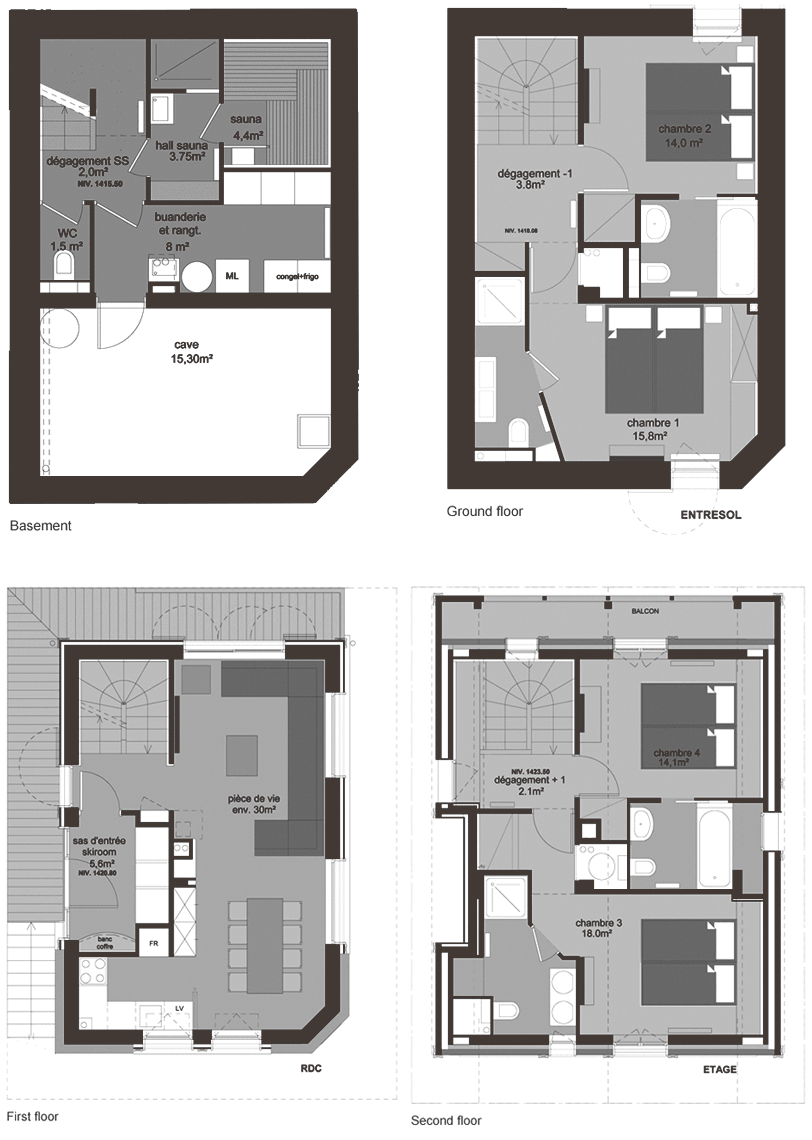 Chalet location map
Feedback from guests who have stayed at this chalet
We have had the most amazing experience with Ski Basics, from the initial booking through to our wonderful week in Meribel. Sam and Tom have been absolutely outstanding; providing delicious meals, home baked cakes and generally taking very good care of us. They have felt like part of our group and we feel very lucky to have had them as our chalet staff - an absolute credit to the company. Thank you Ski Basics for a fantastic week, we will definitely be recommending you to our friends.

Jess Wales - March, 2020
We loved our staying in chalet Victoire The chalet is well located, 2 min from the lifts. Sam and Tom (our hostesses) were amazing the whole week. Very friendly people, polite and professionals. They fulfilled our expectations! An awsome week! Thank you.

Marta Rossini - February, 2020
The most delicious chalet food; lovely, fun, hard-working staff; a generous sized bedroom with lovely pristine bathroom in a great location and the best snow ever. Thank you everyone.

Caroline Thomas - January, 2019
Another year with Ski Basics and another great holiday. All booked for next year and looking forward to it already. The hosts this year were exceptional. You can really tell that Ski Basics has a strong culture amongst its staff and that it tries very hard to find the right people who uphold its culture and brand. Not an easy job. Well done.

Jonathan Simms - April, 2019
We all had a fabulous time and are already looking forward to next year. We would definitely book through Ski Basics again. Thanks to everyone who looked after us.

Una Flynn - January 14, 2018
It was wonderful, all round. It surpassed expectations. A beautiful chalet, fantastic staff, amazing food, wonderful resort, great skiing. Real value for money, too.

Andrew Dickens - January 14, 2018
We couldn't have asked for better hosts. The food was amazing and he was such a nice chap. Our host was friendly, helpful and always smiling.

Beth Wakefield - April 8, 2017
Perfect - really loved it!

Jackie Burn - February, 2016
I wanted to say that all us were really impressed with every aspect of the Ski Basic holiday. I think that I must have been staying with you for 12 + years now as everything about Ski Basics and Meribel Village is always great but Chalet Victoire was really exceptional and was the best yet. Everyone of us was impressed by the standard of food, accommodation and it was unbelievably great value. Charlie and Oscar were a credit to your company.

Rob Turner - December 13, 2014
We had a superb holiday. First time in Meribel Village but loved the village and the LDV. We have stayed in many in the past but never with Ski Basics before. We found that whilst the chalet was run super efficiently, it was at the same time very relaxed and laid back - just how we like it. At risk of repeating myself you seem to have found a great blend of service, efficiency and informality. Just one last point I would like to mention. On leaving day we were setting off very early (7.00am) but Steph and Rosie still walked up from Gittaz to prepare breakfast before we went (and we had already left the tip the night before!). Top service.

Tony Hartley - April 5, 2014
Our experience with Ski Basics was second to none and we would thoroughly recommend them. Sam and Tom were fantastic hosts. They made us feel totally at home and cooked and served incredible restaurant quality meals, dealing with dietary requirements with ease. They were really friendly and helpful and made the week so much fun. A huge thank you from all of us for all the hard work they both put in to making it such a memorable week.

Emma Pollard - January, 2020
Ella and Di were both excellent welcoming friendly chalet staff. They both helped make our stay very enjoyable. Nothing was too much trouble for them. Ella cooked some fabulous meals for both the children and adults. We especially loved her daily cake selection. Di was also very helpful on a morning helping to get us off for our ski lesson and driving us about. Thanks girls we appreciated everything you did for us during our stay Have a good summer break!

Nikki Walls - March, 2019
I really enjoyed my holiday - all of the staff from ski basics were friendly and helpful. The chalet was lovely - modern and comfortable.

Emma Bankhead - December 30, 2017
We made the most of the sauna and loved the individual décor in every room.

Simone Vaillant - April 14, 2017
Excellent chalet, very clean, comfortable and stylish.

James Wigley - January, 2016
A lovely chalet, well located for the golf lift (perfect for avoiding central Meribel traffic!). Great size and well equipped with all you need post skiing - the sauna was an added bonus.

Chloe Grover - March 14, 2015
Thoroughly enjoyed our holiday. It's the first time we have had the Plus service and would recommend it to add that little bit of luxury to your holiday.

Linda Fawcett - April 12, 2014
Wonderful! Best chalet food we've had. We loved the Plus+ service and would definitely go for that again. The 'Beko Bar' (the drink fridge!) was a highlight of our holiday - the champagne was especially appreciated by the ladies in the group. One of the reasons we'd use Ski Basics again!

Helen Forrest - March 15, 2014
Very good guys. I've been skiing 30 years and I would say that they are the best chalet staff I've ever stayed with. Exceptional service from Tim and Andy.

Jamie Martin - April 5, 2014
The name Ski Basics doesn't do you justice as we felt that the chalet, service and extras weren't basic at all. The free drink with dinner, the flexibility from our hosts, excellent food etc. were all brilliant.

Abigail Bonsall - March 15, 2014
Fourth time with you, and it's always been a really good. I think you have it well sorted. This year we had 16 people in your chalet's all very happy. Thanks again Ski Basics.

Andy Baker - March 1, 2014
We are already planning next year's trip - 3 in a row now - says it all really!

Giles Simons - February 8, 2014