Catered
Chalet Victoire

, Meribel 8
Chalet Victoire is one of our newest eight bed chalets, tucked away behind the bakery in Meribel Village. Decorated to the highest standard by its art dealer owner, Chalet Victoire blends its cosy ambience with contemporary style. Featuring a fabulous antique dining table, bespoke lighting and adorned with art work from around the world, Chalet Victoire promises you a holiday to remember.
Just minutes away from the high speed Golf chairlift, Chalet Victoire is excellently situated. A stand-alone chalet in a quiet location, you are guaranteed both privacy and peace, allowing the stresses of a working week to drift away. Make the most of the fantastic sauna with separate shower room, sit back and relax on the sumptuous sofas, and savour the divine aroma of a four course meal being prepared to really let that holiday feeling sink in.
Those staying at Chalet Victoire will benefit from our Ski Basics plus+ service, including unlimited beer and a selection of carefully chosen wines. Also included is free Wi-Fi, Sky TV and an iPod docking station. Our Ski Basics plus service incorporates every added extra we deem necessary for you to have a fabulous skiing holiday.
Almost all of our chalets can accommodate extra beds. We deal with these enquiries on an individual basis. Please contact us via email, or call us on 01225 731312 for more details.
Ideal for: a medium sized group or two families
Price range for this fully catered chalet is £3,592 - £8,792 for the whole chalet.
At a glance
Sleeps 8
Fully catered
Ski Basics plus+ service
2 twins with en-suite bathroom
2 twins with en-suite shower
1 separate WC
Free Wi-Fi
Television in every room
TV lounge with Sky Freeview and Plasma screen
CD and DVD player
iPod docking station
Log fire/wood burner
Sauna with shower room
Boot room with heated rack
Towels and bed linen provided
Staff live out
How to book

To make your reservation, please choose from the availability below
We operate a reservation system which allows you to hold a booking for 48 hours with no financial obligation
Chalet Prices & Availability (2017/18)
For the current season, we now have limited availability.
Please go to our Prices & Availability page for an at-a-glance view of chalets and dates available.
What's included in the price of your holiday
This is a Ski Basics' plus+ chalet.
As standard, the price for this plus+ chalet includes all the following:
Seven nights' accommodation
Bed linen and bath towels provided
Continental and cooked breakfast
Afternoon tea and newspapers
Pre–dinner drinks and nibbles
Three course evening meal (on six nights)
Children's dinner at 6pm (if required)
Local cheese course each evening
Choice of house wines
Unlimited beer and soft drinks
Help with booking your ski lessons, ski passes and ski hire
Kids' holiday fun pack
Ski Basics' goodies
Ski snacks and flasks
The White Company bathroom products
Dedicated and helpful service from all the Ski Basics team in resort
For your personal use, this chalet also comes with:
Free Wi-Fi
Television in every room
TV lounge with Sky Freeview and Plasma screen
CD and DVD player
iPod docking station
Log fire/wood burner
Sauna with shower room
Boot room with heated rack
Chalet Floorplan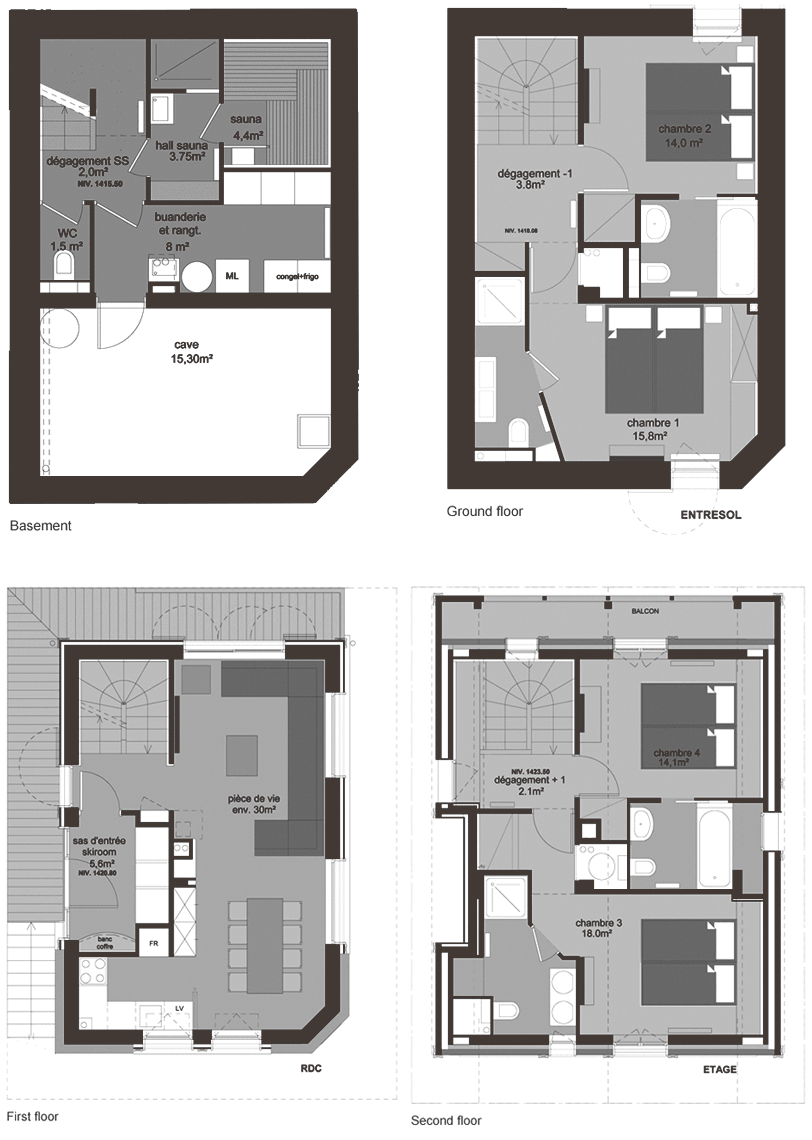 Feedback from guests who have stayed at this chalet
We couldn't have asked for better hosts. The food was amazing and he was such a nice chap. Our host was friendly, helpful and always smiling.

Beth Wakefield - April 8, 2017
We made the most of the sauna and loved the individual décor in every room.

Simone Vaillant - April 14, 2017
Perfect - really loved it!

Jackie Burn - February, 2016
A lovely chalet, well located for the golf lift (perfect for avoiding central Meribel traffic!). Great size and well equipped with all you need post skiing - the sauna was an added bonus.

Chloe Grover - March 14, 2015
I wanted to say that all us were really impressed with every aspect of the Ski Basic holiday. I think that I must have been staying with you for 12 + years now as everything about Ski Basics and Meribel Village is always great but Chalet Victoire was really exceptional and was the best yet. Everyone of us was impressed by the standard of food, accommodation and it was unbelievably great value. Charlie and Oscar were a credit to your company.

Rob Turner - December 13, 2014
We had a superb holiday. First time in Meribel Village but loved the village and the LDV. We have stayed in many in the past but never with Ski Basics before. We found that whilst the chalet was run super efficiently, it was at the same time very relaxed and laid back - just how we like it. At risk of repeating myself you seem to have found a great blend of service, efficiency and informality. Just one last point I would like to mention. On leaving day we were setting off very early (7.00am) but Steph and Rosie still walked up from Gittaz to prepare breakfast before we went (and we had already left the tip the night before!). Top service.

Tony Hartley - April 5, 2014
Excellent chalet, very clean, comfortable and stylish.

James Wigley - January, 2016
Thoroughly enjoyed our holiday. It's the first time we have had the Plus service and would recommend it to add that little bit of luxury to your holiday.

Linda Fawcett - April 12, 2014
Wonderful! Best chalet food we've had. We loved the Plus+ service and would definitely go for that again. The 'Beko Bar' (the drink fridge!) was a highlight of our holiday - the champagne was especially appreciated by the ladies in the group. One of the reasons we'd use Ski Basics again!

Helen Forrest - March 15, 2014
Very good guys. I've been skiing 30 years and I would say that they are the best chalet staff I've ever stayed with. Exceptional service from Tim and Andy.

Jamie Martin - April 5, 2014
The name Ski Basics doesn't do you justice as we felt that the chalet, service and extras weren't basic at all. The free drink with dinner, the flexibility from our hosts, excellent food etc. were all brilliant.

Abigail Bonsall - March 15, 2014
Fourth time with you, and it's always been a really good. I think you have it well sorted. This year we had 16 people in your chalet's all very happy. Thanks again Ski Basics.

Andy Baker - March 1, 2014
We are already planning next year's trip - 3 in a row now - says it all really!

Giles Simons - February 8, 2014