Catered
Chalet Chamois

, Meribel 8
Chalet Chamois is the newest addition to our chalet collection. A brand new chalet for the 2016-17 winter season. The chalet's classic interior will boast traditional features with a modern flair, designed with both style and taste.
Chalet Chamois is ideal for a family or a small group of friends. It sleeps 8 with 4 private en-suite bedrooms. The large open plan dining-living area is flooded with natural light and the French doors lead out onto the south facing terrace where you can absorb the mountainous view of the valley. All this coupled with big comfy sofas and even a drinks bar, make for a very sociable chalet where evenings will be spent recounting the days' adventures around the roaring log fire. Chalet Chamois neighbours both Chalet Brenettes (sleeps 8) and Chalet Lapin (sleeps 6). For a larger group therefore we can offer various catering options if taking any of these chalets together.
Almost all of our chalets can accommodate extra beds. We deal with these enquiries on an individual basis. Please contact us via email, or call us on 01225 614668 for more details.
Ideal for: a medium sized group or two families
Price range for this fully catered chalet is £3,992 - £9,192 for the whole chalet.
Spa and Wellness area
Spectacular mountain views, an indoor/outdoor hot tub, eucalyptus steam room and massage area make this, hands down the best place to switch off and take a little time out after a physical day on the slopes.
Guests staying in Chalets Chamois, Lapin and Brenettes will have exclusive use of this Spa and Wellness area, open from 7.00am to 10.30pm.
At a glance
Sleeps 8
classic fully catered
2 twins with en-suite shower
2 twins with en-suite bath
1 separate WC
Free Wi-Fi
UK Freesat TV and Netflix
DVD Player
Wood burning stove
Heated Boot Rack
Parking
Towels and bed linen provided
Spa and Wellness area
Staff live out
Chalet Chamois, Prices & Availability (2019/20)
Please go to our Prices & Availability page for an at-a-glance view of all our chalets and their current availability.
How to book

To make your reservation, please choose from the availability below
We operate a reservation system which allows you to hold a booking for 48 hours with no financial obligation
This is a classic catered chalet
As standard, the price for this chalet includes:
Seven nights' accommodation
Daily housekeeping
Linen and bath towels
Bathroom products
Continental breakfast
Ski Basics goodies
Afternoon tea with homemade cakes
Unlimited house wine
Three Course evening meal (on 5 nights)

†

Pre-prepared meal for you to enjoy at your leisure (on 1 night)
Children's dinner at 6.30pm (if required)
Warm drink and bedtime books for children
Free Meribel Valley Ski pass for weeks 4 and 5

*

Driver service to and from the slopes

**
† Evening meal will be provided on 5 nights starting December 2019.
* We offer a free six day Meribel Valley ski pass to every member of your group during weeks 4 and 5.
** Our driver service is available from 8.30am - 10.00am and 4.00pm - 6.30pm for this chalet.
For your personal use, this chalet also comes with:
Free Wi-Fi
iPod docking station
UK Freesat TV and Netflix
DVD player
Wood-burning stove
Heated Boot Rack
Spa and Wellness area
Parking
Chalet Floorplan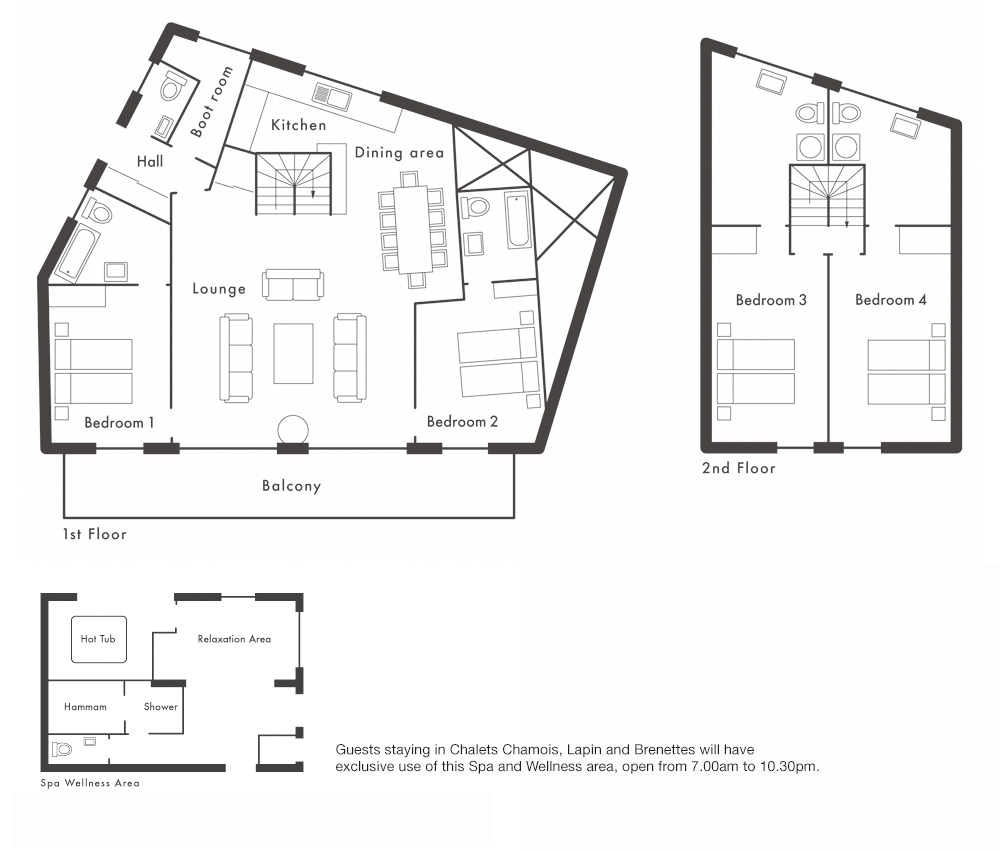 Chalet location map
Feedback from guests who have stayed at this chalet
The chalet experience was one of the best ever (going back ... 30 years). Molly and staff from adjacent chalets (our group occupied 3 chalets) were unfailingly, pleasant, helpful, accommodating and efficient.

Philip Howarth - January, 2019
Very friendly staff going above and beyond for all of us all week. Chalet great location too. Special mentions to Li, Molly, Harri, Tom, Sophie, Grace!! So much fun and really friendly thank you so much.

Ben Rotheram - December, 2018
The best quality host service we've received in over a decade of Ski trips! Really good food and professional service throughout from both Ruth and Alex.

Richard O'Brian - March 25, 2018
By a distance the best ski holiday company I have ever used, will use again and highly recommend Ski Basics.

Lawrence Edwards - March 11, 2018
Our hosts were a delight to spend time with and they looked after our every need.

Andrew Groves - March 18, 2017
Ski "Basics" didn't accurately describe what we experienced. High quality chalet, fabulous food, excellent service, great, friendly service. Thanks for a fab holiday!

Rhonda Moore - January, 2016
This was our third stay. Harri & Lee, who cared for us in the chalet and drove us to the slopes, were both amazing - kind, attentive, great personalities and nothing was too much trouble for either of them. We are coming back again!

Brad Farr - December, 2018
The chalet is gorgeous. Love the big open plan kitchen and diner.

Claire Bennet - March 4, 2018
Ruth and Alex were exceptional in every way. They couldn't have done a single thing more to make our stay enjoyable. Lovely, genuine people who worked tirelessly and made us feel like their favourite guests ever, which I'm sure is how everyone feels after a week with these two hosts. 5* service.

Helen Scarisbrick - March 4, 2018
Beautifully finished chalet. A dream to come back to after a day on the slopes.

Ben Thompson - March 11, 2017
Beautiful chalet with stunning views! The chalet maintained a traditional feel while still being sleek and modern. The layout was well thought out with the separate boot room and utility room. The open plan lounge dining kitchen are made it a very sociable space.

Suzanne Martin - January 21, 2017
Just to say also that we absolutely loved our week with Ski Basics. The level of care shown by all of you was incredible which is why we decided to book for next year, even before we had left Meribel!

Jude Coleman - February, 2016