Catered
Chalet Boulangerie

, Meribel 8
Chalet Boulangerie is a fantastically located eight bed chalet, situated above the delightful Boulangerie in Meribel Village. Wake up to the delicious aromas from the bakery, take in the view of the pistes from the wraparound terrace and watch the Golf chairlift whir into action for first lifts. A repeat favourite for families and friends alike, this chalet cannot be beaten on location.
Chalet Boulangerie's ideal address enables you to optimise every minute of your holiday. From an extra fifteen minutes in bed to being the first people on the chairlift, and from après-ski at the Lodge du Village to tucking in to your three course meal in the evening. The brilliant free Navette circulates from Meribel Village to La Chaudanne, meaning you have a choice of skiing start-points, and the excellent Golf Chairlift will get you up and out into the Three Valleys in no time, saving you from the queues and allowing you to get carving from the word go.
Almost all of our chalets can accommodate extra beds. We deal with these enquiries on an individual basis. Please contact us via email, or call us on 01225 614668 for more details.
Ideal for: a medium sized group or two families
Price range for this fully catered chalet is £3,992 - £9,192 for the whole chalet.
At a glance
Sleeps 8
classic fully catered
1 double with en-suite bathroom
1 twin with en-suite bathroom
1 twin with separate bathroom
1 twin with separate shower
Free Wi-Fi
UK Freesat TV and Netflix
Ski locker
Open log fire
Heated boot rack
Towels and bed linen provided
Staff live out
Chalet Boulangerie, Prices & Availability (2019/20)
Please go to our Prices & Availability page for an at-a-glance view of all our chalets and their current availability.
How to book

To make your reservation, please choose from the availability below
We operate a reservation system which allows you to hold a booking for 48 hours with no financial obligation
This is a classic catered chalet
As standard, the price for this chalet includes:
Seven nights' accommodation
Daily housekeeping
Linen and bath towels
Bathroom products
Continental breakfast
Ski Basics goodies
Afternoon tea with homemade cakes
Unlimited house wine
Three Course evening meal (on 5 nights)

†

Pre-prepared meal for you to enjoy at your leisure (on 1 night)
Children's dinner at 6.30pm (if required)
Warm drink and bedtime books for children
Free Meribel Valley Ski pass for weeks 4 and 5

*
† Evening meal will be provided on 5 nights starting December 2019.
* We offer a free six day Meribel Valley ski pass to every member of your group during weeks 4 and 5.
For your personal use, this chalet also comes with:
Free Wi-Fi
iPod docking station
UK Freesat TV and Netflix
DVD player
Ski locker
Open log fire
Heated boot rack
Chalet Floorplan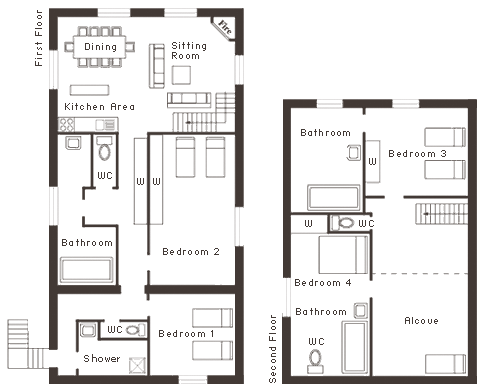 Chalet location map
Feedback from guests who have stayed at this chalet
Another unbelievable week in Meribel with the Ski Basics. We've used them for 5 or 6 years now and they just can't be beaten on service or price. We've looked elsewhere but as Sinead once said, "Nothing compares to you."

Richard Henry - March, 2019
We were really pleased with everything, location was a fantastic 100m walk from the ski lift, Sophie was really nice, friendly and cooked us amazing breakfasts.

Benoit Lescot - January, 2019
Just a great location with all round views from the apartment windows. Après Ski literally next door and more importantly... the Golf chairlift is 45 seconds from the apartment. Marvellous!

Paul Riordan - March 12, 2018
First time with you, won't be the last - see you next year.

Mark Oldroyd - March 4, 2018
Fabulous! Couldn't get a better location. Beautiful chalet.

Helen Hollister - April 1, 2017
Fantastic - we could not have asked for better hosts and they were exceptionally accommodating to our needs and went the extra mile to make the children (and therefore parents!) very happy. For eg. organising an Easter egg hunt for the children.

Jessica Bolton - April 15, 2017
Excellent position in the village for amenities and views. Well decorated chalet.

Wendy Cockburn - February 22, 2016
We have been to your resort 5 times before and this was by far the best the location was excellent, and Flossy was the most delightful girl you could ever meet , well done to you for having her.!!

Julia and Steve Trim - February 8, 2014
Our first stay in Meribel village – great location, pretty place and so close to the lift. Boulangerie owners were charming and welcoming.

Angela Wood-Dow - March 16, 2013
Natalie called to see us many times and was very professional. Again there was a desire to make our stay as enjoyable as possible and always willing to help.

Paul Howfield - March 12, 2013
3rd year with ski basics and never disappoints. Always lovely chalets and excellent food and service.

Tom Oxley - March, 2019
It was a pleasure to share our holiday with our chalet host Sophie. We will definitely book in the future.

Elaine Leach - January, 2019
Ellie & George were absolutely lovely, nothing was too much trouble and they just seemed to fit in with our family. Ellie's cooking was great - especially her cakes!

Carol Edwards - February 18, 2018
We had an amazing holiday at Chalet Boulangerie. Our hosts Ellie and George were brilliant and made our experience very enjoyable. Will definitely be coming back.

Sarah Pool - February 14, 2018
The team in Chalet Boulangerie were excellent, a pleasure to have in the chalet, cooking was excellent, they worked brilliantly as a team and cooking and hosting was fantastic. They went over and above to make us feel welcome and looked after.

Celia Hancox - April 8, 2017
Loved the layout and how modern it was and also the location and views.

Sue Canty - February 27, 2016
Overall excellent. Great ski in and out location and we will be back! Thank you.

Sharon Scarlett - March 28, 2015
We all enjoyed it very much. In the main part, having stayed in a catered chalet for the first time we were blown away by efforts of mainly Floss our host, but also Dylan, the driver to go out of their way to make sure that we had everything that we needed. The service and the quality of all the staff I came across was exceptional and it was them and the resort itself (which was fantastic) that really made the holiday special. Thank you to all involved. I would definitely recommend Ski Basics to anyone and would use your company again without hesitation.

Ben Jones - February 22, 2014
The company seems to offer a good standard of all aspects of service and solid affiliations with other local companies. It was very helpful to have the drivers to help ferry us all back at the end of a long day, especially when the kids were tired and hungry after ski school.

Richard Holliday - March 2, 2013