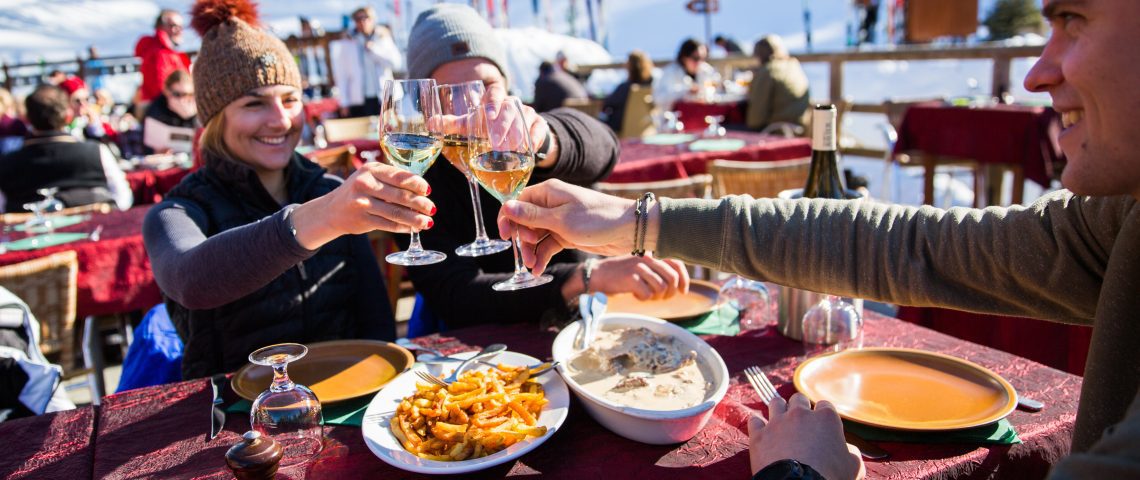 After over 20 years in Meribel, we at Ski Basics would like to think we know a thing or two about nightlife in Meribel. So, we're sharing it all with you! Read on for all you need to know about nightlife in Meribel including insider secrets on all the best spots in town…
What is nightlife like in Meribel?
Meribel nightlife is comprised of a varied and lively selection of restaurants, wine bars, pubs and nightclubs open until the early hours. Like all aspects of Meribel, the nightlife has something to offer for every occasion. Whether it be a traditional Savoyard dining experience or dancing on tables and singing at the top of your voice. Here we have put together a short guide on where to find both of these extremes and everything in between.
Meribel Après Ski Bars
Meribel is home to a number of infamous après bars, widely regarded as some of the very best on the French après scene. Both on and off the mountain. The bars are predominantly British run, with live music and all the après classics that regular skiers know and love.
If you're unfamiliar with après ski, it's most simply described as social activities following a day of skiing. For more on where it came from, what to expect, when to be there; head over to our complete après guide.
Below are the Meribel après spots you won't want to miss…
Le Rond Point
Le Rond Point, more commonly known as The Ronnie and famous throughout the ski world. The Ronnie boasts a spacious terrace which is perfectly positioned to be soaked in sun all season long. Fear not, in the cooler months the terrace is covered by a large umbrella fitted with heaters, so the party can always go on.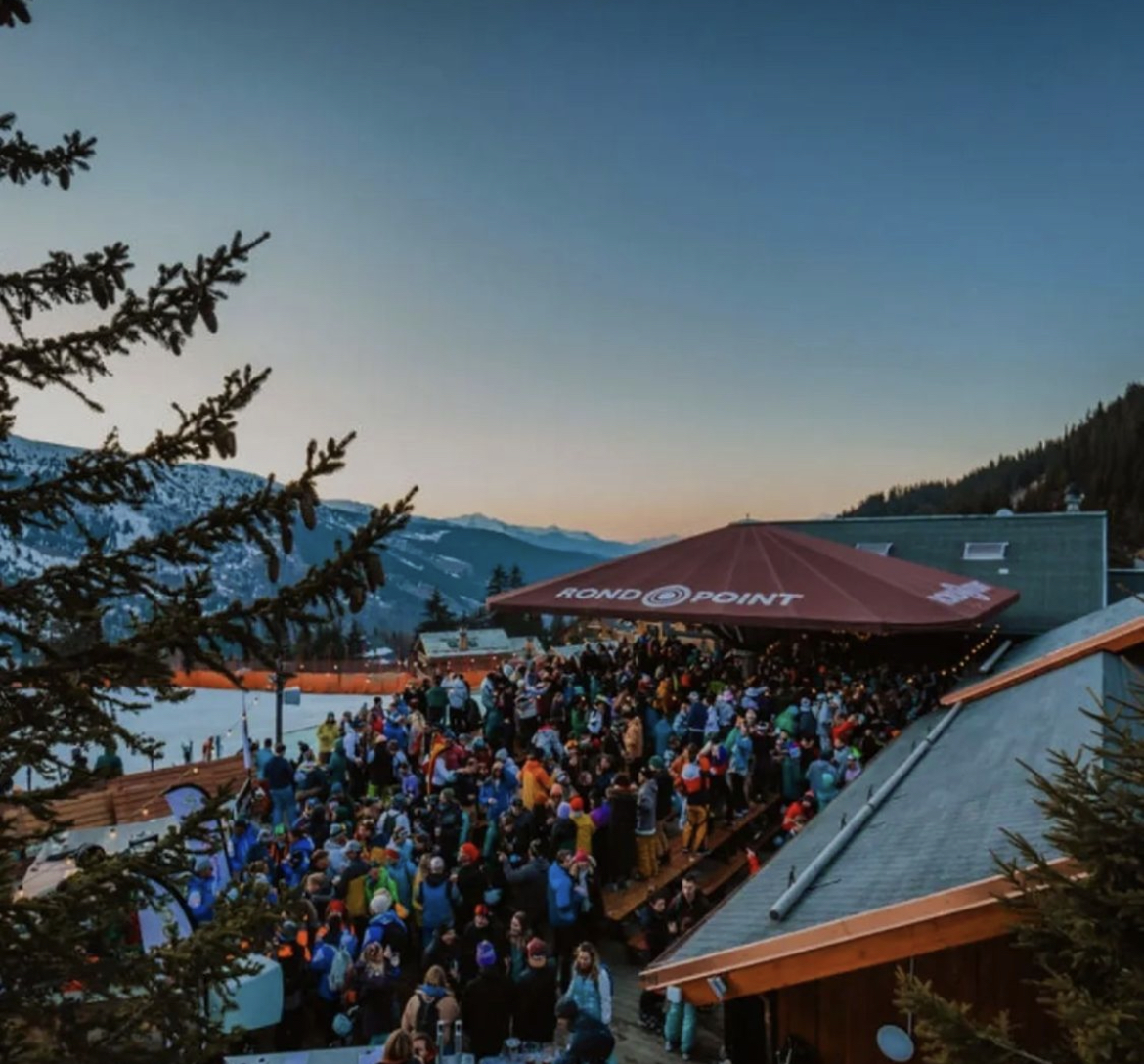 A bustling happy hour starts at 4pm every day, jam packed with live music and lots of dancing. The Ronnie is located above Meribel Centre and sits just below the first stop of the Rhodos bubble at the Rond Point des Pistes.
La Folie Douce
La Folie Douce is another must when visiting Meribel. It offers a slightly more up market après experience, with extravagant live entertainment each day. If you've visited either of its sister venues in the alps, Val d'Isere or Val Thorens, you'll know what to expect. If it's your first time, then prepare yourself for table top dancing and the champagne spray.

Jacks
Jacks is yet another Meribel must. A true gem of the Meribel après scene and a firm favourite amongst returning guests. It's also a popular venue with seasonaires both in the afternoon and evenings. Ideally located next to La Chaundanne (the main lift station), getting there straight from the slopes couldn't be easier. The party on the terrace kicks off each day from 4pm with live music from their resident acts throughout the week. Check out their Facebook page for what to expect ahead of your stay.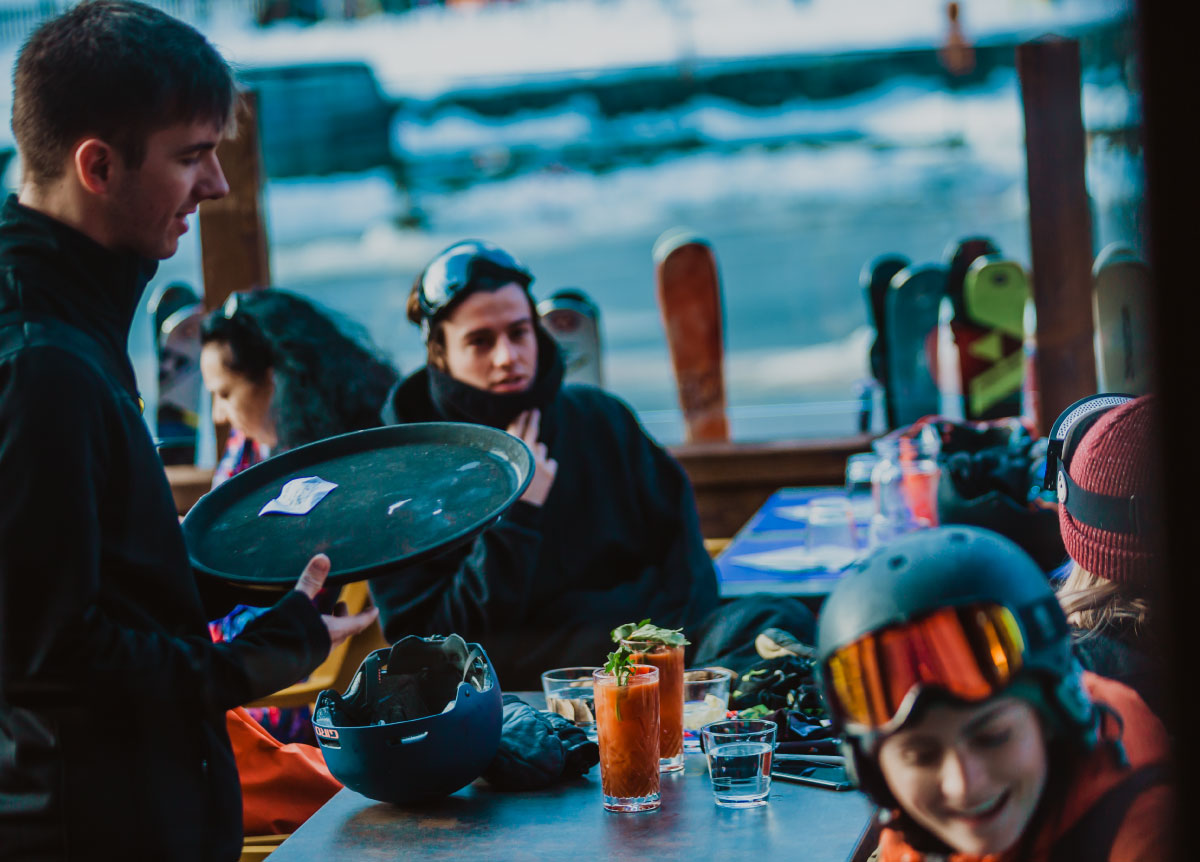 Aside from daily parties, they bring a new dimension to the après scene with comedy nights staring some of the UK's most popular comedians. You can also count on them showing all major sports matches on their wide screen TV's so, you won't miss a thing whilst away.
The Doron Pub
Located in the centre of town, tucked away just to the side of Sports Boutique, Doron pub is one of the most popular pubs in town. Early in the evening, it offers a relaxed vibe. Showing extreme skiing on screens around pool tables. Later on, they take things up a notch with things getting pretty wild past 10pm. Expect live music and local DJs each night and the odd themed party thrown in throughout the season too.
La Tavern
Just across the road from The Doron, La Tavern is located in Meribel's main square. Here you will find the cheapest beer in resort during their daily happy hour 8pm-10pm. In addition to showing all the main sporting events, they also host weekly events throughout the season. Including live music every Thursday from 10pm and DJs every Sunday and Wednesday.
Scotts
If 2 for 1 cocktails and late night dancing is what you're looking for, then look no further than Scotts. Kick back and relax on their large sofas and enjoy the cosy vibe throughout happy hour from 4-7pm. This is soon followed by 2 for 1 cocktails 9-11pm, by which time the dancing is sure to be in full swing.
Lodge Du Village
Located in Meribel Village, Lodge Du Village commonly known as LDV is another unmissable après destination. With live music on the terrace from 4pm each day and happy hour from 4-5pm, you'll be dragging your heels back to the chalet in time for dinner. Once the sun has set, the party moves inside to their upstairs bar where you can expect more live music and DJ's until late.
O'Sullivans
If you're looking to party through until the early hours, then this is the place for you. Formally the infamous Dicks Tea Bar, O'Sullivans is located just outside the centre of Meribel and boasts an impressive entertainment line up with internationally acclaimed DJ's and regular live music.
Meribel Bars
Barometer
Barometer offers a more relaxed après in a pub like atmosphere, with an impressive selection of wines. From midday they offer foods from a range of influences as well as, their highly regarded pizzas. Music kicks off each afternoon and you can grab yourself 2 for 1 cocktails from 11pm until midnight.
L'Abreuvoir
If you're looking for something a little more relaxed with an air of French sophistication, then head straight to L'Abreuvior. With a reputation as the most sophisticated French bar in Meribel, you will not be disappointed. Here you can expect homemade cakes and gourmet coffees throughout the afternoon. Come après, the music will start but L'Abreuviour maintains its sophisticated vibe offering a chic escape from the younger and more raucous après bars.
Meribel live music
If it's live music that you're looking for then you'll be spoilt for choice with almost all bars hosting live music gigs, resulting in an eclectic selection of acts to choose from. Below are just some of the very best venues where you'll find live music all throughout the season:
The Rond Point
This much loved après bar promises the very best of live music with a whole host of gigs throughout the winter months. For a full run down of what to expect whilst you're in town, keep an eye on their Facebook page.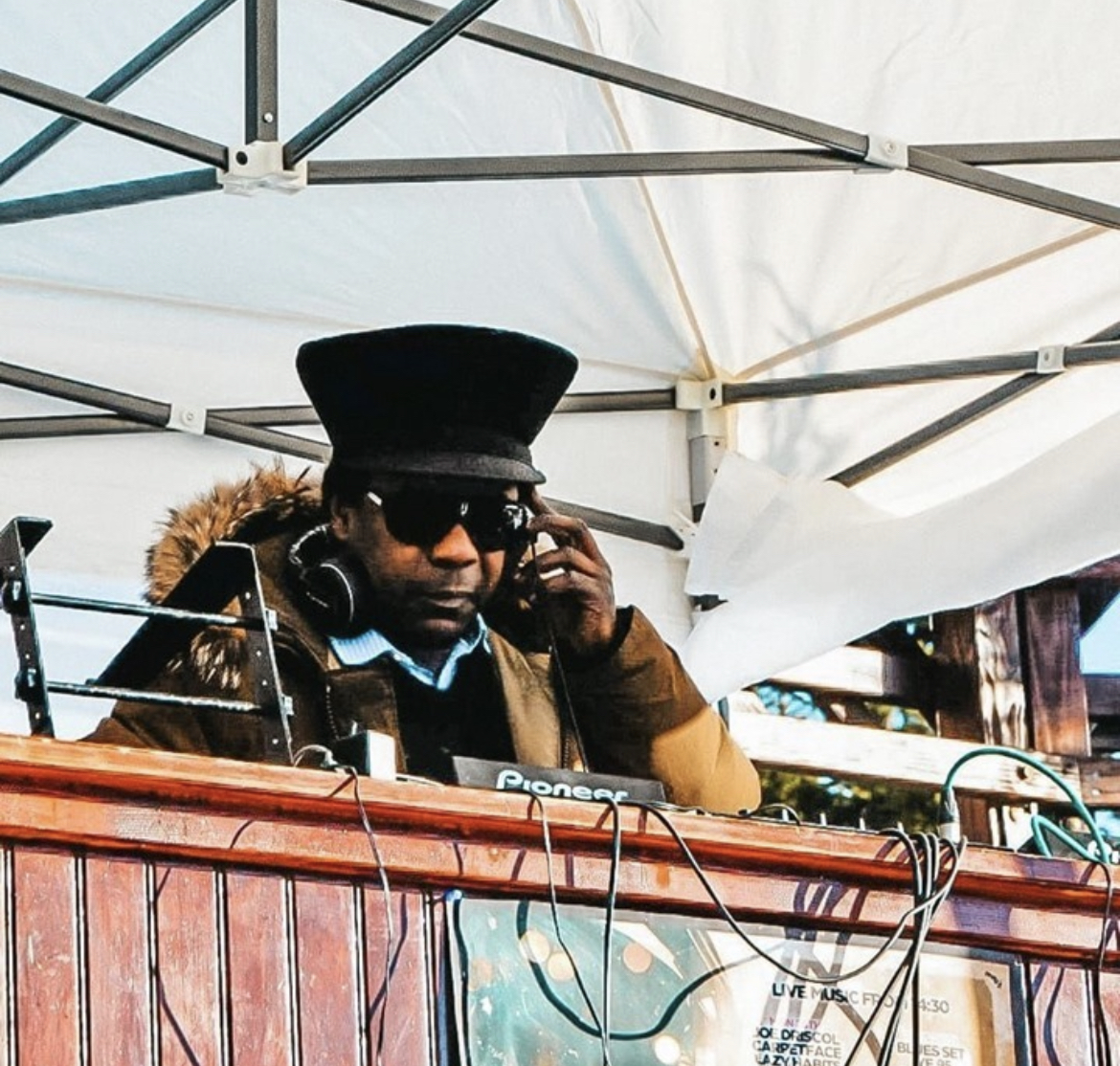 Not to mention, their very own music festival – Ronnie loves Music, which usually runs for around 4 days in March each year.
Jacks
With live music each day, Jacks is the ideal place to unwind after a day on the slopes and discover new music from some of the very best local musicians. Be sure to check out the Jacks Facebook page around your visit to see what's on.
Lodge Du Village
Visit once and you'll find yourself back on the terrace every afternoon enjoying LDV's killer line up of live music, comprised of the most popular après acts in town.

The Doron Pub
Late night live music can be found at The Doron Pub where the party gets going from around 10pm each night. Expect a packed pub and a raucous party.
Wine Bars
Copina
Since arriving in Meribel, after opening their first bar in Courchevel, Copina has quickly established itself as Meribel's favourite pre and post dinner cocktail bar. Also offering hand-picked craft beers, a vast array of world wines and an impressive selection of authentic tapas and small plates. The relaxed and cosy atmosphere is the perfect setting to indulge on cocktails, fine wines and delicious food.

Barometer
Barometer offers a vast selection of great wines. Accompanied by a delicious menu, inspired by a range of cuisines including British, Asian and local Savoyarde there is truly something for everyone.
Late nights and good food
When it comes to great restaurants in Meribel, there really is too many to list. So, here we have listed a small selection of our favourite spots offering a range of cuisines.
Fromagerie
Commonly regarded as the best Fondue in town. Nestled beneath a cheese shop, as you travel downstairs you will be greeted by an authentic savoyarde restaurant offering, you guessed it…all the savoyarde cheese delights you could possibly imagine! From fondue to raclette, tartiflette and charcuterie all accompanied with an impressive wine list. We advise a light lunch before visiting, as you're sure to be full to the brim by the time you leave this infamous Meribel spot.
View this post on Instagram
La Terrasse
La Terrasse is situated at the heart of Meribel Village just 100m from the foot of the Lapin piste. Savoyarde specialities and great value daily specials, made with carefully sourced international ingredients and breath-taking views, make La Terrasse the perfect dinner spot. Head straight from the slopes or go home and freshen up. Either way, you'll be welcomed by their friendly staff and charming atmosphere every night of the week.
T'sretta Spice
Something a little different, T'sretta Spice Meribel and Les Allues are the only restaurants of their kind in The Three Valleys. Offering vibrant, fine-dining Indian restaurant serving inventive, high end cuisine, cocktails, fine wines and premium beers; you will not be disappointed!
Getting to the Meribel nightlife from Ski Basics Chalets
All nightlife is within easy reach from each of our chalets. If staying in Meribel Village, you are spoilt with Lodge Du Village and its restaurant La Terrasse just seconds walk from your doorstep. To reach all that Meribel Centre has to offer, simply hop on the free bus service located no more than 50m from any of our Meribel Village chalets and head straight into town. Alternatively, speak to your chalet manager who will be on hand to book you a taxi with one of our recommended providers. In peak season, buses run until gone midnight and the reliable taxi services run throughout the night and into the early hours.
If you're travelling from Meribel Centre to Village between 4:30 – 6:30pm, simply meet our drivers at La Chaudanne who will be on hand to take you straight to the heart of Meribel Village or any of our chalets in between.
From our Meribel Centre chalets, you can be at the heart of all the action within a 5-15 minute walk. Alternatively, hop one of the free buses which are located close by to each of our chalets. Simply speak to your chalet host for more information on bus timetables and the nearest stop to you.
If nightlife in Meribel sounds like what you're looking for but you haven't already booked yet, then why not take a look at our chalets and their remaining availability. If you have any questions, please do not hesitate to get in contact and a member of the team will be happy to help!