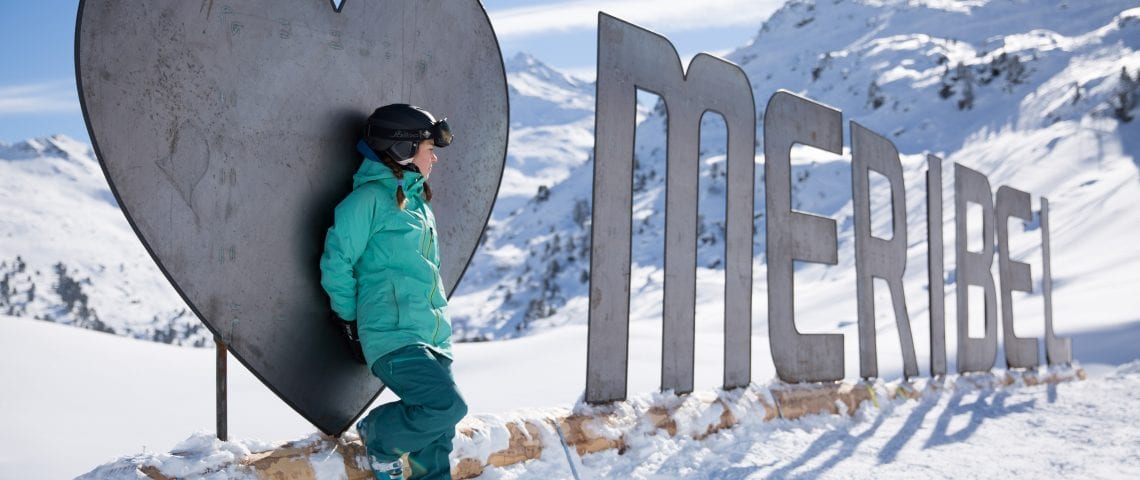 There is certainly no shortage of wonderful slope side restaurants to enjoy here in The Three Valleys. To help you find the perfect spot, we have compiled this shortlist of the best mountain restaurants in Meribel. Perfect for long lunches in the sun, soaking up the rays and unrivalled views.
Le Rond Point Restaurant & Snack Bar, Meribel
An easily accessible lunch spot for all capabilities.
Le Rond Point, also commonly known as The Ronnie, has two lunch offerings both available to enjoy on their spacious sun soaked terrace. Why not indulge in their traditional home-cooked a la carte menu from the main restaurant. Alternatively, quickly refuel and get back out onto the mountain with a quick stop at their snack bar, located out on the terrace. Here you'll find a small yet mighty menu of noodles, burgers and fries.
Le Rond Point is also a must visit for apres. This infamous venue is known for its fun filled apres parties, where you can watch the sun go down over the Meribel Valley whilst enjoying live music almost every day of the week.
Location: Just below Rhodos Gondola Mid-Point Station, where Foret and Rhodos Green runs meet.
Tripadvisor: Read Reviews.
Open all throughout the day, for breakfast, lunch and dinner.
In the morning you can enjoy their continental style breakfast menu, filled with classic choices including scrambled eggs, cereals and hams. For lunch, expect traditional Savoyard favourites, complimented by an extensive wine list including an large range of French wines.
In the afternoon, treat yourself to afternoon tea from their brasserie or join them after an action packed day for dinner.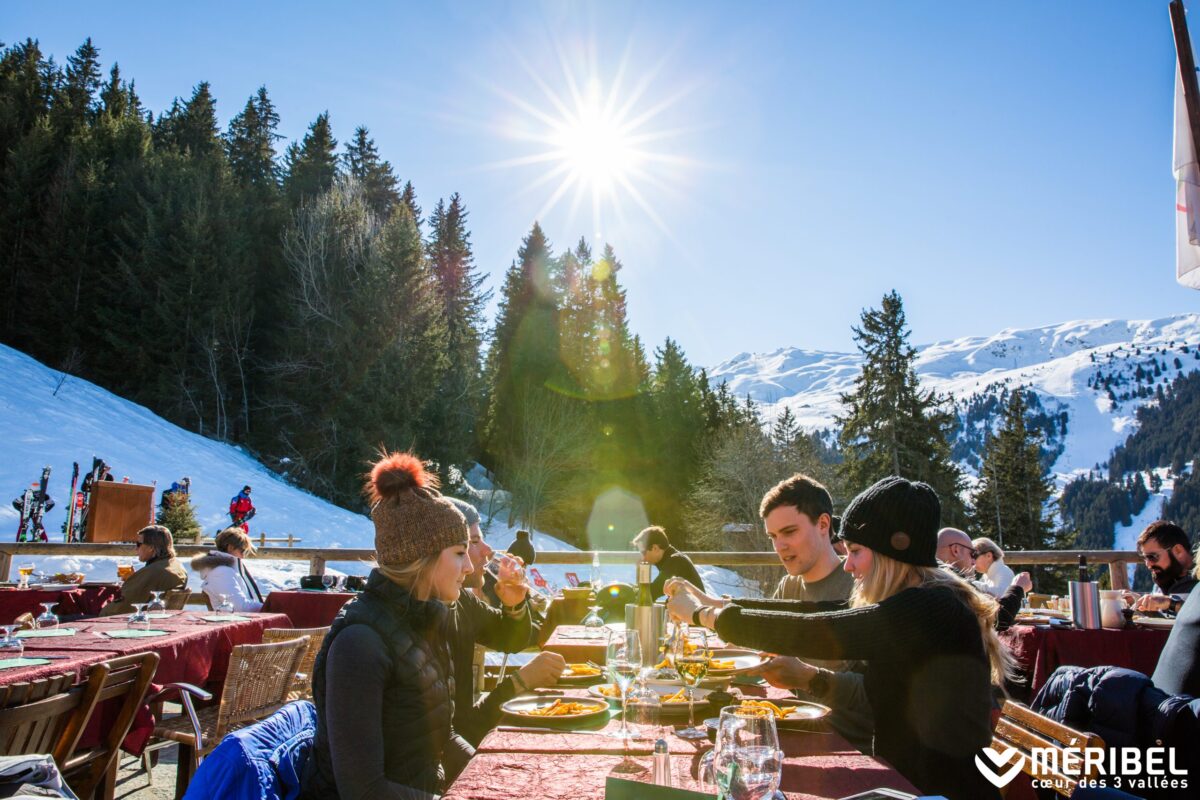 Opening times for lunch from 11:30 to 15:30, evenings from 19:30 to 21:00.
Location: Set back from the Doron blue slope, just above the Adret Chairlift.
Tripadvisor: Read Reviews.
An idyllic mountain experience.
Undoubtably one of the best mountain restaurants in Meribel and a firm favourite for many, thanks to it's enchanting location and fabulous food. The menu focuses on civilised Savoyard classics and they specialise in local meats cooked on the grill. The spacious terrace located just on the edge of the forest, in a sun soaked clearing is perfect for enjoying long lunches in the sun.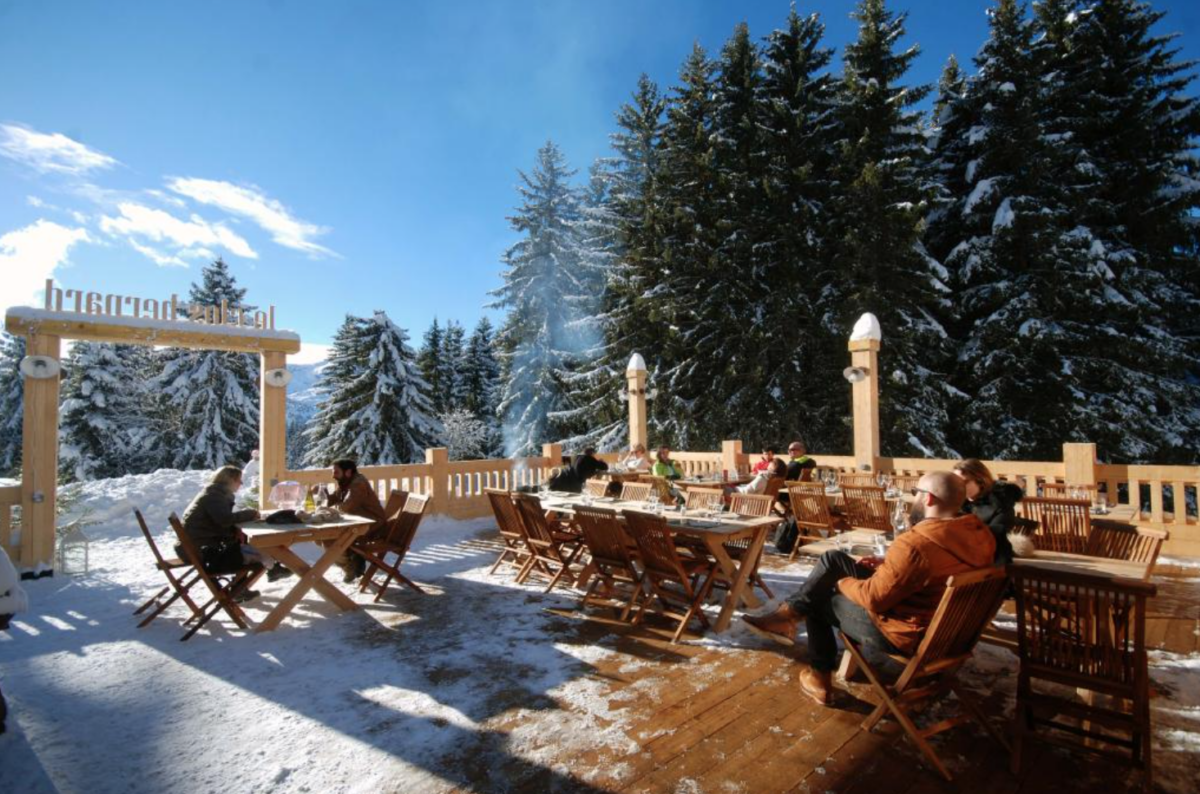 A favourite feature for many is the short ski through the forest to arrive at the restaurant. For non-skiers, they offer transport on a horse drawn cart or the restaurant can also be accessed on foot from the nearby Meribel Alitport car park. For directions or to arrange your journey in the horse drawn cart, simply speak to your chalet manager who will be on hand to make these arrangements for you.
Location: Follow the signs from the entrance to The Animal Piste, next to beginning of the Loze Chair.
Tripadvisor: Read Reviews.
Self-Service Suntrap.
The ideal stop for a mid-morning coffee in the sunshine, before heading up Tougnète 2 and adventuring out of the Meribel Valley. Alternatively, stop by for lunch and enjoy their self-service restaurant. Find simple dishes such as soups, salad and sandwiches on offer all day.
Location: Opposite the bottom of the Tougnète 2 chairlift.
Tripadvisor: Read Reviews.
At Le Monchu you can enjoy a range of high quality, traditional Savoyard dishes as well as, matured meats, burgers, fish, salads and pizzas whilst soaking in the sun on the edge of the blue Rhodos Piste. On Sundays, visit for brunch by reservation only. To make a reservation, speak your chalet manager who will be happy to organise this for you.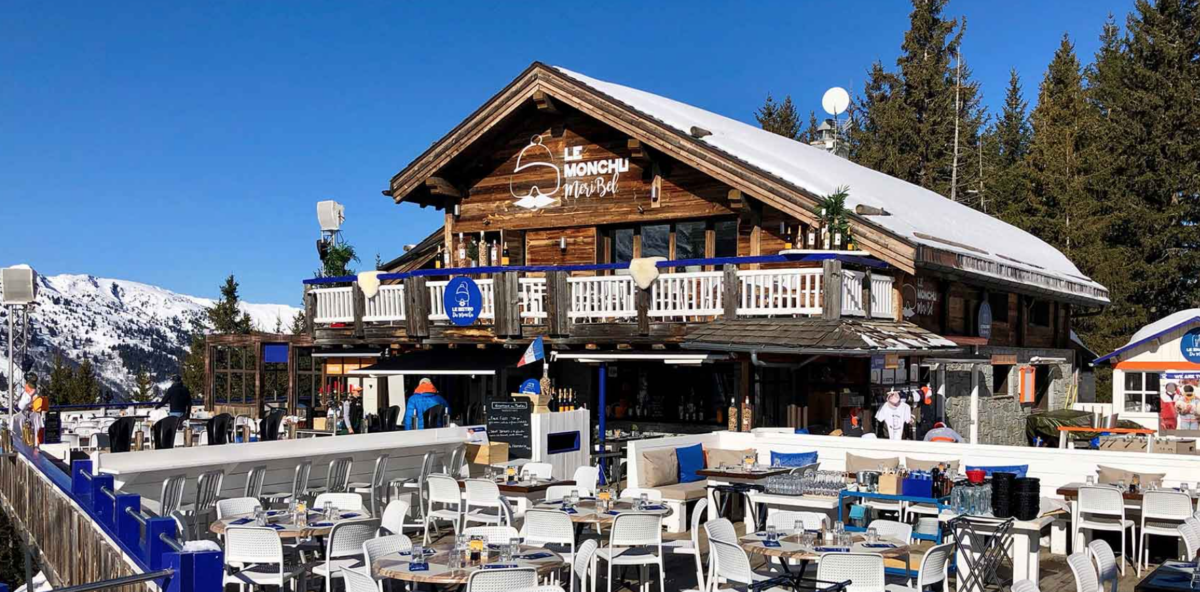 The front of the spacious terrace is a luxurious lounge area, filled with sofas and bean bags. Dedicated solely to Veuve Clocquot champagne and on Thursday afternoons, expect a lively apres party.
Location: To the right of the blue Rhodos Piste.
Tripadvisor: Read Reviews.
Maya Altitude Restaurant, Meribel
Maya Altitude in new to Meribel for the 2021/22 season, replacing the old Les Cretes restaurant. The completely renovated restaurant has capacity for 400 diners and boasts panoramic views of Mont Blanc and the Alps. Styled with a Himalayan inspired interior and with a menu designed by a Michelin-starred chef. The menu is comprised of high-end brassiere style dishes, with traditional mountain specialities on there too. Combined with a spacious terrace equipped for long  lunches in the beaming sunshine, it's one not to be missed.
Location: Just a short ski from the top of the Tougnette 2 chairlift, towards Jerusalem
Tripadvisor: Read Reviews.
And, that's not all! Whilst these are some of the best mountain restaurants in Meribel, there are many more both on and off the mountain. For more Meribel restaurant recommendations, speak to your chalet manager who will be on hand to help you find the perfect spot for your needs. They will also be on hand to manage all reservations for you.
Click here to view our prices and availability for the the 2022/23 season or simply get in contact if you have any questions. A member of the team would be pleased to hear from you.