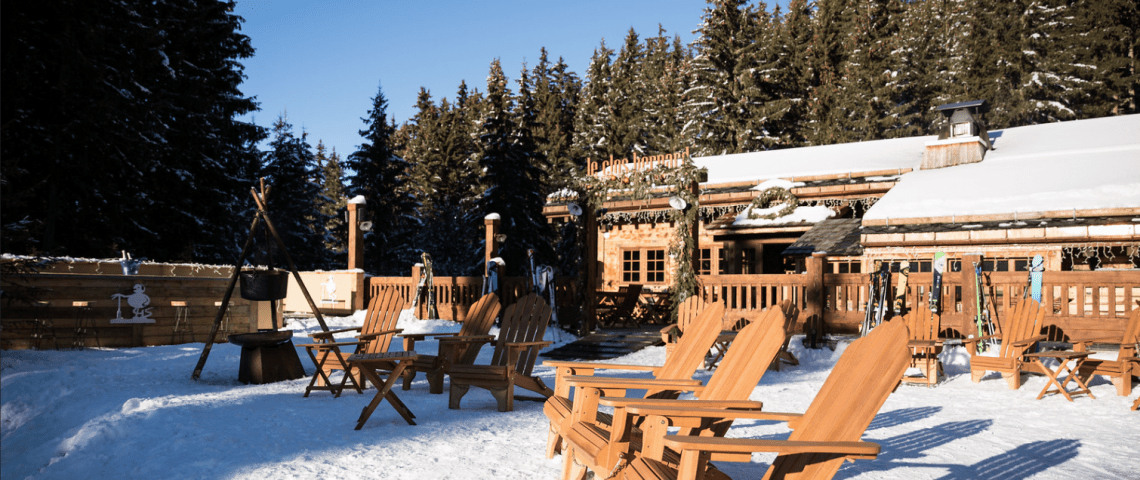 When it comes to eating out, Meribel has a vast range of options both on and off the mountain. From quick, easy and reasonably priced to fine dining, traditional Savoyard and some unbeatable mountain locations – there truly is something for every occasion.
Restaurants on the mountain
View this post on Instagram
The self-service bar at the infamous Le Rond Point, also commonly known as 'The Ronnie' is perfect for a quick, easy and reasonably priced bite to eat on the mountain. The simple yet tasty menu offers a range of burgers, noodles and sides. Accompanied by a small range of reasonably priced beverages. A quick bite from the self-service bar can be enjoyed in the sunshine on the terrace upon which their notorious apres kicks off later on in the afternoon. The Ronnie is easily accessible via the slopes – located just below the Rhodos mid-station. It's also perfectly situated by the Rond Point bus stop, which can be reached from Meribel Centre using the free bus service making it the perfect meeting point for those on foot.
Folie Douce's Self-Service restaurant offers a similar vibe. Located inside of the Folie Douce itself as opposed to out on the terrace and not far up the mountain from the Rond Point, just below the Sailure mid-station.
View this post on Instagram
Nested just back from the slopes, L'Adray Telebar is accessible on both skis and foot. It's large south facing terrace is a real sun-trap in which you can enjoy delicious food from their vast menu at any time of the day. Again, its location just above Meribel Centre and their generously portioned Vin Chaud makes this delightful spot extremely worthy of an afternoon visit!
Le Clos Benard (££)
View this post on Instagram
Le Clos Benard is nestled in the forest a short walk (or ski) from the Altiport. For a journey to remember, you can also access the restaurant using horse drawn carriage. This idyllic restaurant certainly brings the wow factor with both its food and location. Its terrace is perfect for sunny lunches and its cosy and traditional dining room is equally inviting for a meal sheltered from the elements.
Their mouth-watering Angus steaks are cooked on a wood fire and are certainly not to be missed. Le Clos Benard has built up a reputation of being a real must when visiting Meribel so we recommend to book in advance!
View this post on Instagram
Boasting a spacious terrace, Le Monchu is the perfect spot for a memorable lunch on the mountain. They offer a range of great options including burgers, salads, meat, fish and Savoyard delights. They also offer a reservation only Sunday brunch out on the terrace and you can enjoy breakfast here each day from 9am.
The stylish Veuve Clocquot lounge area makes it a great spot for apres, and it's ideally located just on the way down towards Meribel making it the perfect place to round off the day.
Restaurants down the mountain
This fairly new addition to Meribel is certainly a good one. Albeit 'down the mountain', La Cantine d'Alvar is perfectly located at the Chaundanne making it an ideal stop for a relaxed lunch where you can enjoy freshly made and reasonably priced food when on skis too. The vibe is relaxed but due to its location and great menu, we recommend booking to avoid disappointment!
View this post on Instagram
For a similar relaxed vibe with great food for all the family, L'Igloo, La Galette and the new Jacks Bar (re-opening for the 2019/20 season) are all great options. Being suited to both lunch and dinner, these are also popular options for chalet staff night off.
L'Igloo is often a family favourite due to its fun interior and mouth-watering pizzas. As with all our popular top picks, we recommend booking in advance to avoid disappointment.
As you'd expect from the name, the menu is focused predominantly around cheese. So, if you're looking for a cheese feast – this is the place for you. Its traditional and rustic interior certainly makes it one to remember and if at the end of you meal you haven't already had enough cheese…they even have a cheese shop upstairs where you can choose something to take home!
Le Bo A Mil (££) – Pizza Takeaway (£)
If it's a relaxed evening in the chalet on your chalet staff night off that you're looking for, then we recommend take away pizza (collection only) from Le Bo A Mil. Nestled in Meribel Village, the stone oven baked pizzas are a true delight for the senses and the perfect option for a relaxed evening by the fire.
Although, if you have a change of heart and decide it's a meal out of the chalet that you're looking for, their cosy and traditional restaurant is also definitely worth a visit.
This traditional Savoyard restaurant located in the centre of Meribel, close to the Chaundanne offers fondue, raclette and pierrade. Although it doesn't end there, the menu also offers classic French onion soup, steaks grilled over an open fire, salads and a whole host of other traditional French delicacies.
This is a popular favourite for chalet staff night off so as always with chalet staff night off, we recommend making your reservation through your chalet manager on arrival.
This high reputable restaurant is known for its fabulous seafood and mushroom crepes and is a firm favourite with the locals. In 2018, the restaurant was featured in the Michelin guide as a BIB Gourmand restaurant so it's definitely not one to be missed!
We hope that this short guide will help to make your next trip to Meribel even more memorable. If you're coming to stay with us in the near future and have seen somewhere here that you'd like to try, please let your chalet manager know upon arrival and they will be happy to make your reservation for you.
If you would like some more recommendations on the best places to visit during your stay with us, please don't hesitate to get in contact. Or if you'd like to book your next ski holiday with us now, you can do so here.