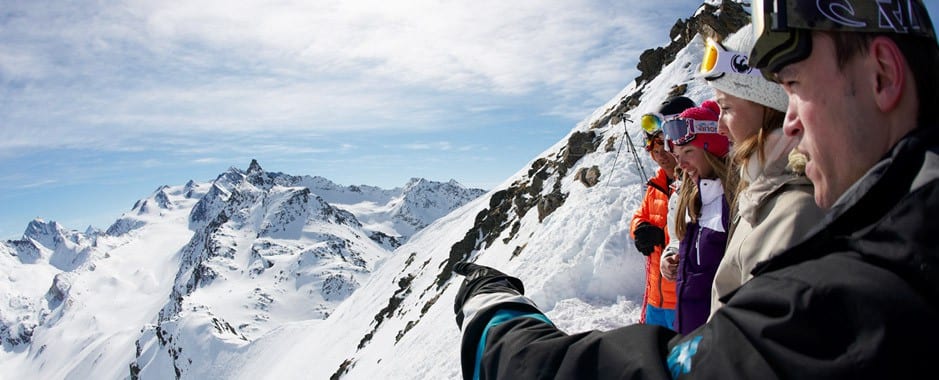 A group ski holiday is the BEST. Long days on the slopes, social evenings with friends and just kicking back and enjoying good food and a few drinks is the fabric of life. Creating happy memories and feeling revitalised after a spell in the crisp mountain air is what it's all about. If you are planning a catered ski chalet holiday with friends or family and decided that Meribel is going to be just the ticket this year, then you'll already be buzzing about the fun to be had!
But how do you plan a group ski holiday when there are so many factors to consider, and mitigate the risk of hiccups that could potentially kill your buzz? Before planning your group ski trip, have a read through our pointers below to ensure that it is executed as seamlessly as possible!
8 Must-Know Tips for Planning a Stress-Free Group Ski Holiday
1) Nominate a Group Leader
Nominating a person who will take charge is the first step in making sure your group ski holiday runs smoothly. Some people will excel in this role and create spreadsheets, manage lists and thrive on keeping track of everything on behalf of the group. A good, organised group leader will be worth their weight in snow, so choosing the right person to carry out this crucial role should be the first step in planning your group ski holiday here in Meribel.
2) Select Your Dates Carefully
The week you choose for your Meribel ski trip will have an effect on how much you pay. If you have a group of adults (no kids) then booking a group ski holiday outside of the school holidays will assure the lowest prices (and quietest slopes!). If you choose to ski over Christmas and New Year then remember that this is peak season and so booking early is crucial. January is an underrated month to visit Meribel when lots of people are back at work or school, so the pistes are virtually empty with no lift queues and it's a good time to visit. It's worth knowing that the French school holidays start in February and so this is often a busy time for skiing in Meribel and children's ski schools are often booked out months in advance so book early if you're thinking of a family group ski holiday in February. April is often a good time for picking up end-of-season deals and is when spring showers bring fresh snow to the mountains. The sun also shines and outdoor lunching in April is a joy!
3) Choose a Ski Chalet Company that Cares
When choosing a ski chalet company like Ski Basics, you can rest assured that we take care of all the finer details for you so that you relax into your holiday as soon as you arrive here in resort. Upon arrival your skis and ski passes will be delivered to you in the comfort of your chalet, your hosts, drivers and chalet manager are on hand throughout the week for any eventuality, and from booking lunchtime restaurants to arranging a special birthday surprise, nothing is too much trouble. Believe us, when you have a large party to wrangle, having the finer details ironed out will make all the difference.
4) Use a Group Booking System
We know that it's often tricky to collect everyone's deposits, organise transfers and book ski hire and passes when you're travelling as a group. That's why we created personalised group ski holiday login booking pages to take the devil out of the detail. The login area can be accessed by all members of your party, be that family or friends, and it will alleviate the stress by offering simplicity and getting everything organised before you arrive.
5) Should You Choose a Shared Chalet?

If you're new to the ski holiday game, it's worth noting that unless you book the whole chalet (which is the way we work here at Ski Basics) then other ski chalet companies will probably lump you in a shared chalet which means you will be sharing with others. An exclusive catered chalet with Ski Basics means a private home-from-home with full Ski Basics service and all the little extras that make our ski chalets such great value, and you don't have to share your living space with people you don't want to share with.

6) Book Your Ski School Early
As with booking your ski chalet for groups early, you should also book your ski school early. Whereas some people in your group may be confident hurtling down the mountain at breakneck speeds, some members of your party may need gentle runs or even lessons so when planning a group ski holiday you'll need to make sure that you choose a ski school which can accommodate all levels. If you want a highly-reputable ski school with the best ski instructors, you will need to book your chosen school early as the best ones book out far in advance.
7) Book a Child-Friendly Ski Chalet
If you're a family group skiing with children then you'll have to book a family-friendly chalet which considers the needs of little people too. It is so important that you, as parents, feel comfortable in our chalets and know that the children are in a safe environment. We therefore provide, at no extra cost stair gates, cots, high chairs and baby monitors upon request. We can also organise the rental of push chairs for the week and all our transport vehicles have booster seats and child car seats. There will be a selection of books and games in your chalet and sledges for you all to enjoy on sunny afternoons. Catered chalets are ideal for families as they provide a home from home, allowing plenty of space and can cater for children's' meals and needs, not to mention allowing you to enjoy adults' supper without needing to arrange babysitting.
8) Consider Every Member of the Group
If not everyone in the group loves skiing then consider a resort like Meribel that has lots of things to do for non-skiers. In addition to skiing and snowboarding there are lots of activities on offer such as ice skating, Nordic walking, snowshoeing, swimming, shopping and visiting a spa – to name but a few.  If you consider the needs and wishes of every member of the group then you'll all have a much more satisfying group ski holiday and there will be big smiles from every member of your party!
If you've organised group ski holiday before you'll know that it can sometimes become a thankless and stressful task. But it's crucial that you remember that the whole point is to ENJOY YOURSELF! Use the expertise of people who know (like our experienced booking team) and gather all the advice you can from our experts here in resort. Hopefully our group booking system and knowledgeable team will make your holiday organisation as painless as possible. Get in touch now to book your next group ski holiday right here in Meribel. You'll be glad you chose Ski Basics :)