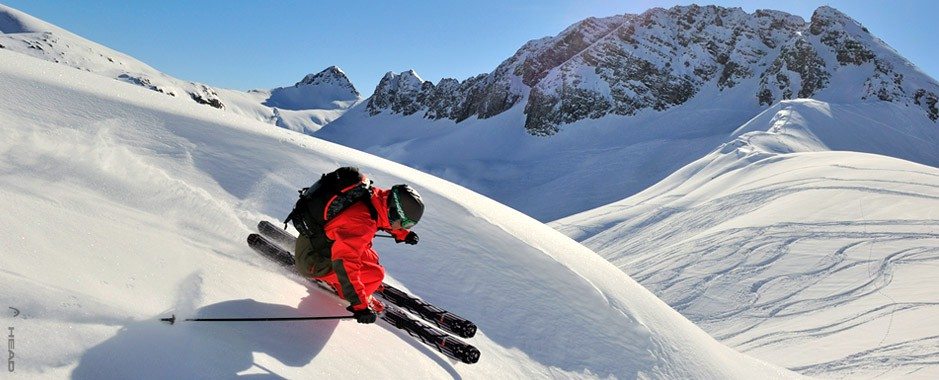 When you're looking at booking your skiing holiday, there are always three factors to take into account; What's the skiing like? Will there be any snow? Is it good value for money? Let's look at a few reasons why skiing in Meribel is the way forward. 
What's the skiing like?
Due to the sheer size of the Three Valleys, Meribel's pistes are great for everyone, from ultimate beginners to seasoned professionals. It's perfect placement as the heart of The Three Valleys (remember that 600km of terrain we talked about?) means that skiing in Meribel is not only varied, but sheltered, due to the mountains surrounding it. If it's your first time stepping into your bindings, fear not, the Altiport has some great greens for you to find your feet on, and Meribel's blue runs are plentiful. If you're beyond lessons, then why not hire a guide for a day and get them to show you around? Meribel benefits from over 150km of runs in it's own right, and with access to over 335 marked runs, 180 lifts and over 130km of cross-country, no two days are the same.
Will there be any snow?
So, what about those all important "bluebird" days? We all dream of driving up the mountain to be greeted by snowdrifts aplenty and blue skies above, but what's the reality? According to several trusty websites, Meribel's snowfall just keeps getting better, with a steady increase in snowfall on both the upper AND lower slopes over the last few years. You want figures? Meribel's snow history hit 220cm on the upper slopes and maintained a steady base of 170cm on the lower slopes in 2012 AND 2013. Of course, you can't leave it all to chance, so Meribel's lift companies run a tight ship. A ship with over 600 snow cannons that is! Meribel's prime location strikes again – mornings can be spent enjoying the sun lower down the mountain, and after a traditional lunch of Tariflette and vin chaud to keep you warm, you can head up and over to Val Thorens which peaks at an altitude of 2300m. At the very least, if you do arrive at your accommodation in Meribel without a snowflake in sight – put on your goggles, hop in the hot-tub and work on that tan from the comfort of your chalet. No-one at work needs to know.
Is it good value for money?
Finally, what will it cost you? There are so many options these days, that skiing is a sport everyone can enjoy, and it's a hard habit to kick once you're hooked! Self-catered chalets in Meribel are popping up all over the place, and with Mountain Burgers in Mottaret tipping the scales at a mere 6 euros, you can now holiday like a king. A Meribel ski pass for 6 days will set you back 217 Euros, while the Three Valleys 6 day comes in at 262. If you're a beginner, and not sure whether you'll be able to get from A to B on anything other than your face, there are several cheaper options you can go for too. If you're still in one piece mid-week, an upgrade to the 3V domain will cost you just 45 euros, enabling you to nip over to Orelle and back, just to prove you can. Lift pass offices in Meribel can be found at Le Rond Point, La Chaudanne, L'Altiport and Meribel Village, and with ski pass options for families, couples, afternoons and more, a micro-budget can no longer be an excuse……