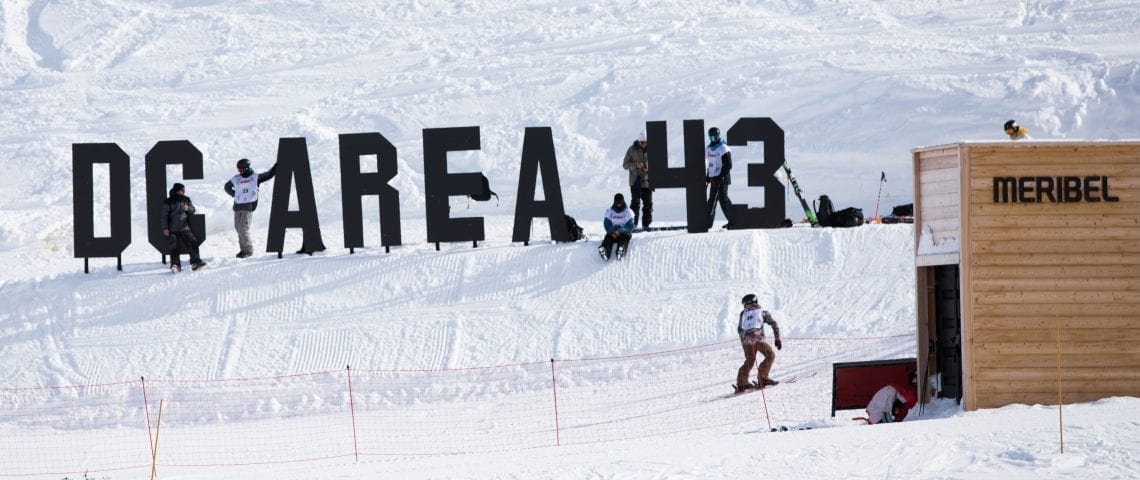 We've had a serious dumping of snow here this week and according to the forecast, there's more to come! All this fresh powder has got us thinking of one thing…snowboarding in Meribel.
Meribel is home to two snowparks making it the perfect destination for thrill seeking boarders. Here you will find the infamous Plattieres Park, commonly known as the DC Park – Area 43. As well as, the all-round favourite, Elements Park. So, if you're looking to takes things up a notch this year, whether it be your first kicker, mastering the rail or something else to get your heart racing, you'll be in good company to do so here in Meribel.
DC Park – Area 43
Recognised by onboard mag as the best snow park in France, if not Europe, when snowboarding in Meribel the DC Park is certainly not one to be missed. Regardless of your experience in the park, the DC park has got something for every ability. If you're entering the park as a beginner, don't be daunted by the range of enormous obstacles.
If you're looking to try some tricks for the first time or are just feeling a little stiff, why not head to the beginner/intermediate area to get to grips with the basics or just take it easy, refreshing your memory and having some fun.
If you're a seasoned veteran in the park, then get yourself to the expert zone where you will find some generously sized obstacles to refine your technique on some serious stunts.
In true Meribel style, DC have employed the only the best of park shapers, Benjamin Ravanel and Nicolas Marduel, who with state-of-the-art tools ensure the park is in impeccable condition throughout the season.
You can access the park via the Plattieres gondolas 1 and 2, with Plattieres 1 taking you from the Meribel-Mottaret village, where you jump straight onto Plattiers 2 which will take you to the park and can be used to lap the park as many times as your thighs can take it. The park is over 1KM, so they're sure to be burning.
The park is located at 2,400m and surrounded by 20 snow making machines so we're pretty confident that teamed with the pro-shapers, the park is going to spick and span all winter long. So, whether you're tackling the 22-foot superpipe, or enjoying the whoops of the boardercross, you can rest assured it will be great condition to help you nail your skills.
Elements Park
Previously known as The Moon Park, Meribel's Elements Park is easily accessible and can be found by turning right when you reach the top of the Legends chairlift. It is also serviced by its own drag lift; Arpasson making it super easy to get straight back up to the top and ready to go again and again.
The Elements park is ideal for beginner and intermediate freestylers. However, as with the DC Park, here you can find something for every ability. The less experienced will enjoy the boardercross, where you can whoop it up on the whoops as well as enjoy the Fun Cross and soft impact boxes, rails and jibs perfect for trying your first tricks.
The park has cameras positioned throughout and will record all your stunts so you can rest assured you'll have proof of your skills when riding alone. The cameras are free to use and are simply activated by swiping your lift pass over the camera's sensor. Wait for the 4th beep and off you go! Once you're finished, just swipe your pass at the end of the run and you can watch straight away or download and share online.
Whilst these two unrevilaved parks have got enough to keep you entertained all week long, they're certainly not all that Meribel has to offer. For more information on Meribels extensive pistes and other boarding areas, head over to our Meribel piste map page, where you can download the latest Meribel and Three Valley's piste maps. And, for more Meribel and ski and snowboarding holiday top tips, head over to our news section and keep an eye on our Facebook and Instagram. Looking to book some boarding lessons? Make sure you pick the right ski school for you by reading our guide.
If you haven't yet booked your accommodation for your next snowboarding trip to Meribel, check out our remaining availability for this season or simply get in contact and a member of the team would be more than happy to help.