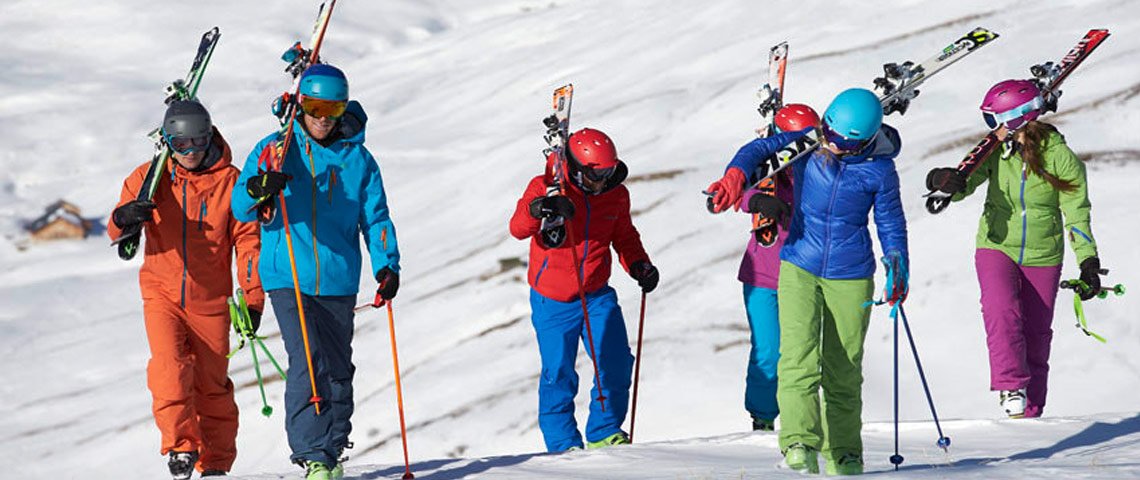 Whether it's your first ski holiday or you're a regular skier, buying your ski equipment can be a big decision. Here we outline all the benefits and consideration to help you make the right choice on whether you should buy or rent ski equipment.
Benefits of buying ski equipment     
You have the luxury of getting used to your own equipment –  The main bonus is that you are able to get used to the way in which they handle in a range of conditions. Eliminating the time spent getting used to your hire skis only to give them back again at the end of the week.
Maximise ski time – Arriving in resort with your own skis also saves the hire shop rush when you arrive and leave.
Choice of equipment – You will also be able to spend time choosing the perfect model for you. Based on kind of skiing or boarding that you'll be doing most of which is not always possible when hiring. You can also ensure your equipment is maintained and cared for as you'd like it to be.
It may be cheaper than you think – You can pick up new skis from as little as £120. Particularly if you buy at the end of the season, you may bag yourself a real bargain and if you're skiing regularly. You will then more than likely end up saving in the long term when compared to hiring!
Benefits of renting ski equipment
Perfect for beginners – If you're a beginner, hiring is without a doubt the best option. After your first trip, you may want to return right away, but may not end up getting a group together again for a couple of years. So, it's best to wait and see firstly, if you enjoy it. And secondly, that you're going to be going regularly before buying.
Save money when flying – When flying with ski equipment, you are likely to be charged for additional sports baggage. The will price will vary depending on your carrier. However, is likely to add approximately £50 to your booking per each set of skis or snowboard.
You have the luxury of changing your skis – When hiring your skis, you have the option to change them at any time. Whether you're just not getting on with your current rental or you fancy switching from skis to a snowboard, you can simply go to the hire shop and arrange this.
Discounted hire when staying with Ski Basics – When staying with Ski Basics, you will receive exclusive discounts at hire shops in Meribel. For more information, visit our ski hire page.
Disadvantages of buying ski equipment
Potentially higher travel costs – Carrying extra sports baggage can cost anywhere up from £45. However, if you are driving to resort this is of course not a problem. As you are able to take as much baggage as you wish. Making buying your own equipment even more of a viable option.
Top tip: Whilst they may be something extra to carry, you can always take your boots on as hand luggage when flying which will eliminate any additional charges.
Servicing costs – There will be ongoing costs for servicing and maintaining your equipment after each week you ski. This is again likely to cost around £50 each time, unless you buy your own equipment and learn to service yourself. This is a great way to save money once you have bought the required equipment.
Extra baggage to carry – Ski equipment can be heavy. So, it's important to consider carrying this extra baggage. You should also ensure that you make your transfer company aware that you will have extra baggage.
Disadvantages of renting ski equipment
More specific needs may not be catered for – When hiring, you will be given what they have in stock. If you need particularly long or short skis or a certain type, they may not be available.
Time spent in the hire shop – The hire shop can get extremely busy, particularly on Saturday when the vast majority of company's guests will arrive. Meaning that you may end up wasting valuable time on the slopes. Especially if there's fresh powder and blue skies to be enjoyed.
Skis and boards may be worn – Whilst hire shops will always take time to maintain their equipment, equipment may be worn out. This may have a negative impact on equipment performance and safety features. However, it's important to note that this may vary depending on the shop you go to or the point in the season.
If you decide to hire, check out our recommended hire shops in Meribel.
Should you buy or rent your ski helmet
If you are going on your first ski holiday, then we would recommend hiring a helmet. Once you've established that you enjoy skiing and are going to be skiing at least once a year then we would recommend purchasing your own helmet. This will ensure the best fit for both your head and with your goggles, as not all goggles will fit perfectly with all helmets.
Despite the obvious advantages of owning your own helmet, we understand that children grow quickly. So, you may decide to rent their helmet each year until they've stopped growing.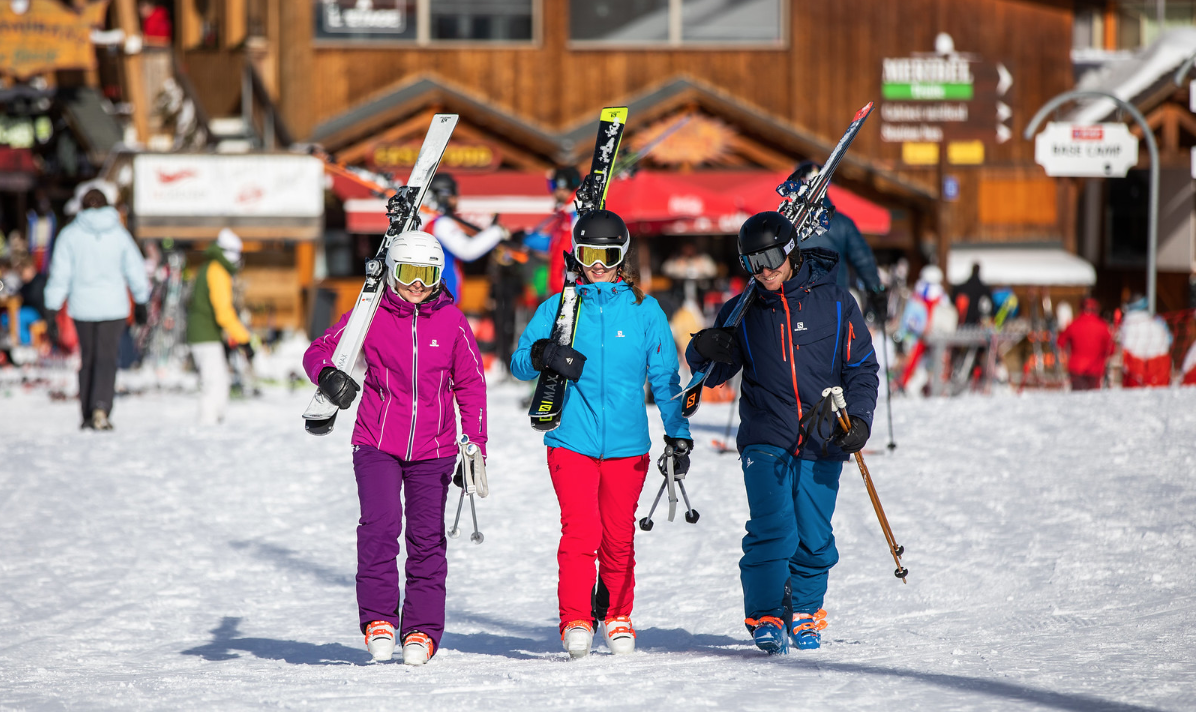 Should you buy or rent skis
If you're a beginner, renting skis or a snowboard is without a doubt the best option. After your first trip, you may want to return right away, but may not end up getting a group together again for a couple of years. So, it's best to wait and see if you enjoy it and secondly, that you're going to be going regularly before buying.
Once you have established that you'll be returning again frequently, there are lots of benefits to buying your skis. Such as the luxury of choosing the best type for you, getting used to how they handle on the slopes, avoiding time spent hiring skis and maximising ski time as well as, potentially saving money in the long run.
Should you buy or rent ski boots
When it comes to boots, as with helmets, once you know that you will be skiing regularly we would always recommend buying. Benefits include:
Personalised Fit
When buying your own boots, you will be able to spend time with a specialist technician ensuring that you've got the best boot for you and your style of skiing.
Comfort
With a personalised fit comes comfort. Boots really can make or break a holiday, with uncomfortable boots being a source of not only pain but hassle too.
For tips on how your boots should fit or where best to buy them in resort, take a look at our guide.
Maximise ski time
Whilst many ski hire shops in resort provide a chalet delivery service, you will most likely spend time going to the hire shop to pick up your rentals. Whereas if you have your own boots, you will save time waiting to be fitted. This also avoids any potential trips back to the hire shop if your boots are feeling uncomfortable and need adjusting.
Should rent or buy ski clothes
It's always worth buying your own ski clothing. It's not quite so common for shops to rent clothing as equipment. Therefore, it may be harder to come by and the condition may be worn potentially impacting performance.
Hiring ski clothes is also likely to work out more expensive in the long term. Whereas, you can pick up your own ski gear for very reasonable prices at retailers like Mountain Warehouse, Snow and Rock and many more.
This will ensure a great fit and maximum warmth and waterproofness, depending on the items you buy. If you're concerned about getting your money's worth, ski coats can always be worn at home in cold winter months!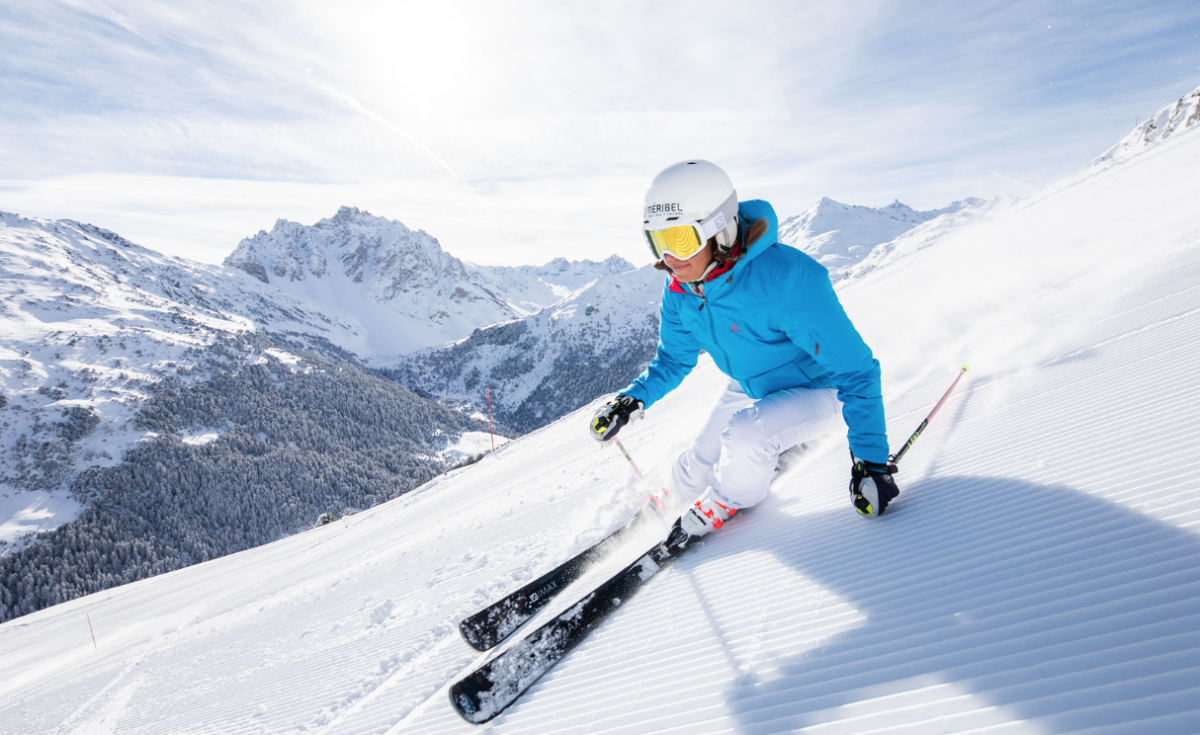 How to buy ski equipment for beginners
When buying your ski equipment as a beginner, there two important questions to consider:
What type of skiing are you going to be doing?
What's your commitment to skiing in terms of time and financial investment?
As a beginner it may be hard to know exactly what type of skiing you will end up enjoying most. However, you will more than likely be focusing on regular downhill skiing initially. So, purchasing all mountain ski equipment would be advisable.
In terms of commitment, if you will be skiing for a few weekends or one week a season then we would recommend opting for equipment that suits your needs right now. However, if you're going to hitting the slopes more frequently throughout the season then it may be advisable to get equipment that you can 'grow into'.
There are number of elements to consider and we would always recommend visiting a specialist ski shop to get some advice on the best equipment to suit your needs.
There is a vast range of online ski retailers, all with great offers and promotions throughout the year. Once you have spoken to a specialist in-store you may decide to shop around for the recommended equipment online and bag yourself a better deal.
For advice on where to purchase ski equipment online, check out the section below.
When it comes to skis specifically, this useful guide on buying skis from Snow and Rock is a great start. As is this guide from Absolute Snow on buying a snowboard.
SnowboardHow have also developed this super quick and easy, snowboard size calculator. Simply fill in a few details and you're good to go!
For even more top tips, visit our guides on what to wear skiing and how your ski boots should fit.
Where to buy ski equipment online
There is a huge range of online retailers you can buy your equipment from. The best option will vary depending on your price range and what you're looking for. Here are a few options:
Absolute Snow (Online and Instore)  – Selling a huge range of high quality ski and snowboard equipment
Snow and Rock (Online and Instore) – For all your ski needs, Snow and Rock stock their own brand equipment as well as a vast range of well known brands
Sports Pursuit (Online only) – Big discounts on last season's equipment from a range of highly regarded brands
Mountain Warehouse (Online and Instore) – For ski and snowboard clothing only, with a range of great value products
Surfdome (Online only) – Offer the latest snow trends for over 300 brands with big savings to be made throughout the year
When to buy ski equipment
When looking to buy new ski equipment, it can be useful to consider the timing of your purchase. Buying towards the end of the season (February to April) and even after the end of the season, will often mean you can make some considerable savings.
Alternatively, looking during the autumn months before the rest of the ski world begins looking for their new equipment and the new lines are introduced is also a great time so save.
How much does it cost to rent ski equipment
The cost of ski hire will depend on the level of equipment you wish to hire and how long you would like to hire it for. Factors such as the time of the season may also impact the cost of ski rentals.
Depending on the equipment you need, hire for 6 days may cost €75-200 per person. As outlined above, you will also receive exclusive discounts with our recommended rental shops.
Visit our ski hire page for more information.

What ski equipment can you rent?
You can rent almost all of the equipment you will need. Boots, helmet, skis and poles or a snowboard. You will also be able to hire skis for a range of disciplines such as cross-country and freestyle skiing. Plus, less commonly used equipment such as Snow Scooters may be available from some rental shops.
Some rental stores will also provide rental clothing. However, this is far less common and we recommend purchasing your own ski clothing to ensure quality and performance.
Where to rent ski equipment
It's always advisable to rent your ski equipment from a local shop in resort.
Here in Meribel, we are fortunate to have a selection of great ski rental shops which are all well regarded among local businesses and returning guests. Most stores take great care is maintaining their kit and can offer a wide range of equipment and a variety of price points.
Don't forget to visit our ski hire page for more information on which shops we recommend in Meribel and how to claim your exclusive discounts as a Ski Basics guests.
No matter what your decision, we hope that this blog has helped you in deciding whether to take the leap and buy your own equipment or continue to hire for now. If you haven't yet booked your next trip to Meribel, you can view our remaining availability here or simply get in contact and a member of the team would be happy to help!