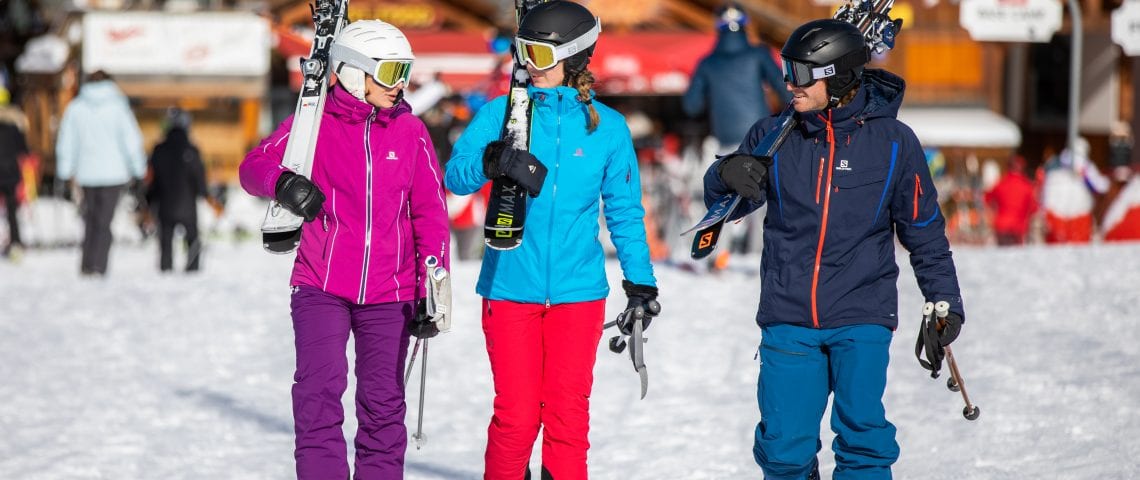 Visiting the slopes for the first time but not sure what to wear skiing? Look no further! Here we have put together a guide on what to wear skiing and for all-mountain occasions, whether at après ski, out in the evening or at home in your ski chalet.
What kind of jacket to wear skiing
The purpose of your ski jacket is to protect you from the elements, most commonly wind and snow. With that in mind, you should always aim to have a high-quality waterproof, breathable jacket. A regular waterproof jacket will often suffice. However, ski jackets are specifically designed to be practical on the slopes with a range of features such as vents and ski-specific pockets for things such as your lift pass. It's therefore always advisable to wear a proper ski jacket if possible.
A good quality waterproof jacket doesn't have to break the bank. You can purchase jackets from a wide range of retailers, with lots of places offering generous end-of-season discounts. Such as Sports Pursuit, where you can purchase last season lines from high-quality brands for great prices.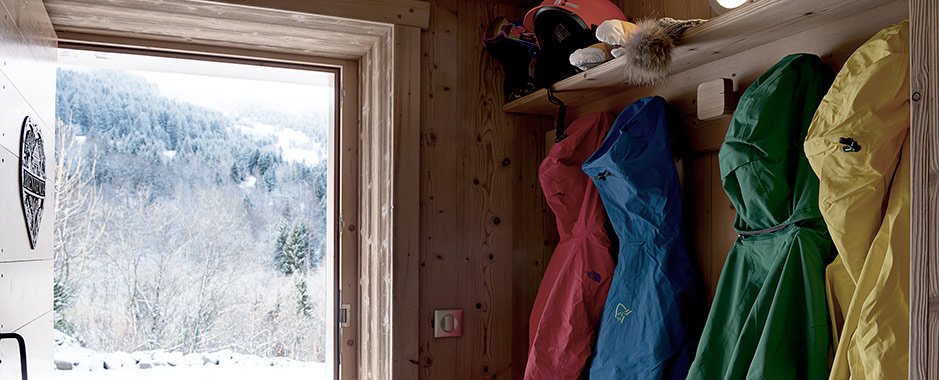 Ski jacket waterproof and breathability ratings
When shopping for your jacket, you will notice a range of level of waterproofing and breathability ratings. To put these into simple terms, the higher the number the more waterproof your jacket will be. For example: a 10K rating is less waterproof than a 20K rating. The same applies to breathability ratings, also measured in 1000's.
If you're going to be spending several hours a day on the slopes, we would recommend a jacket with a waterproof rating of no less than 10K. This is a fair rating and will keep you dry for 2-3 hours in snowy conditions. It is important to note that waterproof doesn't always mean breathable. So, keep your eye out for a breathability rating of 10-20K for optimal comfort.
For more information on technical ratings, visit this helpful guide from Oxygene Ski.
If you're planning to take it easy on the slopes, then we would recommend buying a jacket with built-in insulation. For those who are planning to take things up a notch in activities such as ski touring, a hard-shell jacket is a great option.
What to wear under ski gear
When heading out onto the slopes, the '3 Layer Rule' is a great rule to follow.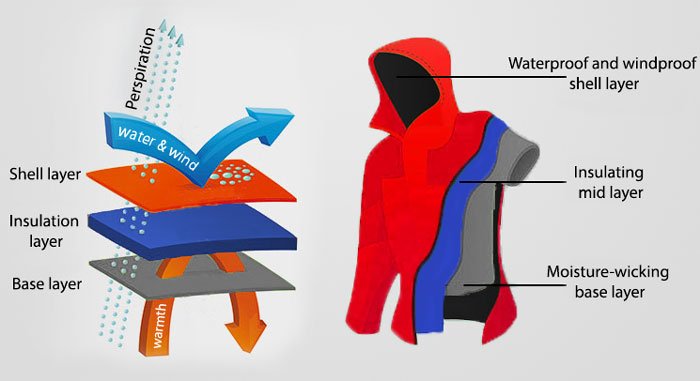 Base Layer
Your first layer is your base layer. To avoid discomfort, it's always advisable to wear a technical base layer. Fabrics such as cotton will become quickly wet when you sweat and often take a long time to dry out. A technical base layer will regulate your temperature and keep you dry throughout the day using innovative fabric structures.
You can purchase technical base layers from various brands with varying price tags. For more sophisticated base layers, look no further than those made with Merino Wool. It is a natural material that will effectively remove moisture. Thanks to its fantastic sweat wicking capabilities, Merino Wool base layers are great for avoiding any unpleasant odours after a long day on the slopes.
Mid Layer
Next up is your mid layer. This layer will keep you warm and cosy on the slopes, particularly if you're wearing a shell jacket. Your choice of mid layer will depend on a number of factors, including:
The weather
Your personal preference
The level of insulation in your ski jacket
Most commonly, people will opt for a mid to thick-weight fleece jumper. Choosing one with a half zip is a great way to be able to cool down a little if required.
A popular option for wearing a shell jacket is a lightweight down jacket or gilet. Alternatively, you can wear a fleece or synthetic lightweight jacket or gilet. During warmer weather, mid layers such as synthetic or down gilets and jackets can be worn without an outer layer.
Ski socks are also an absolute must and will help to make your ski boots as comfortable as possible. A couple of pairs of good quality ski socks such as those made form Merino wool will see you through a week's skiing keeping your feet warm, dry and odour free. Socks made from synthetic materials are also available at a lower cost. However, we would recommend buying a few more pairs of these as they will be less sufficient in wicking away moisture and odours from your feet.
Lastly, you may also want to wear snood during the colder winter months to keep your lower face and neck warm.
What to wear under hard shell ski pants
Whilst the 3 Layer Rule is recommended for your upper body, when it comes to what to wear under hard shell ski pants you can stick to just one base layer. For ease, we would recommend purchasing the matching leggings that go with your technical upper body base layer.
The vast majority of standard ski pants will have built in insulation, meaning that you can make a call on whether you feel the additional layer is needed. However, for hard shell pants and the colder winter months, we would always recommend heading out layered up top and bottom.
What boots to wear for skiing
You will always require a pair of well-fitted ski or snowboard boots to hit the slopes. You can either rent these in a resort or purchase your own. If you're skiing for the first time, it's advisable to rent your boots so you can get a feel for things before purchasing any equipment.
If you're returning to the mountains and are unsure on whether to take the leap and buy some kit of your own, have a read of our blog weighing up the pros and cons. Or for help on knowing how your boots should fit, head over to our guide. Whether you're renting or buying your own, the shop technician will be able to provide advice on which boots are best suited to your feet and capabilities.

What to wear to ski resort
When out and about in a ski resort you can wear regular clothing such as jeans, teamed with your ski jacket. It's useful to follow a similar layering approach to the top half as you would when on the mountain. In particularly cold weather, you may decide to wear thermals or leggings as an additional layer on your lower body too.
Sensible shoes with a good grip are key! Resorts can become extremely slippery in places throughout the season, so a good grip will help you to move around safely. If you'd prefer not to buy an additional pair of shoes, crampons are a great option. You can purchase these from a range of sports and outdoor shops or places such as Amazon.

What to wear in a ski chalet
After an action-packed day on the slopes, there will be nothing more inviting than changing into some comfortable clothes and relaxing by the fire. Lots of our chalets have log burners or open fires and can therefore get very warm and cosy in the evening so we would advise bringing some t-shirts for around the chalet too.
In order to keep the chalets looking their best, we ask that there are no outdoor shoes worn inside so it's always useful to bring a pair of slippers or flip flops.

What to wear to après ski
You will most often head straight to après from the slopes, with lots of après bar on the slopes themselves, meaning that you will be in your ski gear. However, we recommend taking an additional woolly hat to make sure you stay warm after removing your helmet. Weather dependent, you're likely to be out on a terrace soaking up the sun meaning that sunglasses are also a must!
What to wear at night on a ski holiday
The majority of bars and restaurants within resort are informal with a relaxed atmosphere. However, some restaurants do have a smarter dress code so it's worth checking ahead or asking your chalet manager.
When heading out in the evening, always take a jacket. Even if you feel you don't need it when leaving the chalet, the weather can turn quickly in the mountains and it's often very cold later in the evening. As when out and about in resort during the day, shoes or crampons with a good grip are a must along with woolly hats and gloves in the colder winter months.

What to wear skiing checklist
Ski Jacket
Ski Trousers or Salopettes
Base Layer (one long sleeved, one short sleeved0
Mid Layer
Ski Socks
Helmet (if you aren't renting)
Ski Goggles
Sun Glasses
Insulated Jacket
Gloves or Mittens
Snood or Buff
Hand warmer (if it's really cold)
Snow Boots
Fun Ski Outfit for Apres
Clothes to Wear Around the Resort and the Chalet
Flip Flops or Slippers to Wear Around the Chalet
Beanie or Wolly Hat
What not to wear skiing
We highly recommend against wearing anything other than proper ski coats and trousers when out on the slopes. Jeans and other materials such as cotton, become wet very quickly should they come into contact with the snow and will often take some time to dry.
We also always recommend wearing a helmet whilst skiing or snowboarding. Not only is wearing a helmet the safest option, but they will also keep your head warm and dry in any adverse weather conditions.
We also recommend always wearing proper ski gloves too. Woollen or other non-waterproof materials will struggle to keep your hands warm throughout the day.
Booking your next ski holiday
If you'd like to book your next ski holiday, take a look at our chalets and their availability here. Or simply get in contact, and a member of our team will be happy to help. We look forward to welcoming you!