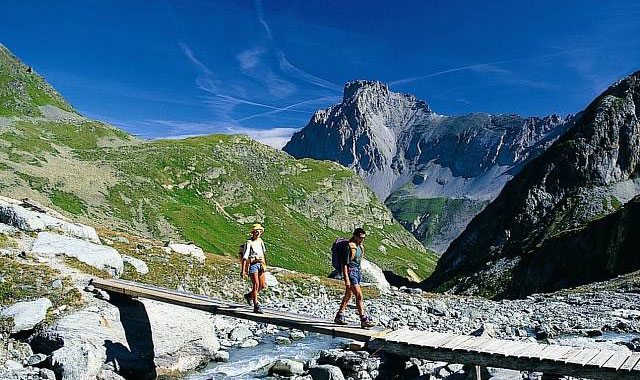 Five of the Best Things to do in Meribel in Summer
Meribel is quite simply an unbeatable location for top-quality skiing, epic snowboarding and all those activities which require tonnes and tonnes of the powdery white stuff. But what happens when the snow disappears!? What happens Les Trois Vallees when summer makes its bright sunshiny entrance and the mountains turn from white to green? Well, those in-the-know absolutely love Meribel in summer. They love that the mountains turn into a whole different type of natural playground; one which plays host to amazing mountain-biking, fishing, geo-caching, golf, canyoning and so much more. Here we explore five of the best things to do in Meribel in summer so that you too can experience a Meribel summertime in all its Alpine beauty, all year around…
Meribel Fishing in Summer

The stunningly clear and trout-filled waters of Lac Tueda makes fishing in Meribel during summertime nothing short of magical. Half of the lake is reserved for no-kill fly-fishing (using barbless hooks), and the other half for traditional fishing. A fishing licence is compulsory if you wish to try your hand at fishing on Lac Tueda, and every evening there is a "no kill" time between 5pm and 8pm. Fishing in Meribel is a charming summer activity which people of all ages can enjoy, either as a family or as a way of finding some blissful alone time!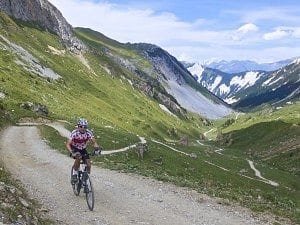 Mountain-Biking in Meribel
The rugged terrain and breath-taking mountainscape here in Meribel means that mountain-biking opportunities are vast. Some of the best mountain-biking in the Alps can be found in Meribel during the summer; the area has an extensive network of single track trails, downhill tracks, freeride areas and there is something for everyone, no matter how experienced. The lifts are open until the end of August and have specifically adapted hooks for bikes which allows mountain-bike aficionadas to spend more time riding and less time climbing up killer hills (unless that's your thang!).
Tandem Paragliding in Meribel
Known as "parapenting" in France, paragliding is a popular Alpine activity which can be enjoyed by all. This serenely thrilling unique summer activity in Meribel is so popular because the crisp mountain air and soul-stirring views provide the most breath-taking backdrop and make you feel quite literally, on top of the world. Tandem paragliding means that you will glide down from a height controlled by the instructor so you don't have to worry about a thing; just sit back and enjoy those views! Insider tip: make sure that you choose to paraglide on a sunny day when the warm thermals will keep your airborne for longer.
Summer Geo-Caching in Meribel
Some of you may remember the activity of 'Letterboxing' popular in the 80s and 90s; the activity of geo-caching is the modern day version of letterboxing where you hunt for treasure using GPS coordinates on your mobile device. Once you've found it, you write your name in the logbook, replace the treasure and then carry on hunting! Many people enjoy the family-friendly activity of geo-caching in Meribel as it is a great way to add interest and excitement to exploration of the beautiful natural surroundings, whatever the weather.
Golf Courses in Meribel
One of the favourite summer attractions in Meribel is the 18-hole golf course located at the Altiport. This golf course in Meribel is often described as one of the most beautiful mountain courses in France, offering wonderful views of the Saulire peaks and over Méribel valley. Open to non-members and with season tickets available too, the Meribel golf course is open until October and has a treasure trove of lakes, water cascades, bunkers and those heart stopping views… simply nothing beats it. Fore!