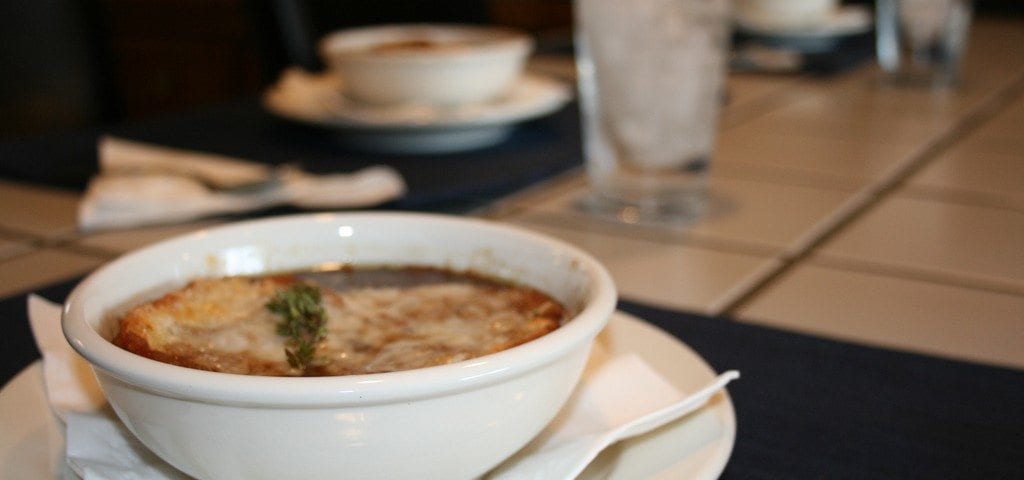 For those of you who visited us in one of our catered chalets in Meribel last season, your  feedback and reviews have all highlighted how much you enjoyed the food our chalet staff served up for you. Three – six courses a night of chalet cooking were enjoyed by all, as well as hot breakfasts and freshly baked cakes, a mix of tried and tested recipes set to tantalize every tastebud.  We thought it's probably time to share a few chalet style recipes with you, so you can recreate your very own Meribel chalet right at home!
We'll start with an age-old French classic that's quick, easy, suitable for vegetarians and undoubtedly delicious – French onion soup (serves 8).
Ingredients
6 peeled and thinly sliced large white onions
2 garlic cloves
75g butter
1 tbsp white sugar
1.5l of vegetable stock
250ml of white wine
1 white baguette
200g of gruyere cheese
Method
The key to releasing the sweetness of the onions in this classic French dish is to caramelize them properly – this should take about 30-40 minutes. Fry them in a saucepan over a medium to low heat in the butter until they soften completely and start to change colour.
Next, add the finely chopped garlic and fry for a further 10 minutes before adding in the stock, white wine and plenty of salt and pepper to taste, leave this to simmer for 30 minutes.
To finish, thinly slice baguette into thin strips and toast under the grill before adding the gruyere cheese and melting, before topping the soup with two slices.
Voila! Enjoy running your very own chalet.