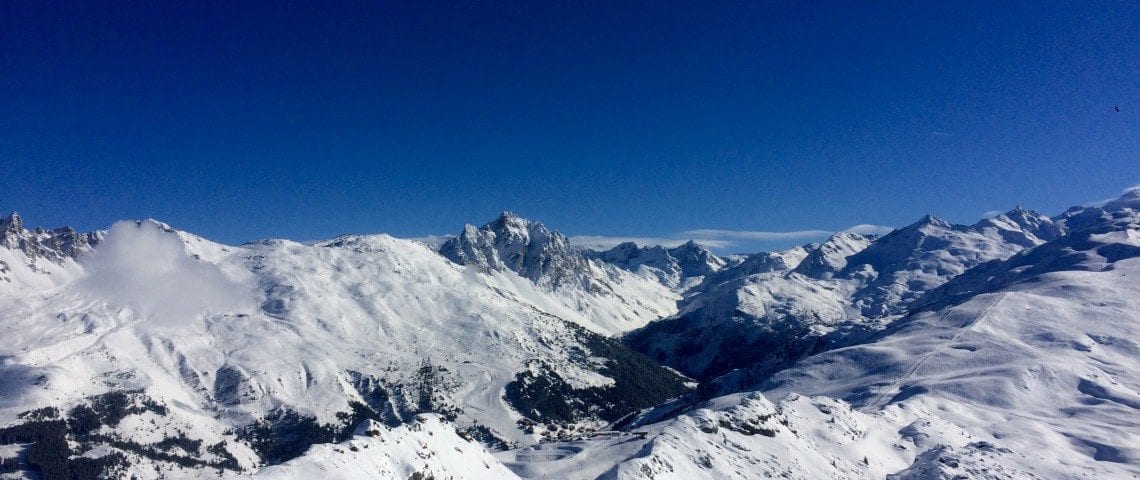 "Prior planning prevents p*ss poor performance" is a a commonly bandied about phrase which can't be ignored, especially so when it comes to skiing. If you've not been skiing in Meribel before then you'll no doubt be a little nervous about forgetting an essential bit of kit or item and worrying about what to add to your skiing checklist. You'll have heard all the horror stories about your skiing equipment amounting to a small fortune, and you'll worry about packing too much (or too little).
Fear not!
Here at Ski Basics we are dedicated to helping you every step of the way. From booking your perfect catered ski chalet, buying your Meribel ski pass, helping you to download your Meribel piste map, and even providing ski tips to make sure you're the best you can be once you arrive here in resort, we go above and beyond to ensure you get the most for your money and the best chalet ski holiday possible. This skiing checklist made simple is all part of the service, we hope you find it helpful!
What to Pack and Do; Your Skiing Checklist
Sun Protection

Sun cream and lip block is essential. Although it's snoy the sun is very strong in the mountains as it bounces off the snow, so a high factor is recommended to ensure that you protect your face and lips.
Warm Clothing
Gloves, heavy jumpers, long underwear and a neck warmer or scarf are essential checklist items when heading to the mountains. If the area is very snowy, then also consider a balaclava also to protect your face from the relentless elements.
Snow Boots 
Take some warm waterproof boots with you for when you're walking around the resort and enjoying some apres ski. Make sure that they have a good tread to avoid slipping (all too easy after a few too many vin chauds!).
Layers
Yes it's snowy, but you're going to be exercising and building up a sweat so layers are crucial. Don't forget to pack a mid-layer (preferably a microfleece) and at least two decent base layers for wicking away the moisture from your body.
A Penknife
This is useful for everything, mainly the corkscrew! (remember to pack this in your hold luggage though).
Goggles 
Normally you cannot rent these in resort, so we recommend you buy in advance to avoid the high prices in resort. Changeable lenses for sunshine and low visibility are advised.
Ski or Snowboard Bag (with wheels)
If you are taking your own equipment you'll need a ski bag and boot bag. You should advise the airline before you travel if you are taking your own equipment as there will be a surcharge, and don' forget to tell the transfer company too! However, for your first trip we would advise that you hire your equipment, which takes us to…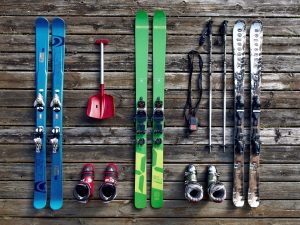 Ski Gear
We have teamed up with two of the best ski shops in the area to offer a huge range of choice with big discounts on equipment hire (look at our reasons why it's better to hire your ski kit here). With English-speaking staff, we'll make sure you walk away with exactly what you want and for the best prices meaning that you can bag the best deals before you arrive. We can even arrange for a handy drop-off/pick up service too.
Swimsuit/Trunks
If you don't ski, or even if you do but want some downtime during your holiday, remember to pack your swimwear. There are lots of things for non-skiers to do in Meribel, and relaxing in a local spa or swimming some lengths at the Olympic Park will prove a blessed relief for tired muscles.
Sunglasses
Sunglasses are a 'must have' to help protect your eyes from the brightness of the sun reflecting off the snow. Even when skiing, when you stop for breaks and remove your googles the glare will be blinding and you'll be glad you remembered your shades!
Do Your Exercises!
Before doing any sport it's important to first prepare the body for the exertion to come. Stretches and warm-ups are all crucial to ensure that your muscles and joints are supple and prepared. This is especially true with skiing! It's advised to start doing some pre-ski fitness training approximately 12 weeks before you arrive here in Meribel so that you can truly make the most of your ski holiday. Practice our five essential pre-ski exercises regularly so that you're ready and not going to injure yourself when you hit the slopes!
Small First Aid Kit
You will undoubtedly experience some aches and bumps if this is your first-time skiing, so an essential part of your skiing checklist is a small first aid kit consisting of Deep Heat or Voltarol, plasters for blisters and painkillers (for swelling, and hangovers!).
Attitude
And finally, don't forget to pack your ski attitude! We can think of attitude as the context of our thinking, it shapes our perspective about ourselves and the mountain. Overcoming the over-cautious attitude is a huge hurdle to many and will affect how you ski.  An attitude which is overly cautious, for example, will cause limbs to stiffen and will reduce our commitment to letting go of the turn. Be loose, be open-minded, be adventurous. And don't forget to look up and see the view!
So, there you go. (Probably) everything you could ever need for a ski/snowboard trip this season. Let us know if we've forgotten anything which you find an essential part of your own skiing packing checklist in the comment box below, or over on our social media platforms (Facebook, Instagram or Twitter). We're looking forward to a great season and can't wait for you to join us!