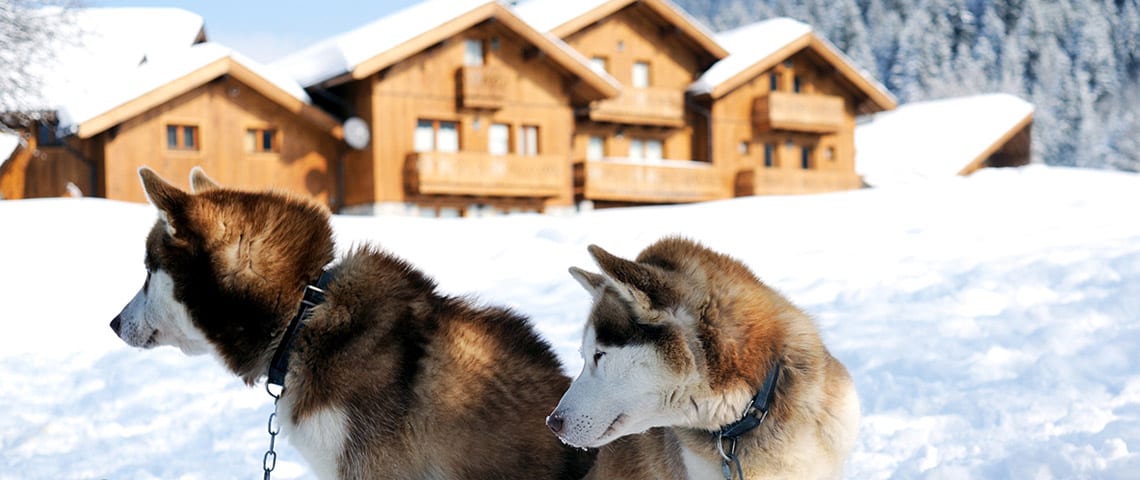 Of course, we know that Meribel is the most epic Alpine region for skiing, snowboarding and all things involving the lovely white stuff… but what if you come on holiday with your skiing friends and you don't ski, what else is there to do here in Meribel? We explore the 5 best things to do in Meribel for non-skiers and for those who just fancy a little bit of downtime away from the slopes…
The Best 5 Things to Do in Meribel
Snow Shoeing in Meribel
A great outing alone or in a group, snow shoeing is one of the most tranquil things to do in Meribel which puts you bang in the middle of some of the most beautiful trails that the Alps have to offer. Walking with snow shoes means that you can walk over even the lightest of powder to discover the breath-taking snowy landscapes which would not normally be accessible to those on foot. Skiers and boarders can sometimes zoom by these secret spots but without snowshoes, you would never have the time to have a closer look and trust us, it's definitely worthwhile. For children (and the young at heart), playing in the snow, discovering the magic of the forest, hilarious downhill descents, following animal tracks and finding secret huts hidden in the heart of the forest will ignite imaginations and evoke rosy cheeks and big smiles all round.
---
Shopping in Meribel
Whether you are shopping for new ski wear, Parisien chic fashions or for top-class equipment, shopping in Meribel caters well for the Alpine shopper. Take a wander down the high street from the Galerie des Cimes towards La Chaudanne and discover all Meribel has to offer. You will also find boutiques and delicious food shops – try the Les Glaciers bakery or the many Savoyard specialities – as well as a range of practical shops (optician, pharmacy, newsagents etc). There is a twice-weekly Meribel market (Tuesdays and Fridays) with many stalls displaying a selection of cheeses, cured meats, confectionery and the occasional clothing bargain which makes for a great afternoon off the slopes. For local Savoyard cheeses, head for La Fromagerie at Galerie des Cimes near the centre, delicious.
---
The Olympic Centre in Meribel
The 'Parc Meribel Olympique' was built for the 1992 Winter Olympics and is open daily, offering a 25m indoor swimming pool, children's pool, water slide, fitness centre, climbing wall, spa and indoor ice-rink. Snow-shoeing, horse-sleigh tours, snowmobiling and walking routes are also available. The bowling alley 'Le Canadien' is part of the Olympic Centre at La Chaudanne. There are 6 lanes as well as pool tables, a games arcade and air hockey. There is also a bar which serves draught beers and cocktails whilst you watch the game on their big screen. Each Tuesday and Thursday is 'fluorescent' night, when the lights are dimmed, the music is turned up and everything glows in the dark! Bowling at the Olympic Centre is open from 4pm until 1am Monday to Sunday throughout the summer and winter seasons and from 11am on bad weather days. Meribel Olympic swimming is open Monday, Wednesdays, Fridays & Saturdays from 2.30pm to 7pm Tuesdays & Thursdays from 2.30pm to 8pm. If you want to go ice skating, then the Olympic Centre ice rink opens from 2.30pm to 7pm every day except Thursays from 5pm to 7pm (last entry 45 mins before closing).
---
Day Trip to Annecy
There are a number of places within easy reach of Meribel that make venturing a little further afield worthwhile, Annecy is one such place and a really day-trip to take when visiting Meribel. Nearby Annecy is a beautiful lakeside town known as the 'Venice of the Alps' thanks to its picturesque canals and maze of cobbled streets in the Old Town (Vieille Ville). The lake is the second largest in France and is said to be the cleanest in Europe making it perfect for a swim on a warm summer's day. There are plenty of quirky shops, restaurants and cafes to explore on foot in the old town; wander to your heart's content, browsing along the cobbled streets and alleyways and this authentic slice of French life. Don't miss the market in the Old Town on Tuesdays and Fridays. A delicacy to be enjoyed in Annecy is a round cheese melted in front of an open fire which is then scraped onto a plate and eaten with potatoes, dried meats, gherkins, and pickled onions. Sounds weird, tastes like heaven! Never will you feel as toasty as when you are sitting in front of a fireplace in a restaurant looking onto the canals and stuffing yourself full of raclette…
---
Pamper Yourself with a Spa in Meribel
Choose from a wide variety of pampering opportunities; whether you crave a massage or would like to experience beauty treatments in the comfort of your own chalet, or would like to sample the sauna and spa facilities in Meribel, you'll never be short of ways to make you feel good. There are many spa places in Meribel such as le Yeti Spa which is the perfect place to relax and recharge with a steam bath, or hammam to help every muscle relax whilst eliminating body toxins. We prefer relaxing in the comfort of your own Ski Basics catered chalet using the awesome Massage Me or Pamper Off Piste where professional experienced beauty therapist deliver facials, recovery massages and more without needing to leave your chalet. It doesn't get better than that!
---
If there's something we've missed in our run down of the 5 best things to do in Meribel Village then please do get in touch to let us know. Don't forget to join our online community on Facebook, Twitter and Instagram to keep up with all the latest Meribel and ski news, we'll see you on the mountain!