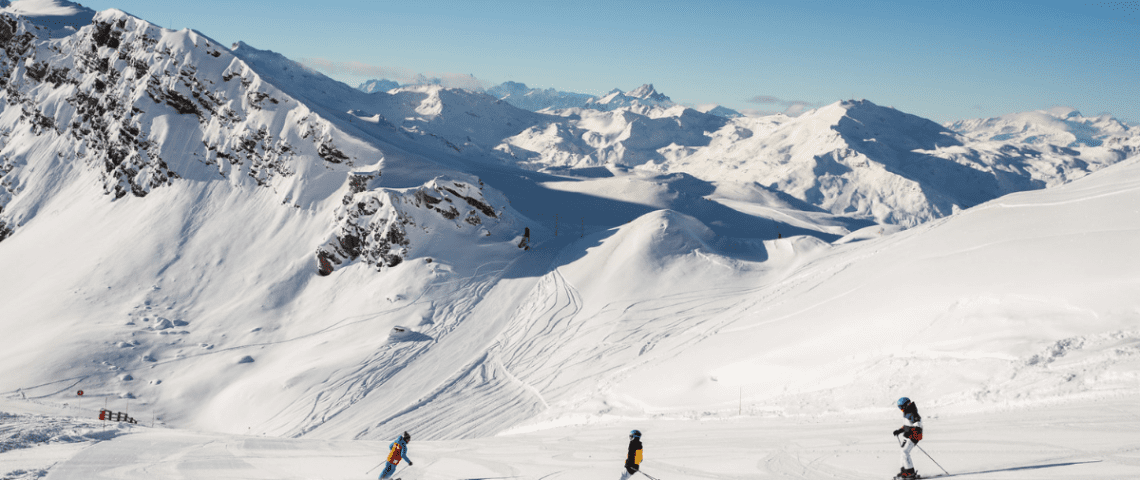 Becoming a confident, independent skier is not a journey which can be hurried. Unless you are a professional ski instructor, you can never know enough about skiing – there are always numerous of techniques to be improved upon and a multitude of new skills which can be learned. Enrolling in a good ski school is (almost) as important as choosing the right accommodation! Here at Ski Basics we work with the best tried and tested ski schools in Meribel and only associate ourselves with those ski schools we believe have the best ski instructors in Meribel. Choosing the right ski school can make or break your ski holiday, so it's important to know what to look for when choosing the best ski instructor for you. Here is our breakdown to help you make that important decision!
How to Choose the Best Ski Instructor for You and Your Family
1)  First Things First – Book Early!
If you have used a ski instructor before that you have gelled with and really like, why not book him/her for next year's ski holiday before they get booked up? The best ski instructors and best ski schools understandably get booked up far in advance, so don't leave it until the last minute to find the best ski instructors for you and your family. We highly recommend booking your ski school places at the same time as you book your stay here in Meribel to ensure that you have peace of mind, and that can choose the best ski instructors and most reputable ski schools according to your personal requirements. i
2) Always Use a Professional Ski Instructor
Your ski companion may have been hitting the slopes for years, but there's no excuse for not hiring a professional ski instructor to help you learn how to ski. Preferably one that has been trained by a well-recognised ski instructor school. Yes your pal may be keen to help you learn to ski, but by day three when their patience is wearing thin and you have learned a host of bad habits which you later need to unpick, has it really been worth trying to save money by scrimping on using a professional? A professional ski instructor will have undergone hours and hours of theoretical and practical training to become qualified in the art of ski instruction and will be able to identify your weaknesses and correct them before they can lead to injury. We advise that you always choose a professional ski instructor to help you learn the best habits and teach you the safest ways to negotiate and master the mountains.
3) Choosing the Best Ski Instructor to Teach Your Children
Happy children mean happy parents, so choosing the right ski instructor when skiing with children is crucially important. As mentioned above, we recommend never trying to teach your children to ski yourself – it's always best to use a professional. By personally taking on the role of ski instructor you'll potentially teach them bad habits, and you won't have a chance to enjoy the slopes yourself! Finding a ski school which specialises in teaching children is a great first step to ensuring that the whole family enjoys their ski holiday in Meribel. There's little point in them attending a ski school where they don't understand the language so firstly make sure that you choose a kids' ski school which has English-speaking ski instructors.
TOP TIP: We advise to carefully consider the season before booking your child's ski lessons and strongly recommend choosing afternoon lessons (rather than mornings) during chilly January! Also take time to shop around… sometimes five or six children in a private lesson in one ski school works out cheaper than a group lesson at another.

4) Group or Private Ski Lessons?
It's entirely up to you (and your budget) if you choose private or group ski lessons whilst skiing in Meribel. Obviously you'll have private one-on-one attention if choosing to book a private ski instructor, but these can be expensive so research group lessons too so that you can find what works best for you. In our experience kids have more fun in a ski school that with a one-on-on one private ski instructor, but it's completely down to the individual and what their preferences and requirements may be. There are also a variety of other options to consider such as technical clinics, private lessons and guided adventures (both on or off-piste).
5) Be Clear About Your Goals
When you enquire with us we'll always ask what your hopeful outcomes of the lessons will be so that we can pair you with the ski instructor which best suits your aims. Are you a beginner who wants to have fun? Do you want to learn to make great turns on blue terrain? Clean up your bump technique or ride your first park feature? Once you've chosen the best ski instructor for you, be sure to be clear with them about what you hope to achieve across your week of lessons. Be clear from the outset so that both parties are aware of what you hope to gain from your ski instruction.
We hope that this guide to the best ski instructors has been helpful to you. If you think of any points we've missed please share your top tips with us over on Facebook, sharing's caring! We look forward to helping you select the best ski instructor for you and welcoming you to Les Trois Alpes soon!