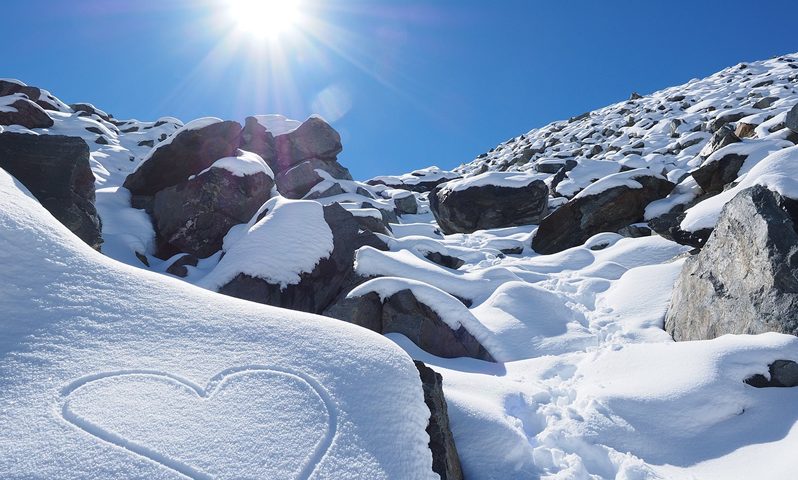 Many first-time skiers fear looking daft on the slopes, doing it all wrong and being mocked by their more-experienced friends. Fear not! Everyone who has skied has had to experience their first time on the slopes at one time or another, and everyone knows exactly what it feels like. The mountains are a magical and beautiful place to be, but can be inhospitable in bad weather or if you are badly prepared. Our run-down of essential skiing tips for beginners will help you to be properly prepped before you hit the slopes for the first time, and hopefully make you less anxious about popping your skiing cherry. So once you've made sure you've checked everything on your skiing checklist and practiced your pre-ski exercises, heed these skiing tips for beginners to make it the pleasurable and awesome experience it should be!
"Must-Know" Skiing Tips You Shouldn't Hit the Slopes Without…
Ski Clothing
Nothing ruins a ski lesson like being ill-prepared with the wrong clothes. Cold and wet is not a happy state to be in for any ski lesson, let alone if it's your first! If you don't want to be put off skiing forever, then make sure you get yourself a warm pair of waterproof trousers and thick waterproof jacket which can all be hired in resort (we recommend renting and not buying until you decide skiing is for you). Whilst we can help with the hire of ski equipment, it will be up to you to wear the right base layers. Top skiing tip >> Layering. As well as arms and legs being fully covered, be sure to layer up and then you can stay warm but remove layers to stop over-heating once you warm up. We also highly recommend that whatever your level, you wear a helmet for safety.
Ski Goggles
Goggles are a necessity; they stop the glare from the snow and sunglasses don't cut the mustard in cloudy conditions. Make sure your goggles aren't scratched or marked and ensure that they fit correctly. With the right colour orange lenses, ski goggles can help you see the contrasts so that your vision is improved – crucial when trying to safely get down off the mountain in fading light. It is best to check the weather forecast and webcams every morning before you get dressed to make sure you keep warm and can see!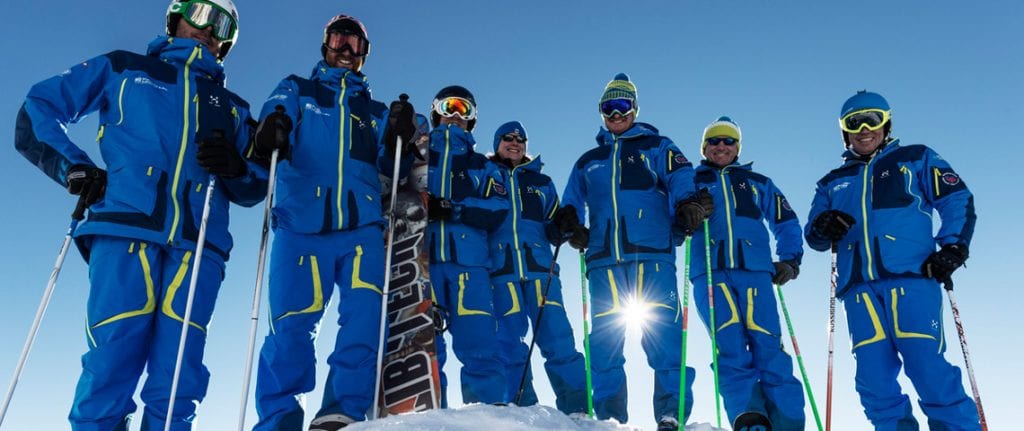 Choose the Right Ski School
Choosing the right ski school can make or break your first ski holiday. Here at Ski Basics we recommend only the very best tried and tested favourite ski schools in Meribel to help guests to learn how to ski or snowboard under the guidance of skilled and fully-trained professionals. Whilst beginners have the choice of nearly 50 runs in Meribel, ensure that you book all lessons and ski guides directly through your chosen ski school – please don't hesitate to get in touch if you need any extra help or guidance from us here at Ski Basics.
Ski Boots
An essential skiing tip for beginners that will improve your first experience on the slopes by miles, is to find the correct fit boots. Rental boots are notoriously uncomfortable, so finding a pair that are comfortable and not too loose is key to enjoying your first ski lesson.  You should be able to move your toes but your heel should NOT come up in the boots once they are done up. Likewise, your foot should not slip around from side to side in the boot. Make sure that they fit as tight as comfortable around your calf muscles but not tight across the top of your feet or they will restrict the blood flow to your toes (meaning your feet will get cold more quickly). Don't tuck your ski trousers into your boots, pull them over the outside to keep the snow out… you'll thank us!
Do Your Homework
Learning and reading about the basic framework of a good ski position, how to stop and how to turn on skis will really help you before you turn up to your first ski lesson. Watching YouTube videos showing beginner ski lessons can give you a head-start before you arrive in resort and will ensure you're adequately prepared. Turning is perhaps the most important skill for learner skiers to master as it not only sends you in the direction you want to go, it also controls your speed so be sure to watch videos and read as many articles showing ski tips for beginners. Even if you're a more experienced skier, doing your homework and swotting up on ski tips won't harm you, it's always good to freshen up your knowledge!

Learn the Slopes
Part of doing your homework includes learning the slopes. And yes, you can do this before you get to your ski resort! Simply download a Meribel piste map  so that you can look at which routes traverse which terrains – meadow, mountain road or glacier. It's important to note that piste classifications can change between different resorts, and the colour coding of piste maps can sometimes vary from resort to resort. There can also be local and national variations in signs, rules and regulations, so having a local piste map of your ski region is very important so that you don't come unstuck when up on the mountain. Studying your local piste map of Meribel before (and during) your arrival in resort can be a real lifesaver. Believe it or not, your piste map can also prove useful as a weather chart, allowing you to gauge roughly how long the ski season will be and what the snow will be like when you arrive.
Over To You…
Maybe there are some skiing tips for beginners that we haven't included in this run-down of top tips? Please comment below or get in touch with the essential ski tips you'd like to pass on to new skiers which you couldn't have done without – sharing is caring! We love to connect with our ski community over on Facebook, Twitter and Instagram. See you on the slopes!