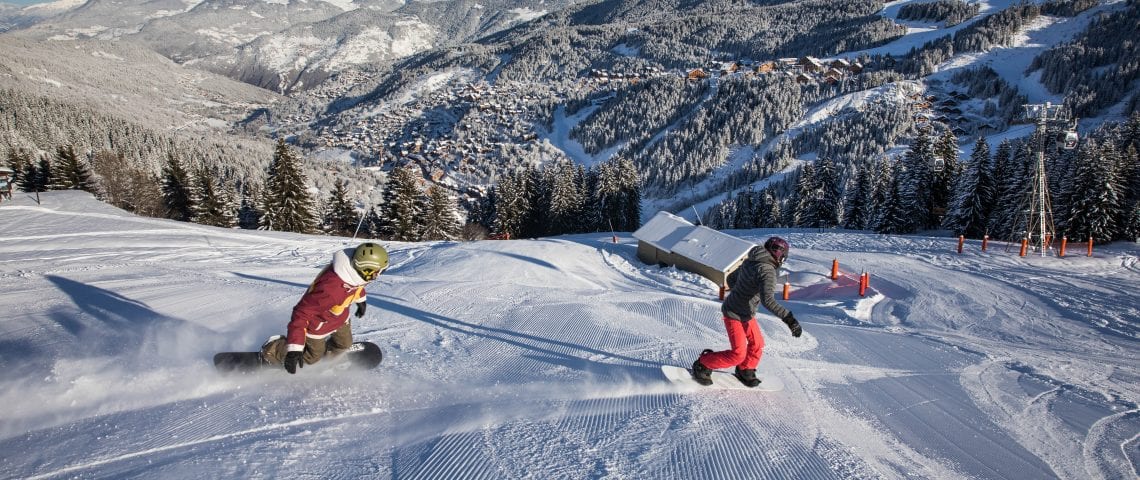 Is it safe to go skiing? In short – absolutely!  Skiing is enjoyed in vast open areas. Meaning it's makes it safer in regard to COVID-19 than other more enclosed activities. Therefore, making it the perfect option for a winter get away.
The summer season in Meribel was a great success, with Meribel proving as a safe haven for its visitors. The successful summer has meant that the social distancing measures in place, have been perfected ahead of the winter season.
Here you can find information on the simple changes that have been made around resort, to ensure we can all get back to enjoying everything Meribel has to offer this winter!
Keep your distance
There will be use of ground markings whilst queuing for lifts. Similar to those you will have become used to seeing at home, in places such as supermarkets and retail shops.
Wear a mask
Anyone over the age of 11 will be required to wear a mask when riding ski lifts as well as, whilst queuing for them. As in most places, you will also be required to wear a mask when on public transport, in taxis, shops and whilst away from your table in restaurants and bars.
Eating out
Restaurants in Meribel have been thriving throughout the busy summer season and are ready and waiting to welcome their winter visitors. At present in France, there are no restrictions regarding group size within restaurants, nor is any pre-booking needed.

Sanitising
Public areas will be cleaned regularly, and hand sanitising gel will be available throughout resort.
The below image from France Montagnes visualises the simple changes that will be implemented. These minor changes will aid them in their on-going commitment to ensuring the mountains remain enjoyable.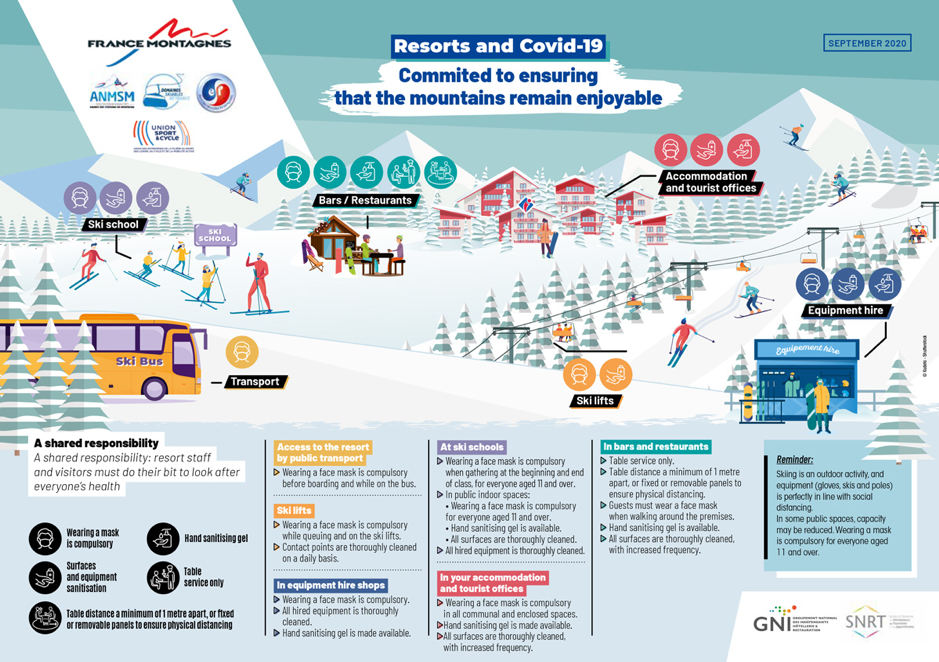 Our new Pure Service
Our new Pure Service will provide our guests with total peace of mind and allow you to relax in your chalet whilst everything else is taken care of behind the scenes. This fresh new service will be offered with a discount of £150 per person. Resulting in a substantial saving for you and your party, in addition to complete peace of mind.
Simple changes in our chalets
In addition to our new Pure Service, will be implementing some minor changes, such as temperature checking on arrival and asking you to testify that you have not shown any Covid symptoms in the 14 days, before arriving in resort. These small changes will allow us to keep everyone safe whilst maintaining our usual level of service from behind the scenes.
Drive to Meribel
Self-driving has always been a popular option with many guests. It allows you to avoid crowded airport check-ins as well as, sitting in close proximity to others during transit. Visit this blog from Flexi Chalets for further details on driving to Meribel from the UK.
Flexible booking
We have also amended our Terms and Conditions. Our updated Terms and Conditions are designed to offer our clients maximum flexibility for the coming season and reassurance that in the unfortunate event that your holiday cannot go ahead, your money will be safe. Our new 'Covid Promise' offers a quick and easy refund of your balance payment and protects your deposit, should circumstances change. Have a read of our 'Covid Promise' page for further details.
If you have any questions regarding any of the information within this blog, please don't hesitate to get in contact. A member of our team would love to hear from you! You can review our remaining availability for the coming winter here or simply take a look at our chalets.