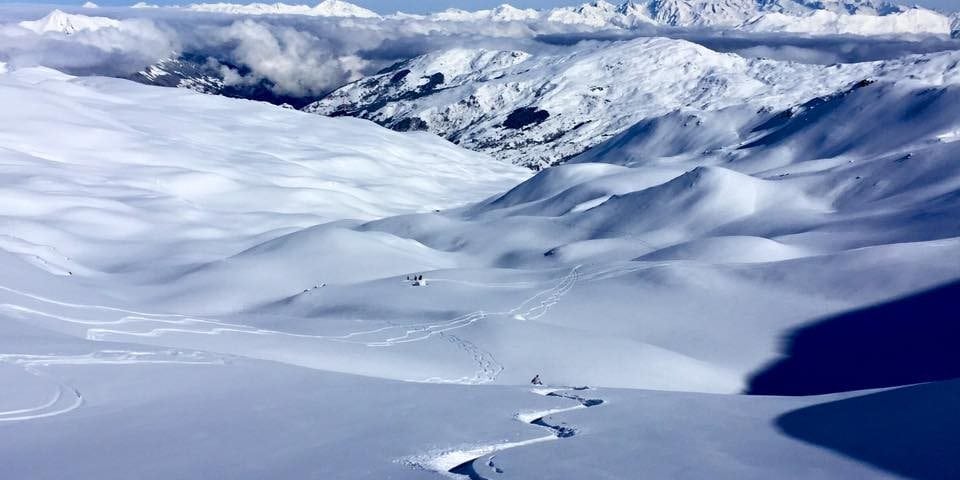 Skiing in Méribel at Easter​
Méribel is central to the Trois Vallées ski area, one of the largest linked ski areas in the world. It has around 150km of pistes (the majority blue, with around 25 per cent red and under 10 per cent green or black), but offers access to a total of over 600km of pistes served by 169 lifts with more than 321 designated runs and around 130km of cross country tracks. Skiing in Méribel is something very special indeed, but just why do we love skiing in Méribel at Easter so much!?
Méribel Weather in Spring ​
Springtime in Méribel is simply glorious with a great deal of sunshine and crystal clear blue sky days to enjoy on the slopes. Who doesn't like skiing in the sunshine before stopping off for lunch and basking in the warm sun? You'll feel as though you're getting the best of both worlds returning from a ski holiday in the Alps with a tan to be proud of. By Easter the nights are getting much lighter, and the bonus of this is that the ski lifts stay open longer so you get to ski for longer – hooray to that! Each individual lift will have its own clock or information board with closing times on so take full advantage and ski until the sun goes down.
Snow in Méribel at Easter​
Trends dictate that Méribel ski conditions at Easter can be just as good as at other times in the year; think of the regularity of April showers in England and imagine that as snow showers laying fresh powder on sunny slopes. Some of our lucky guests have enjoyed their best powder days in April! Méribel's virtually unrivalled investment in snow cannons ensures good cover on the home runs until the last week of the season. There are now 2000 cannons which between them cover over a third of the total ski area. Each valley has a North facing slope and a South facing slope, which can result in varying snow conditions in the same valley. We recommend skiing on the sunny South facing slopes in the morning and moving over to the North facing slopes in the afternoon. This is especially true towards the end of the season. With a bit of forward planning you can make the most of some spectacular spring snow conditions in Méribel!
Easter Ski Deals in Méribel​
The great news is that if you book early enough then you can take advantage of some great deals on skiing, ski accommodation and travel to Méribel when skiing at Easter. Easter Sunday next year falls on April 16th 2017 and you can book one of our fully catered ski chalets in Méribel for as little as £1494 for a week for 6 people. We also have a few gorgeous chalets left this year for a week from 9th April for as little as £1194. Find out what's included at our catered chalets in Méribel and what delights to look forward to here.
Skiing in Méribel at Easter sounds pretty amazing to us, come join us!