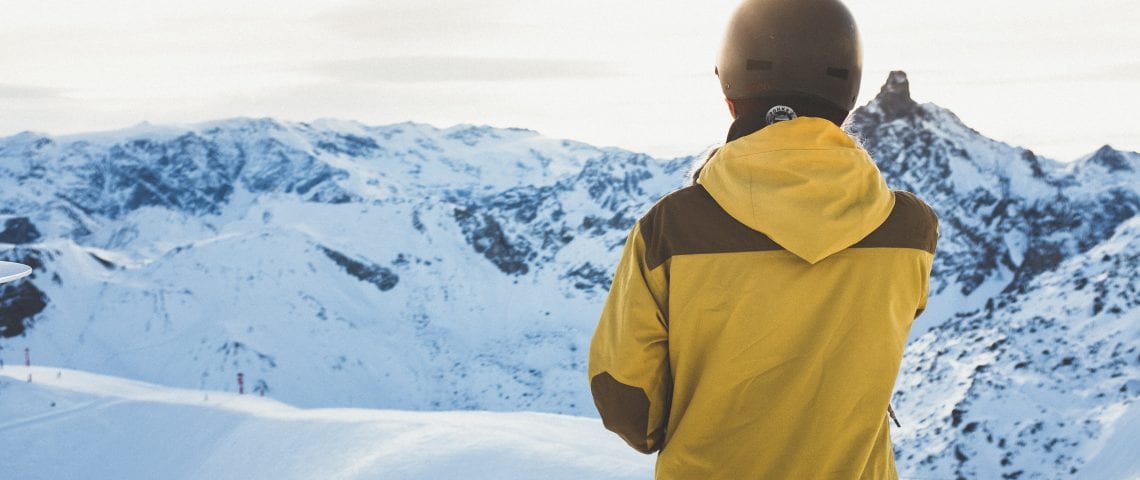 Whether you're looking to let off some steam during après, or pick up the latest ski tips and techniques to improve your skiing, these top skiing apps for your mobile are a must have. Your phone can become your best friend in the mountains (and not just for the selfie opportunities!). These best apps for skiers help you to optimise your ski experience so download them right now…
Our Run-Down of the Six Best Skiing Apps
Best Ski Tracking App
Ski Tracks (iPhone & Android)
Ski Tracks is the world's most downloaded Ski and Snowboard application and is available on both iOS and Android. This mobile GPS skiing app allows you to track your routes, runs and elevation all day whilst you're shredding the fresh powder up in the mountains. Also compatible with smart watches and linking to your social platforms, you can compare with your friends and share results across social media too. With all your crucial ski stats such as altitude, duration, runs, max speed and distance in one place, this skiing app also holds up to 14 hours battery life so why would you ski without it?
Download Ski Tracks Skiing App
Best Ski Exercise App
Ski Fit (iPhone)
You've already learned all about how to ski tune before your holiday to ensure you're adequately prepared, but this top skiing app offers a bitesize workout to help get fit before your winter holiday. Unlike other ski fit apps, this one is led by trained physiotherapist and clinical expert Neil Maclean-Martin and is can be done anywhere, helping you get fit for the slopes more easily without need for equipment. The SkiFit programme provides 4 guided one-hour workouts, made up from over 100 individual ski specific exercises on this top skiing app.

Best Android Ski App
Off The Grid (Android)
The 'anti ski app' built exclusively for Android, Off The Grid is an app for the adventurer who is tech-savvy but wants to take a break from their device every now and then.  Not just an app for skiers, with a push of a button this app will block all the messages and notifications coming in to your phone, leaving you to enjoy your soulventure in peace with no digital master dictating your day. This ski app also offers a report detailing what you've missed while you were skiing, meaning you can catch up once you've enjoyed your day to the full with no digital distraction.
Best Ski Conditions App
Ski & Snow Report (iPhone and Android)
If you're going to have any skiing apps at all, get this one. The Ski and Snow Report app delivers daily snow reports and up-to-date snow conditions from the slopes of more than 2000 areas around the world. With this handy ski app you can view and upload first-hand reports and photos, and check out the webcams and snow forecast for ski resorts you're planning to visit. You can even set a powder alert so that you receive a notification when your favourite resorts (which is of course Meribel!) gets that welcoming flurry of new snow.  Free for both users, this app is a great one-stop shop for all you need to know about the weather and conditions here in resort.
Download Ski & Snow Report Skiing App
Best Avalanche Forecast App
Ullr's Mobile Avalanche Safety Tools (iPhone)
Ullr Labs' says that this ski app "combines iPhone technology with established snow science to improve winter backcountry travel decisions, make it easy to share observations and adventures, and provide ongoing resources to increase avalanche knowledge and awareness". And we can't argue with that!  Mountain life can be treacherous if you're not savvy and so this top skiing app will help you to stay safe and informed when traversing the mountainscape. With this app you can download the most recent avalanche forecasts for your chosen ski area, review conditions recently uploaded live by other users and easily collect important information about snow, weather and terrain. Knowing where dangers lurk is vital – get this app so you're in-the-know and not under-the-snow.
Download Avalanche Safety Tools Skiing App
Best Ski Game App
Powder Alpine Simulator (iPhone or Android)
And finally, let off some steam when you're resting those weary limbs at the end of an action-packed day with this simple but highly addictive mobile game. It is the skiing equivalent of retro game Snake with basic graphics and undemanding gameplay and will entertain you for hours on whiteout day. TIME magazine rates it as 'One of the most calming iOS games ever developed", and we have to say that we whole-heartedly agree!
Download Powder Alpine Simulator Ski App
Best Ski Piste App
SkiLynx (iPhone)
SkiLynx is also one of the very best skiing apps for a group with varying abilities. SkiLynx enables you to stay up to date on exactly where the rest of your group are whilst skiing together. The app has a number of useful features. Including a display of the difficulty of the current ski area and the percentage of the run the rest of your group have completed. Allowing you to locate them easily and decide a meeting point, without ending up on a run that is too difficult for you.
Download the SkiLynx Skiing App for IOS
What skiing apps have you found to be invaluable and really optimised your winter ski holiday for you and your family? Are there any which you simply can't live without? Let us know over on our Facebook, Twitter and Instagram! See you on the slopes…