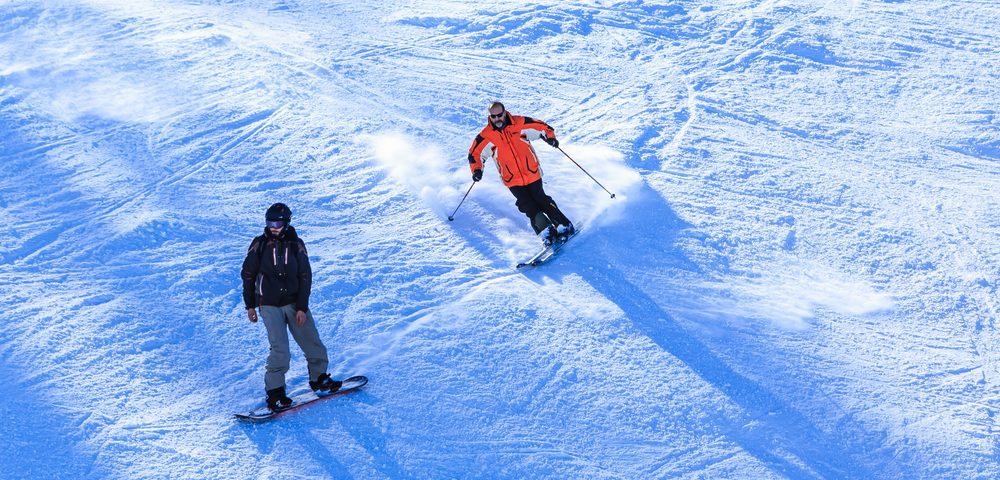 Choosing the right ski sc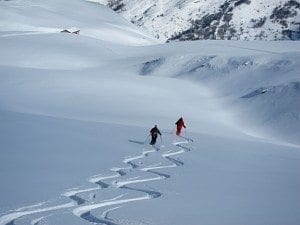 hool can make or break your ski holiday in the Alps. Here at Ski Basics we recommend only the very best tried and tested favourite ski schools in Meribel to help guests to learn how to ski or snowboard under the guidance of skilled and fully-trained professionals.
But if you are a complete beginner and it's your first holiday in the snow, how do you pick whether you want to learn how to ski or learn how to snowboard when you arrive here in Meribel? We investigate the pros and cons of starting to learn each below…
Is it Easier for Beginners to Learn how to Ski or Snowboard?
Let's start with looking at whether it is easier to learn skiing or snowboarding:
Learning to Ski
When you learn to ski, your feet are not joined together and you are facing forwards,
rather than sideways on a snowboard which makes it easier when starting to learn. The beginner skier has total peripheral vision and can face the direction where he or she is going
The falls hurt more when learning to snowboard, so the first day or two is much more intensive on your body than when learning how to ski. Arm, coccyx and shoulder injuries are particularly common at this first stage of learning to snowboard
Snowboarders don't really have a simple method which allows them to control their speed whilst executing turns. This means that the first few days of learning to snowboard can feel like a constant battle to stay on your feet and not pick up too much speed
Learning to Snowboard
When you first start out on the slopes, it is easier to 'look good' when learning to snowboard than it is when learning to ski
It is easier to become pretty good at snowboarding in a few days. Most people can be having good fun, cruising blues, and looking decent on a snowboard after a week
There are no poles to wrestle with, and you a strapped to the board so your feet cannot change position. Because of this, people learning to snowboard find that there are less things to get 'wrong' and the starting process is easier
If you already skateboard or surf then snowboarding will be more fun and more natural to you. And no doubt you'll have that thirst for adrenaline that only snowboarding brings!
Skiing is Easier to Learn for Beginners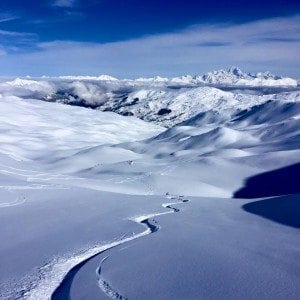 In our experience, most people find learning to ski easier because it most closely imitates other sports such as ice skating, rollerblading and running; all movements which are more familiar to the beginner and so most easily replicated when on the slopes. Many find it easier to learn the basic controls and movements for skiing such as turning, stopping and using lifts. Snowboarding is less intuitive, and so it is perhaps harder to learn how to snowboard when starting out on the mountain for the very first time.
One of the first thing skiers will learn is the snow plough position. The beauty of snow plough position is that once the beginner has learnt how to successfully initiate the snowplough position, they are then able to control their speed (which is one the greatest psychological barriers to learning a new snow sport!). If the beginner is comfortable that they can control their speed and stop if needed, then it will be a huge confidence boost when progressing to the next stages. Everything else will slowly but surely fall into place.
Learning to Ski in Meribel
Whilst beginners have the choice of nearly 50 runs in Meribel (plenty to start you off with, we think!), please do ensure that you take a look at our recommendations for the best ski schools in Meribel so that you can get to grips with learning how to ski (or snowboard!) as a beginner. Please book all lessons and ski guides directly through your chosen ski school and, as always, please don't hesitate to get in touch if you need any extra help or guidance from us here at Ski Basics.
We'll see you on the slopes!