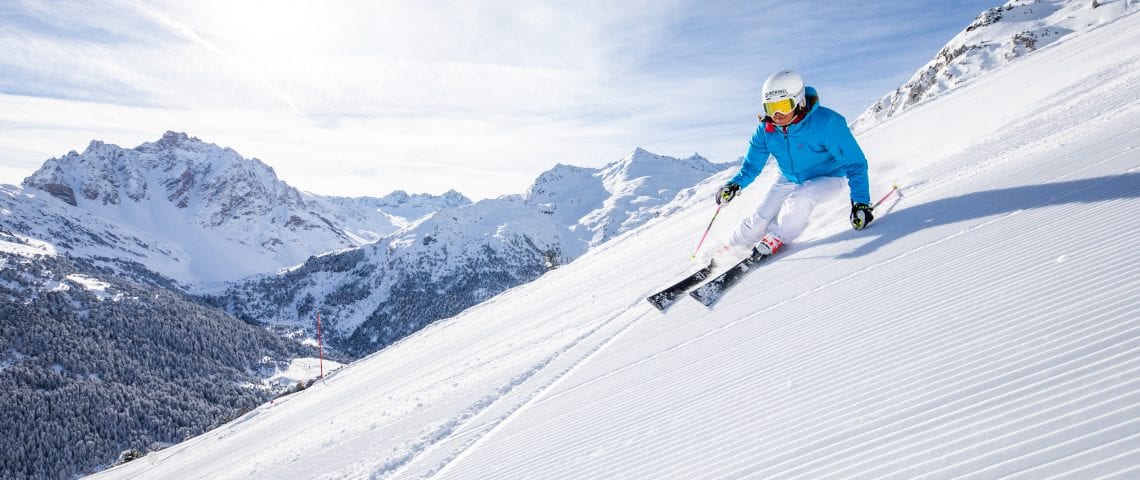 Ski or snowboard: which should you choose to master?
To ski or snowboard? The answer to this much discussed debate, will of course depend on your preferences. However, if you've never tried either and are genuinely one of the unbiased few then there are a few things to consider. Within this blog we have explored some of the key questions that will help you decide which is the one for you. 
If you have tried both (or either), then you will of course already know that skiing is better. But please feel free to read on and share your thoughts with us!
Is skiing or snowboarding: easier 
Many say that skiing is easier to learn but harder to master. And that, whilst snowboarding may initially be harder, it's easier to master. On the most part, we would have to agree.  
In our experience, most people find learning to ski easier. Mainly because it most closely imitates other sports such as ice skating, rollerblading and running; all movements which are more familiar to the beginner and so most easily replicated when on the slopes. Many find it easier to learn the basic controls and movements for skiing such as turning, stopping and using lifts. Snowboarding is less intuitive, and so it is perhaps harder to learn how to snowboard when starting out on the mountain for the very first time.
Similarly, snowboarders don't really have a simple method which allows them to control their speed whilst executing turns. This means that the first few days of learning to snowboard can feel like a constant battle to stay on your feet and not pick up too much speed.
Whereas, one of the first thing skiers will learn is the snow plough position. The beauty of snow plough position is that once you have learnt how to successfully initiate the position, you're then able to control your speed. Not being able to do this, is one the greatest psychological barriers to learning a new snow sport.
Are skis or snowboards: faster
There are of course a number of factors that will influence this from person to person. However, when looking at the sports as whole, the odds are stacked against snowboarders and skiers are proven to be faster. There are a number of reasons for this, from the equipment itself to our positions when using them. 
For example: A skier and a boarder of the same relative ability, could be racing down the same slope with perfectly waxed equipment. Yet, due to its larger surface area the snowboard will always create more drag meaning that the skier will ultimately be faster. Equally, we are likely to move a lot more efficiently when travelling in a forward position when compared to travelling in a lateral position.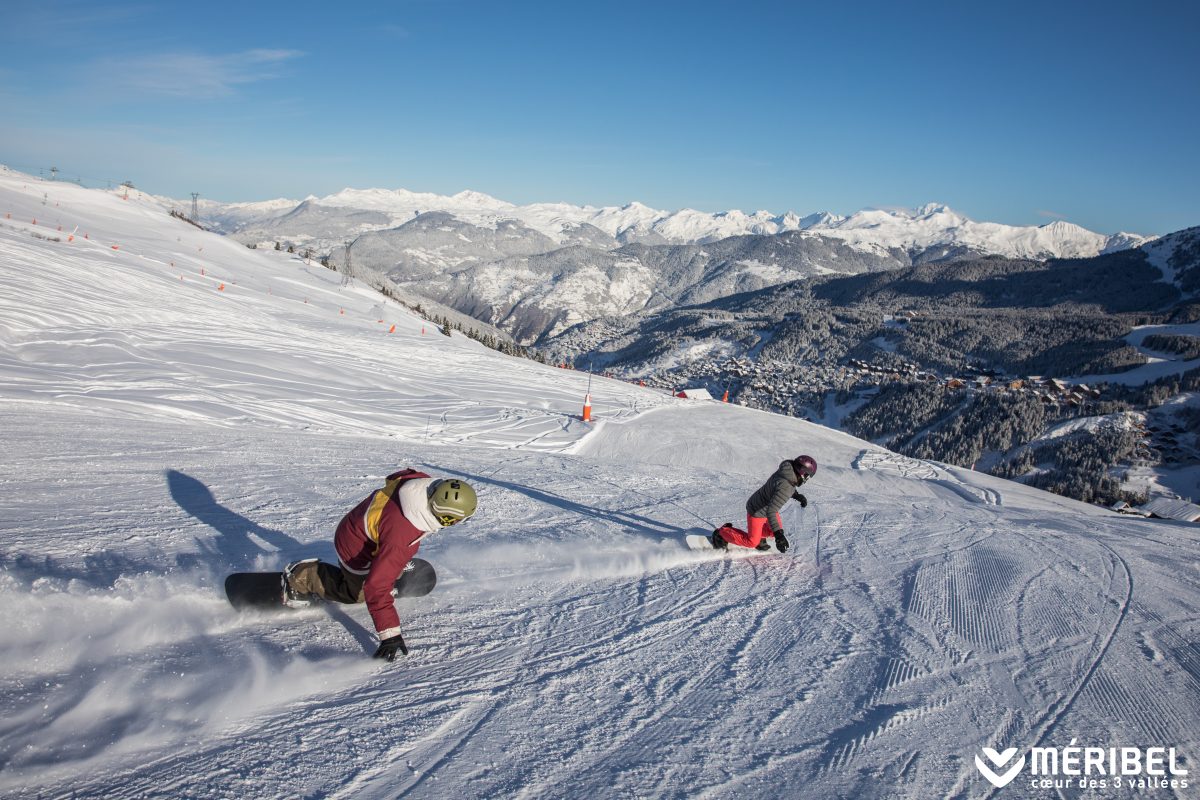 The same applies from when you're a beginner. It is easier for skiers to keep their centre of mass largely over the middle of their skis, meaning it's easier to balance. Whilst this doesn't necessarily have a direct impact on speed, the skier will be more confident and therefore be able to move quicker and more efficiently. Contrastingly, loss of balance and falling is a common feature of any snowboarder's early days on the slopes. Resulting in reduced confidence and slow speeds.  
We're not suggesting that if you're a snowboarder, you will never win a race against a skier. There are of course many variables that can impact results on the day. However, there are figures to support the argument that skiers are, generally speaking, quicker than boarders.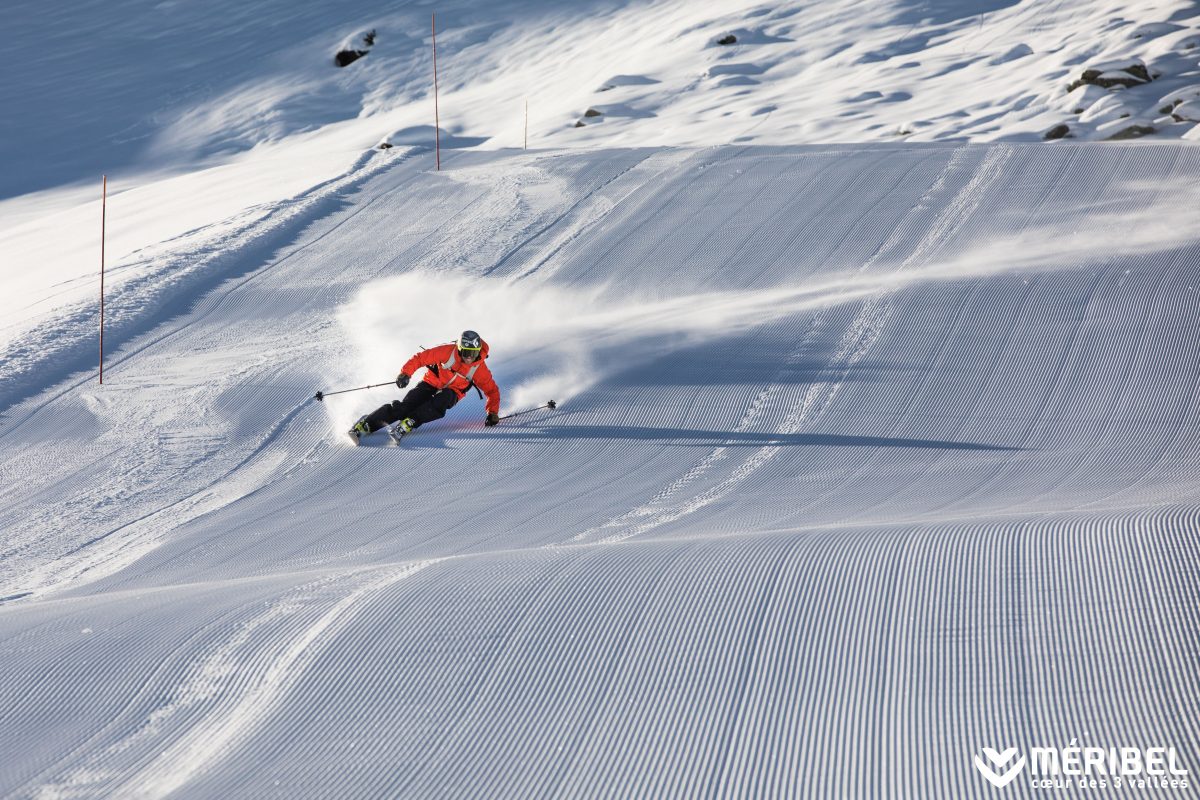 The top speed recorded for snowboarders is 126mph (203km/h) compared to an astonishing 157mph (254km/h) for skiers. Admittedly, 126mph is still extremely fast and much quicker than most snowboarders or skiers will ever go.
Is skiing or snowboarding: safer 
Although many skiers and snowboarders will never encounter any serious danger or injuries, they are possible for both skiers and snowboarders of all experience levels. With this in mind, it's important to remember that you should never attempt a slope, jump or trick that you are not confident in doing. And that right protective equipment, such as a helmet, is essential in keeping us as safe as possible whilst out on the slopes. 
It is difficult to say which sport is more 'dangerous'. However, we do know that skiers are more prone to things such as knee injuries. 
The most common injury for a skier, is spraining the MCL. The medial collateral ligament is one of the ligaments inside your knee. The MCL lies within the inner side of your knee joint and connects your thigh to your shin. This is often more common in beginner skiers. Due to the fact they tend to ski in the slow plough position, which can put our MCL under increased pressure. 
Another common injury for skiers is tearing of the ACL. The anterior cruciate ligament is another of the key ligaments that help stabilise your knee joint and also connects your thigh bone to your shin bone. Partial or complete tearing of the ACL in skiing in often caused by hyper extension. 
Snowboarders are at increased risk of wrist and collarbone injuries, as they tend to use their hands to stabilise when falling or after jumps. Similarly, they are often more likely to sustain ankle injuries due to jumps and grinding rails being a large part of snowboard culture. When a snowboarder land on rails or back on the slope with excessive force, it increases their chance of an ankle injury.
To avoid and help reduce the severity of injury, skiers and snowboarders can engage in simple exercises to strengthen their knee, glute, quadricep and ankle muscles. 
Is skiing or snowboarding: a better workout
Both skiing and snowboarding are great exercise, but there is difference in the areas that they will work.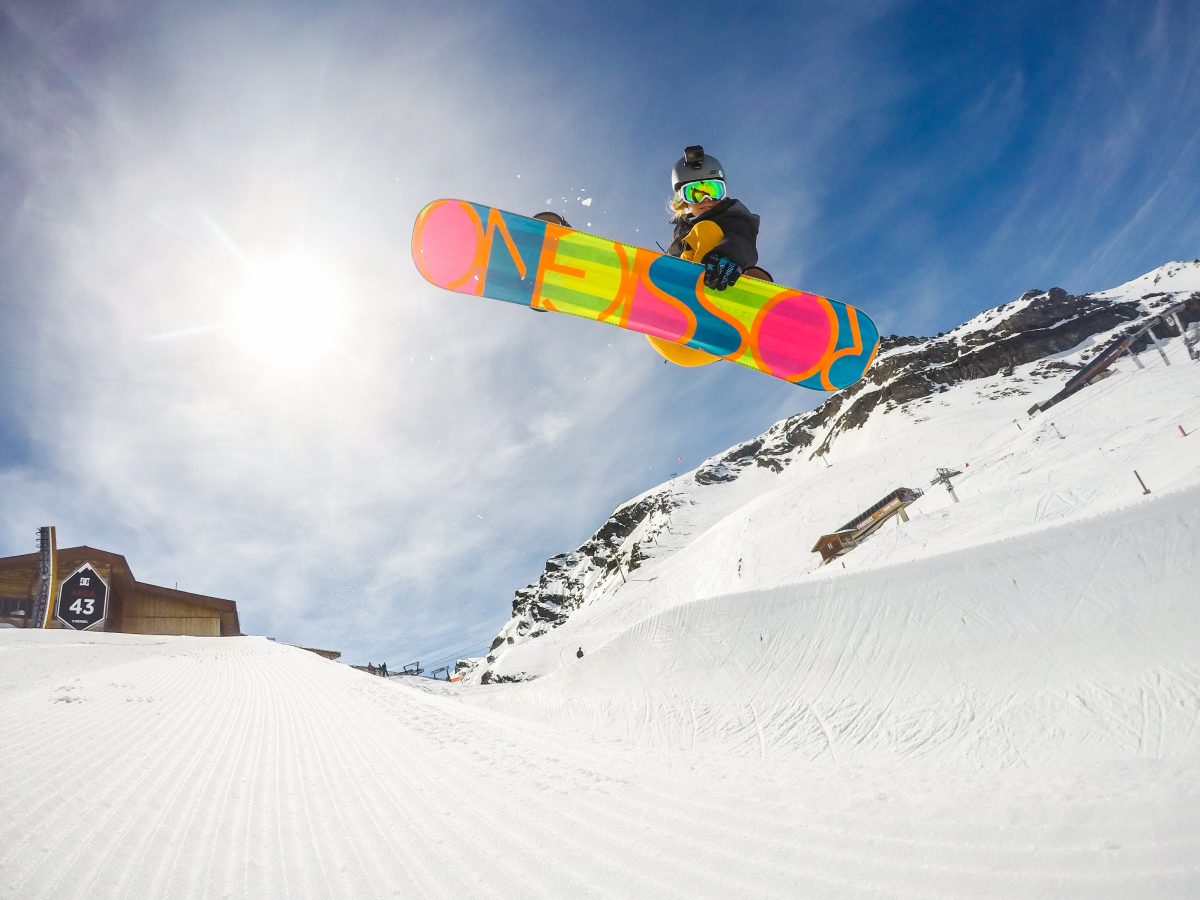 When snowboarding you are locked onto your board. Meaning you are reliant on your core muscles to aid you in balancing. Meanwhile, skiing is better for your quads, hamstrings, and especially the muscles of your ankles and calves. 
In terms of which sport is a better work out…as with most things, it depends! Your level of ability, the conditions and the slope you're on are, all have an impact on how many calories are burnt. In our opinion, it doesn't matter! Both sports are great for you both mentally and physically, but the main thing is that you just enjoy your time out on the mountain.
Should you choose skis or a snowboard for toddlers and children
 Traditionally, advice was always to get little ones on skis to begin with. This was due to a lack of quality snowboard equipment for younger riders. We all know how much bad or ill-fitting equipment can ruin your day! 
However, in recent years, brands such as Burton have begun to release boards and bindings specifically designed for our little shredders. With such equipment, kids can get on their boards from as young as 2 years old!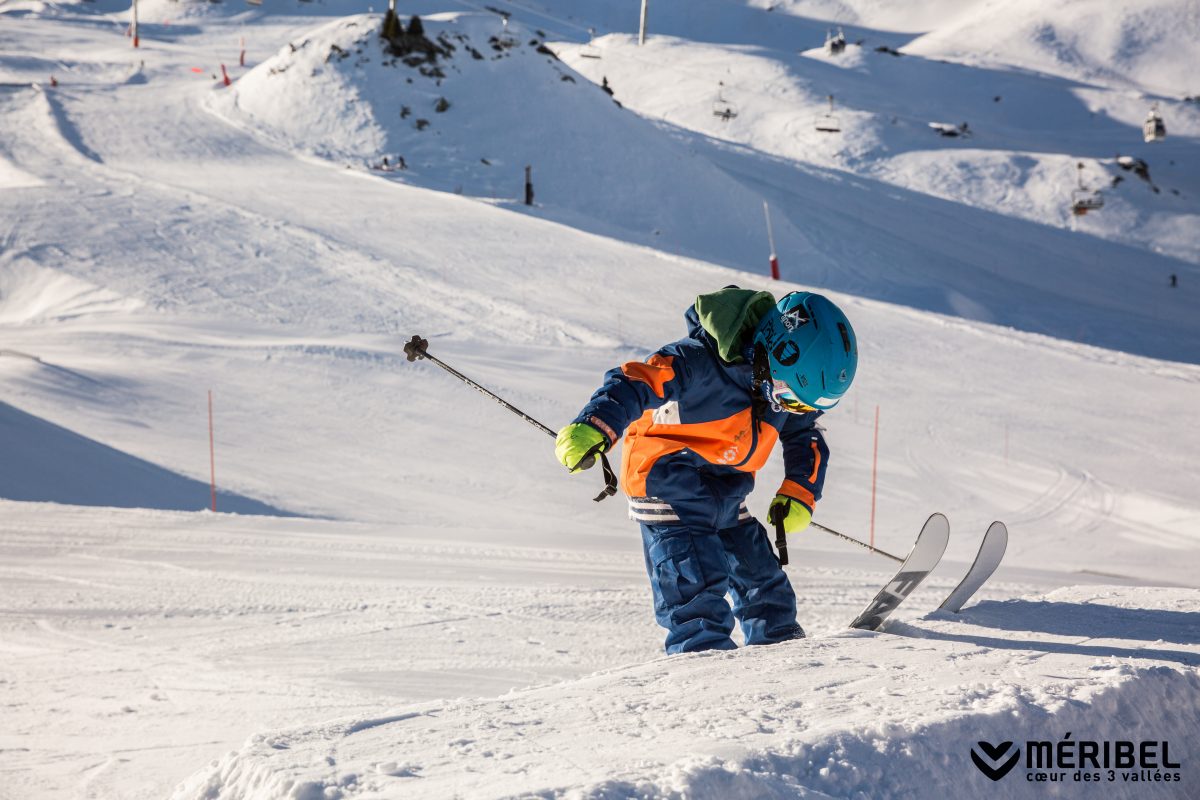 High quality and easily accessible equipment for both, means that it really is up to you and your child! Whilst the general rule that snowboarding is harder to learn initially, still applies. Kids are extremely adaptable, so there is no reason your little one wouldn't pick it up in no time. Our advice would be to ensure you get your child booked in for lessons. Also, don't try and get them to do both. Learning to ski and snowboard at the same time will be confusing and limit their progression within both. If you can't decide, why not let them! 
For more information on Meribel's best ski schools, visit our ski school page. For information on our recommended ski hire shops and exclusive ski basics guest discounts, visit our ski hire page. 
If you are ready to book your next holiday to Meribel, whether it be for skiing or snowboarding, you can view our chalets and remaining availability here. Alternatively, if you have any questions please don't hesitate to get in contact. We would love to hear from you!