Catered
Chalet Epena

, Meribel 8
Chalet Epena is a fresh and modern chalet after undergoing a full refurbishment for the 19/20 winter season. From new bathrooms, kitchen, boot room, flooring and sofas, no stone was left unturned. This is a very sociable catered chalet located in Meribel Centre, perfectly set up for dinners around central dining table and after dinner drinks on the enormous terrace, before heading out to see what Meribel has to offer.
Ideal for guests who love to get the most out of their time, Chalet Epena's great Meribel Centre location means you don't have to miss out on a single moment. Head into town to check out the latest kit from North Face, have a quick hot chocolate at Barometer and stock up on sweets and saucisson at the weekly market, all in time for dinner. Modern and comfortable, Chalet Epena is the perfect Meribel base to come back to refuel, before you're off and out again to see where the day or night takes you.
Almost all of our chalets can accommodate extra beds. We deal with these enquiries on an individual basis. Please contact us via email, or call us on 01225 614668 for more details.
FAQs
How many hosts will we have in Chalet Epena? Chalet Epena is hosted by one cook and a driver who will be on hand to help with breakfast and dinner service in addition to driving you to and from the slopes in the morning and afternoon.
We have a larger group, is there another Ski Basics chalet nearby? Whilst all of our chalets are within quick driving distance of each other, Chalet Epena is not located directly nearby to another of our chalets. However, if you feel Epena is the chalet for you but have more than 8 members in your group, please do not hesitate to get in contact to discuss additional beds being added for your stay.
Which way does Chalet Epena's terrace face? The spacious terrace is south facing, making it the perfect spot for soaking up afternoon sun, drink in hand, after a long day on the slopes.
How long will it take to get to Meribel Centre? You will reach the heart of Meribel Centre within 2 minutes in the car. On foot, you will be at the heart of all the action in under 10 minutes or alternatively, you can catch the bus just a 2-minute walk from the chalet door.
How often will the chalet be cleaned during our stay? If you're staying in Chalet Epena with our Classic Service, the chalet will be cleaned 5 times during your stay. If you opt for our pure Service, there will be a mid-week clean of the communal areas.
At a glance
Sleeps 8
4 separate bedrooms
4 twins with en-suite bathroom/shower
Free Wi-Fi
UK Freesat TV and Netflix
CD and DVD player
West-facing balcony
Ski & boot room
Covered parking
Towels and bed linen provided
Staff live out
Check in time: 16.00
Check out time: 10.00
Ideal for
A large group of friends or two families
Distance to
Town Centre
600m
Ski School
1.3km
Ski Lift
1.3km
Piste
1.3km
Bus stop
250m
About Meribel
Resort height
1,450 - 1,700m
Highest point in ski area
Mont Vallon 3,000m
Total ski area
150km in Meribel and 600km including Three Valleys linked ski area
Slopes
2 complete beginner areas, 8 greens, 25 blues, 28 reds, 8 blacks and 2 snow parks. In The Three Valleys combined, 44 green, 129 blue, 107 red and 30 black.
Additional resort features
World famous après-ski
Ice Rink
25m Indoor Pool
Health Spa
Bowling
Skidoo
Walking trails
Gym
Parapenting
Snowshoeing
Great for families & groups
Free resort bus service
Supermarkets & shopping
Tourist Office
Chalet Epena, Prices & Availability (2021/22)
Please go to our Prices & Availability page for an at-a-glance view of all our chalets and their current availability.
How to book

To make your reservation, please choose from the availability below
We operate a reservation system which allows you to hold a booking for 48 hours with no financial obligation
View Our COVID-19 Promise
This is a classic catered chalet
As standard, the price for this chalet includes:
Seven nights' accommodation
Daily housekeeping
Linen and bath towels
Bathroom products
Continental breakfast (prepared by your host on 5 mornings)
Ski Basics goodies
Afternoon tea with homemade cakes
Unlimited house wine
Three Course evening meal (on 4 nights)

†

Pre-prepared meal for you to enjoy at your leisure (on 1 night)
Children's dinner at 6.30pm (if required)
Warm drink and bedtime books for children
Free Meribel Valley Ski pass for weeks 4 and 5

*

Driver service to and from the slopes

**
† Evening meal will be provided on 4 nights starting December 2021.
* We offer a free six day Meribel Valley ski pass to every member of your group during weeks 4 and 5.
** Our driver service is available from 8.30am - 10.00am and 4.00pm - 6.30pm for this chalet.
For your personal use, this chalet also comes with:
Free Wi-Fi
iPod docking station
UK Freesat TV and Netflix
DVD player
Ski and boot room
Covered parking
Ski Basics pure Service option
This chalet is also available to book with our pure Service.
This flexible service comes with a discount of £150pp which will be applied at the time of booking.
Find out more here
Chalet Floorplan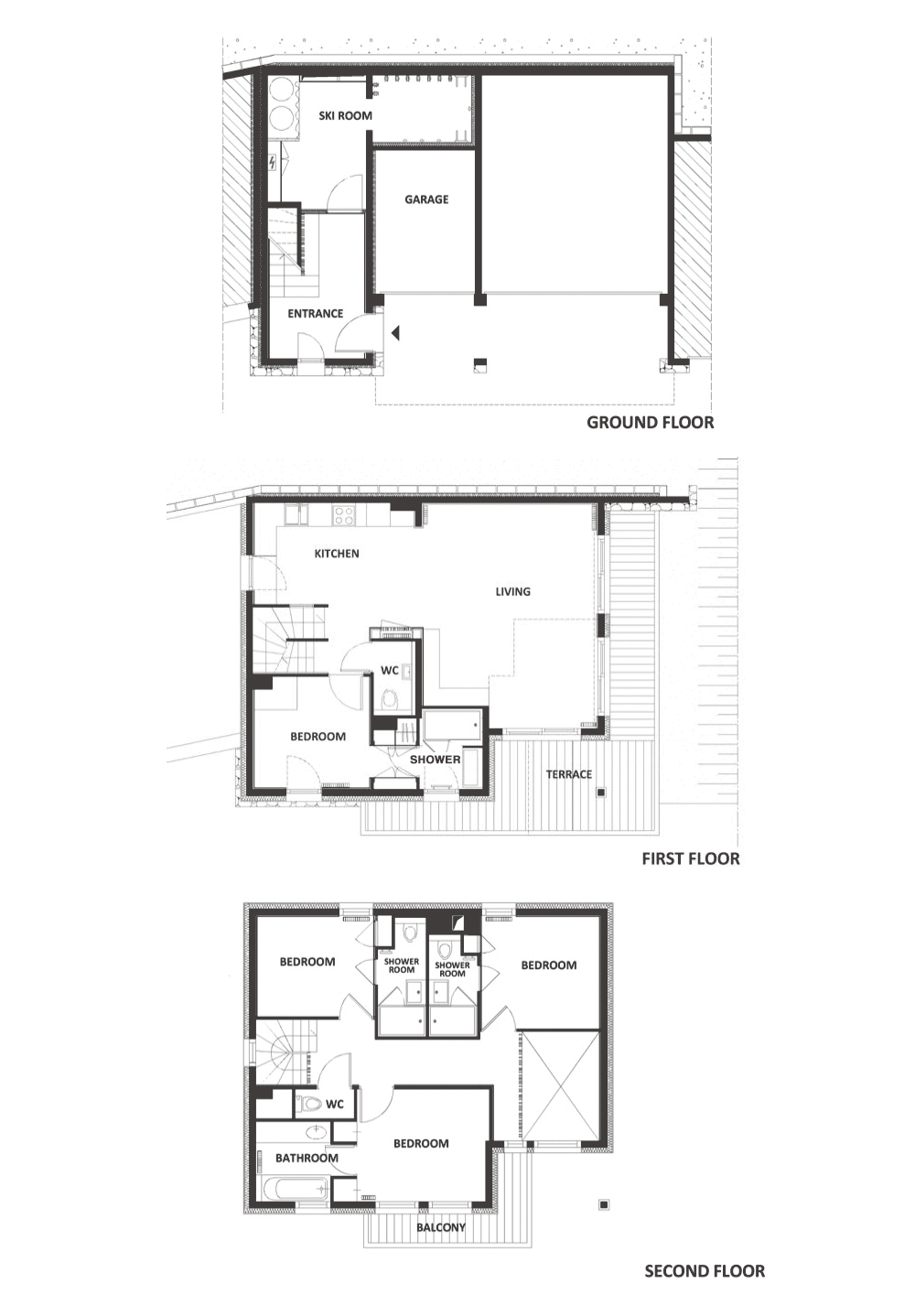 Chalet location map
Feedback from guests who have stayed at this chalet
Hannah was amazingly helpful, attentive and great fun. She began the week as our host and ended it as our friend. We were consistently impressed by all our interactions with Ski Basics staff. Everyone is trained very well; smiling, polite and knowledgeable. Would not hesitate to book with Ski Basics again. We had such an amazing week and we all wish we could live in Epena until the end of the season!

Toby Butterworth - January, 2020
Both Andy and James were fantastic hosts. Both were very friendly and while remaining professional at all times were also very personable which, given we were a group of late 20 year olds to mid 30 year olds, went down very well. They knew when to have a laugh and when to leave us to it. Their advice about the resort was always on point. Andy's cooking in particular went down very well with all of us. The food was to a very high standard - probably higher than we were expecting - and he produced some excellent dishes that we all won't forget. He clearly has a passion for cooking and making his guests feel at home, which added a lot to our trip. Thanks both of you!

Tom Maguire - April, 2019
It was SO great, all the ski basics staff were really helpful and friendly and made our trip run some much more smoothly. I would definitely recommend to others in the future and will hopefully get to visit again myself! Thank you so much for a lovely holiday!

Stephanie Cheung - January 7, 2018
If you have a rating higher than "Excellent", our hosts deserve it. They surpassed all expectations. They were lovely - friendly, polite, interested in our well-being and happiness, flexible and very accommodating to our needs. Fantastic pair!

John Parker - January 14, 2017
The chalet was lovely and well located.

Amanda Faucherand - January, 2016
Chalet was perfect, super clean and despite us leaving the chalet quite un-orderly each evening it was spotless by the time we woke up in the morning. A major reason why I would consider rebooking this chalet is due to how good the hosts made the holiday.

Eoin McCabe - March 7, 2015
Chalet was excellent, location was good. The pick- up and return service worked very well.

Graham Cooper - February 1, 2014
The Chalet was exactly what we expected, very comfortable, great location. As the main organiser for our party of 8, I was more than impressed with your service. We totally enjoyed the experience and for some who had never been to a chalet before whilst skiing will never go back to a hotel. Thank you for a great time, will highly recommend you to other potential customers! Hopefully see you next year!

Amanda Swift - January 4, 2014
Great location chalet, wonderful Hannah was the perfect host. Terrific food, breakfast with porridge and eggs (any which way), delicious afternoon cakes, and excellent three course dinners washed down with very drinkable wine. The collection and drop-off service from the drivers was brilliant (super-friendly and efficient) meaning no trudging around in boots carrying skis. The ski-hire service to the chalet smooth and stress-free. And James the manger there to help with restaurants, vouchers and lessons. Ski Basics made our week perfect.

Gary Woodcock - January, 2020
All round great experience. Thoroughly impressed, and particularly the online platform which made managing our booking very easy. Andy and James were fantastic and made sure we had everything we needed all week.

Tom Foster - January, 2019
Had a fantastic time with Ski Basics in Meribel. Chalet Epena was a perfect base for a cracking week's skiing. In particular our chalet hosts/chef James and Andy were brilliant. Very welcoming and engaging, delicious food and the wine kept flowing, ideal. Easily arranged our logistics and gave great advice on where to eat and drink in the mountains and around town.

Will Pullen - March, 2019
Andy and Gemma were great hosts, made us feel comfortable and welcome straight away. The food was delicious and the cakes were scrumptious!

Frankie Noades - January 27, 2018
Fantastic location and great value – our group love this chalet.

Mary Simms - April 14, 2017
Great location and very comfortable chalet.

Katie Munnoch - January 30, 2016
It was the best holiday ever and I would love to go again. If we ever go back to Meribel, we will use you again.

Dennis Venter - March 15, 2014
Everything went very smoothly with the whole trip. Sarah and Jason were both excellent hosts. Great fun and very good at what they do, drivers were always friendly and helped with loading and unloading skis etc. Great time had by all. Thank you!

Lesley Cringle - January 25, 2014
As in the 2 previous years, I loved everything about the holidays. The transfers from and to the airport went smoothly, the chalet was great and our host Sophie was excellent. I've been going on ski trips for over 10 years and Ski Basics is by far the best service I've used. Keep up the good work!

Andre Riberio - February 9, 2013