Catered
Chalet Epena

, Meribel 10
Chalet Epena is a great example of an Alpine chalet with plenty of character. Excellent for groups, Chalet Epena is a very sociable chalet, with dinners around the huge dining table, after dinner drinks on the enormous terrace, then heading out to see what Meribel has to offer.
Ideal for guests who love to get the most out of their time, Chalet Epena's brilliant location means you don't have to miss out on a single moment. Head into town to check out the latest kit from North Face, have a quick hot chocolate at Barometer and stock up on sweets and saucisson at the weekly market, all in time for dinner. Homely and comfortable, Chalet Epena is a great base to come back to refuel, before you're off and out again to see where the day or night takes you.
Almost all of our chalets can accommodate extra beds. We deal with these enquiries on an individual basis. Please contact us via email, or call us on 01225 614668 for more details.
Ideal for: a large group of friends or two families
Price range for this fully catered chalet is £3,592 - £8,792 for the whole chalet.
At a glance
Sleeps 10
classic fully catered
1 double with en-suite bathroom
1 double, 3 twins
1 separate shower room with WC
1 separate bathroom
2 separate WCs
Free Wi-Fi
UK Freesat TV and Netflix
CD and DVD player
West-facing balcony
Ski & boot room
Covered parking
Towels and bed linen provided
Staff live out
Chalet Epena, Prices & Availability (2019/20)
Please go to our Prices & Availability page for an at-a-glance view of all our chalets and their current availability.
How to book

To make your reservation, please choose from the availability below
We operate a reservation system which allows you to hold a booking for 48 hours with no financial obligation
This is a classic catered chalet
As standard, the price for this chalet includes:
Seven nights' accommodation
Daily housekeeping
Linen and bath towels
Continental breakfast
Ski Basics goodies
Afternoon tea with homemade cakes
Unlimited house wine
Three Course evening meal (on 6 nights)

†

Children's dinner at 6.30pm (if required)
Warm drink and bedtime books for children
Free Meribel Valley Ski pass for weeks 4 and 5

*

Driver service to and from the slopes

**
† Evening meal will be provided on 5 nights starting December 2019.
* We offer a free six day Meribel Valley ski pass to every member of your group during weeks 4 and 5.
** Our driver service is available from 8.30am - 10.00am and 4.00pm - 6.30pm for this chalet.
For your personal use, this chalet also comes with:
Free Wi-Fi
iPod docking station
UK Freesat TV and Netflix
DVD player
Ski and boot room
Covered parking
Chalet Floorplan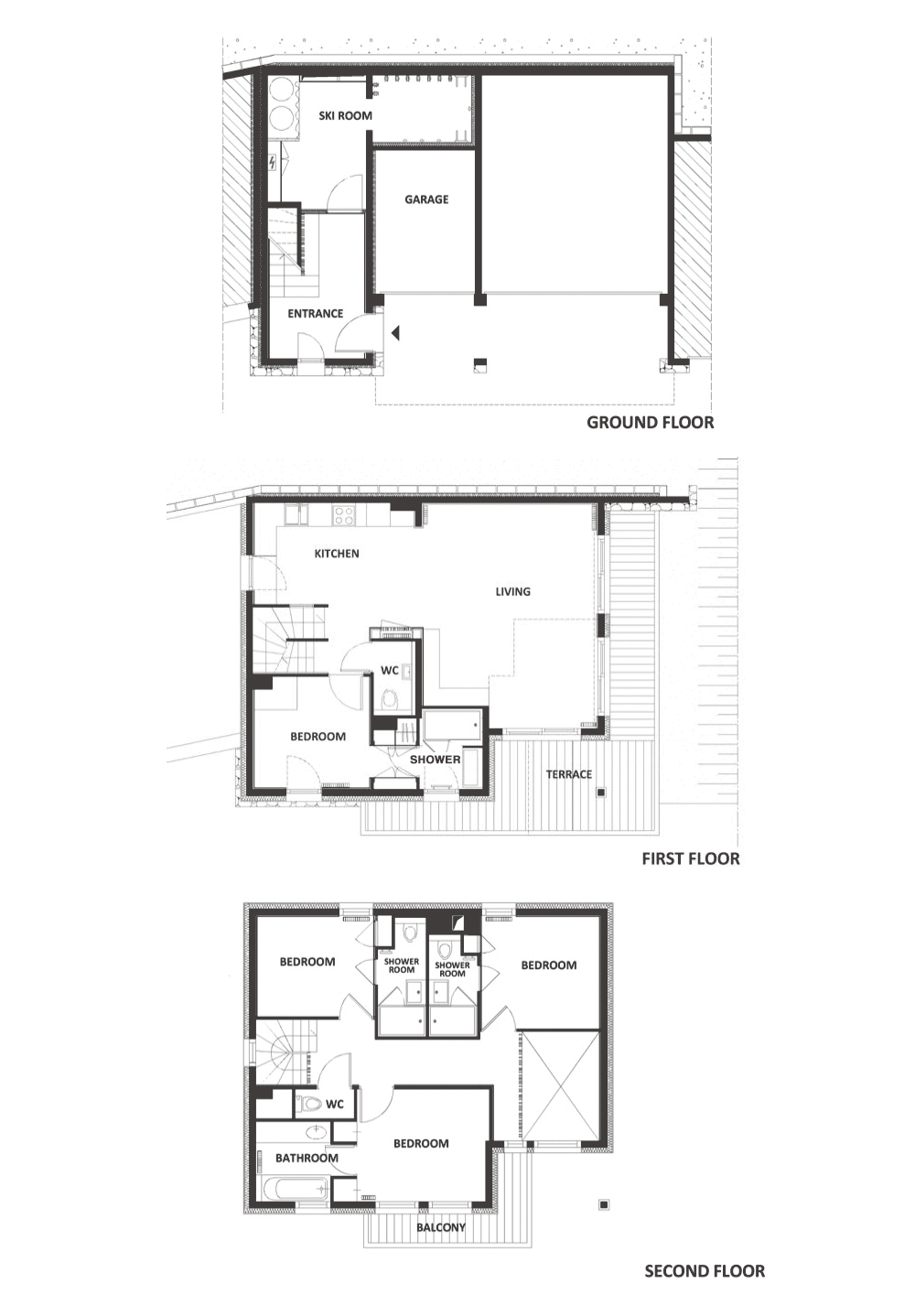 Chalet location map
Feedback from guests who have stayed at this chalet
It was SO great, all the ski basics staff were really helpful and friendly and made our trip run some much more smoothly. I would definitely recommend to others in the future and will hopefully get to visit again myself! Thank you so much for a lovely holiday!

Stephanie Cheung - January 7, 2018
If you have a rating higher than "Excellent", our hosts deserve it. They surpassed all expectations. They were lovely - friendly, polite, interested in our well-being and happiness, flexible and very accommodating to our needs. Fantastic pair!

John Parker - January 14, 2017
The chalet was lovely and well located.

Amanda Faucherand - January, 2016
Chalet was perfect, super clean and despite us leaving the chalet quite un-orderly each evening it was spotless by the time we woke up in the morning. A major reason why I would consider rebooking this chalet is due to how good the hosts made the holiday.

Eoin McCabe - March 7, 2015
Chalet was excellent, location was good. The pick- up and return service worked very well.

Graham Cooper - February 1, 2014
The Chalet was exactly what we expected, very comfortable, great location. As the main organiser for our party of 8, I was more than impressed with your service. We totally enjoyed the experience and for some who had never been to a chalet before whilst skiing will never go back to a hotel. Thank you for a great time, will highly recommend you to other potential customers! Hopefully see you next year!

Amanda Swift - January 4, 2014
Andy and Gemma were great hosts, made us feel comfortable and welcome straight away. The food was delicious and the cakes were scrumptious!

Frankie Noades - January 27, 2018
Fantastic location and great value – our group love this chalet.

Mary Simms - April 14, 2017
Great location and very comfortable chalet.

Katie Munnoch - January 30, 2016
It was the best holiday ever and I would love to go again. If we ever go back to Meribel, we will use you again.

Dennis Venter - March 15, 2014
Everything went very smoothly with the whole trip. Sarah and Jason were both excellent hosts. Great fun and very good at what they do, drivers were always friendly and helped with loading and unloading skis etc. Great time had by all. Thank you!

Lesley Cringle - January 25, 2014
As in the 2 previous years, I loved everything about the holidays. The transfers from and to the airport went smoothly, the chalet was great and our host Sophie was excellent. I've been going on ski trips for over 10 years and Ski Basics is by far the best service I've used. Keep up the good work!

Andre Riberio - February 9, 2013