Catered
Chalet Le Lachat

, Meribel 8
Chalet Le Lachat is a stylish eight bed penthouse, which boasts spectacular views across the Meribel Valley. Situated in Meribel centre, Chalet Le Lachat benefits from floor to ceiling windows and a fabulous terrace, meaning you can catch the sun's last rays whilst toasting the day's successes.
The balcony, which runs along the whole length of the chalet, provides ample space to enjoy the sunshine or, on a snowy day, snooze on the sofas and toast your toes by the wood-burning stove. And if anything can tempt you out of the comfort of home, Chalet Le Lachat's central location makes it ideally placed for skiing, shopping and après-ski!
Almost all of our chalets can accommodate extra beds. We deal with these enquiries on an individual basis. Please contact us via email, or call us on 01225 731312 for more details.
Ideal for: a medium sized group or two families
Price range for this fully catered chalet is £2,792 - £6,392 for the whole chalet.
At a glance
Sleeps 8
Fully catered
2 doubles
2 twins
2 separate bath and shower rooms
2 separate WCs
Free Wi-Fi
UK Freesat television
CD and DVD player
Wood-burning stove
Ski and boot locker
Underground parking
Staff live out
How to book

To make your reservation, please choose from the availability below
We operate a reservation system which allows you to hold a booking for 48 hours with no financial obligation
Chalet Prices & Availability (2017/18)
For the current season, we now have limited availability.
Please go to our Prices & Availability page for an at-a-glance view of chalets and dates available.
What's included in the price of your holiday
As standard, the price for this chalet includes:
Seven nights' accommodation
Bed linen and bath towels provided
Continental breakfast
Homemade afternoon tea with coffee/tea, hot chocolate and vin chaud
Three course evening meal (on six nights)
Complimentary quality house wine
Children's dinner at 6pm (if required)
Help with booking your ski lessons, ski passes and ski hire
Kids' holiday fun pack
Ski Basics' goodies
Mini bus service to and from the slopes
Dedicated and helpful service from all the Ski Basics team in resort
For your personal use, this chalet also comes with:
Free Wi-Fi
UK Freesat television
CD and DVD player
Wood-burning stove
Ski and boot locker
Underground parking
Chalet Floorplan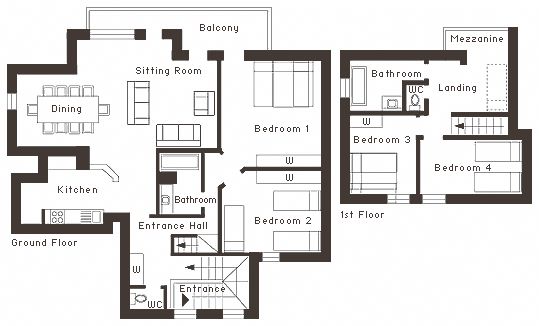 Feedback from guests who have stayed at this chalet
The chalet was impeccable. Kept incredibly clean and tidy for the duration of the stay. Great location and suited all our needs.

Kath McKillop - April 1, 2017
Amazing views and a really comfortable place to stay. Really loved the chalet.

Rory Edmunds - January 14, 2017
The chalet exceeded expectations. The Chalet girls ensured the Chalet was kept in a pristine condition and we were very well looked after.

Gemma Watson - January, 2016
Annie was a fabulous cook and very accommodating: we had a vegetarian and early kids sitting as well as the normal adult meals and she catered fabulously for all of us (including little requests like scrambled egg with no salt for our friends with a small baby!).

Helen Ballared - March 16, 2013
Had a great time, whole process was made very easy by Ski Basics and our chalet hosts. Food was brilliant and chalet was lovely. We would definitely use Ski Basics again for our next trip, great value for money.

Pheobe Horrocks - March 2, 2013
It was a super holiday, great food, great chalet, great skiing. We would definitely use Ski Basics again. Thank you.

Carminha Flinders - March 16, 2013
Beautiful views and very cosy. Definitely my favourite chalet which I have stayed in yet.

Francesca Hall - January, 2016
Best holiday I've ever been on, wouldn't have been the same without Ski Basics :-)

Sean Anderson - March 22, 2014
Best holiday I've ever been on, wouldn't have been the same without Ski Basics :-)

Sean Anderson - March 22, 2014
Really awesome holiday and we want to thank all of our Ski Basics team!

Hannah Lyon-Wall - March 30, 2013
This was our first time using Ski Basics and we were all very impressed. The chalet hosts Ashley and Tarn were fantastic and made us all feel so welcome and their catering skills were fabulous. We all loved the transport facility to and from the ski- slopes - something we have not experienced before but would certainly look for that again on our next skiing holiday. The Ski Basics team in this country were great from the time we booked up until we went on our holiday and whenever we rang them up were very helpful and knowledgeable.

Philip Pinto - January 12, 2013